Opera Extravaganza a Fitting Finale to Toronto Summer Music Festival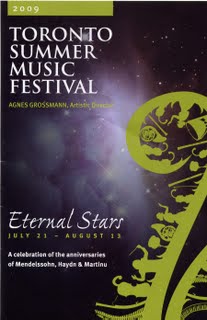 Melinda Delorme, soprano
Teiya Kasahara, soprano
Desiree Till, soprano
Lauren Segal, mezzo
Erica Iris Huang, mezzo
Joey Nicefore, tenor
Paul Ouellette, tenor
Stephen Bell, tenor
Phillip Addis, baritone
Tomislav Lavoie, bass-baritone
Arias, duets and ensembles from Cosi, Zauberfloete, Barber of Seville, L'elisir d'amore, Lucia di Lammermoor, Don Carlo, Adriana Lecouvreur, Ariadne auf Naxos, Der Rosenkavalier, Falstaff, and La Traviata
National Academy Orchestra,
Agnes Grossmann, conductor
MacMillan Theatre, Thursday August 13, 2009
The fourth annual Toronto Summer Music Festival concluded its highly successful season last evening, in a sold out Macmillan Theatre at the University of Toronto Faculty of Music. It was billed as an Opera Extravaganza, starring young Canadian singers at the beginning of their professional careers, all under the leadership of conductor and TSMF artistic director Agnes Grossmann conducting the National Academy Orchestra.
It would be less than truthful of me if I didn't mention that I missed terribly the fully staged opera that has characterized TSMF in the past, especially after last summer's wonderful Ariadne auf Naxos. It was obviously a financial decision, but given the serious economic downturn, the decision was probably prudent. This very enjoyable opera extravaganza last evening has gone a long way to ease the disappointment. Like the blockbuster Ehnes-Parker opening concert, this closing concert also had a festive air, and Toronto's musical community turned out in force. They were rewarded with a scintillating program, perhaps a tad on the long side for an orchestral concert since it went from 7:30 to 10:45 with a single intermission, but any true opera lover would never complain when the music making is so good.
An event like this is designed to showcase fine Canadian singers, and there were cetainly plenty of them last evening. It is really great to hear young, healthy, fresh voices, well schooled and well prepared. Of course each brings to the stage his or her unique gifts - some are totally ready for prime time, while a small minority might require some more fine tuning, but every single one has the talent for a professional career. Having said that, a few I found particularly impressive. Let me mention the ladies first. Top on my list is soprano Melinda Delorme, who has blossomed beyond expectations since her tenure at the COC Ensemble Studio. As an Ensemble member, one didn't get to know what she is capable of, and frankly she was overshadowed by some of the other, flashier singers. I was very pleasantly surprised by her beautifully sung Ariadne last year. Newly svelte with a lovely new hair style and colour, hers is now a complete package. Of the two Mozart selections, I prefer her "Come Scoglio," beautifully sung, complete with big if somewhat steely high Cs, and she has the requisite agility for this most exacting of Mozart aria. Delorme saved her best for last - the Final Trio from Der Rosenkavalier. She was able to float an exquisite pianissimo B-flat, and the timbre of voice is ideal as a youthful Marschallin. She should have a very good future.
I was also very impressed by mezzo Erica Iris Huang, whom I saw as a fine Komponist last summer. She sings with even more authority, security and expression this year, in the extended duet with Desiree Till, who was a most engaging Zerbinetta. This scene is rarely excerpted in concert, and the conversational style (without surtitles) is challenging for a non-German audience. The ladies were superb here, as well as in the Octavian-Sophie final duet in Rosenkavalier, although not having the Marschallin and Faninal there for their couple of lines proved a little disconcerting! It was also a little curious that Huang would choose to sing Principessa di Bouillon's Act Two aria - frankly not great music and hardly something for a young singer, but the slam-dunk 90 seconds worth of melody after a tediously long recitative always bring down the house. Huang sang it with panache, and with fresher, more youthful tone than many a Principessa di Bouillon.
Of the men, I really enjoyed the singing of Phillip Addis, whose beautiful lyric baritone never sounded better. His "Cruda, funesta smania" from Lucia was very enjoyable, as was the duet "Dunque io son" with the gleaming-voiced Lauren Segal as Rosina. I had not heard bass-baritone Tomislav Lavoie before, and he made a huge impression with "Ella giammai m'amo", one of the greatest bass arias every written. To my ears, this aria should be sung by a true bass, and someone further on in years. So I missed the solid low notes of a true bass, but Lavoie has an easy, brilliant top as compensation. I also prefer a more hushed, sotto voce opening to the aria, but other than that, I liked everything else he did - bravo!
What is an opera gala without a tenor, right? Well, we had three last evening, with two of them - Joey Niceforo and Paul Ouellette as "head-liners". The two guys are the same height and looks like they could be brothers. They also shared "una furtiva lagrima" - I confess this is the first time I have heard this aria as a duet! They also shared, with the third tenor Stephen Bell, "La Danza", "A vucchella" and the obligatory "O solo mio". (I am glad none of them started waving a white hankerchief) Nicefore and Ouellette are both engaging and relaxed on stage, no doubt due to their affinity and experience in the cross-over repertoire to which their modest-sized voices are more suited than the day-to-day singing in large unamplified opera houses. In any case, the audience loved them.
The long evening was nicely held together by conductor Agnes Grossmann, who led the youthful forces with care and sensitivity. I particularly loved her conducting of the Strauss, which had a freedom and lyricism that was a pleasure to the ear. The concert ended with "Libiamo" from La Traviata - minus champagne unfortunately, but enjoyable just the same. I think we are very lucky in Toronto to have TSMF, a true oasis in the summer musical desert. I wish them well and look forward to another brilliant summer in 2010.
Labels: Toronto Summer Music Festival