Music Across Cultures: Composer/Conductor Tan Dun Creates Map!
by

Paul E. Robinson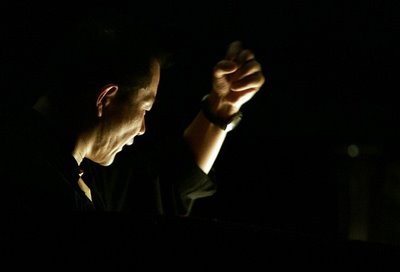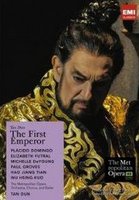 The First Emperor
Placido Domingo/Elizabeth Futral/Paul Groves/Michelle DeYoung/Wu Hsing Kuo/Metropolitan Opera Orchestra, Chorus and Ballet
Composer/Conductor: Tan Dun
Director: Zhang Yimou
EMI DVD 215129-9

After spending several weeks in China earlier this year, it took me some time to absorb what I had seen and heard and to properly evaluate the enormity of the changes taking place in that vast and multi-faceted country.

I can't presume to analyse China's current role in world affairs, let alone predict what it will be in years to come. Even the various strands in China's musical life are too complex and growing too fast to warrant easy characterizations. Music critic Anne Midgette recently visited China with the National Symphony Orchestra and made some interesting observations about Chinese audiences and the role of Western music in Chinese society.

From my own perspective, the recent works of composer Tan Dun would be a useful starting point for anyone trying to understand where China and its music are today.

For the past decade, China has been quite welcoming of Western music and performers. A corollary to this tolerance and appreciation is the influx of Chinese - students and performers at all levels - to the United States and to other Western countries. Some of these musicians – Lang Lang, Yundi Li, and Yuja Wang – have been internationally acclaimed as major artists. The musical interaction between China and the West has become enormously rich in recent years and appears to be increasing exponentially.

With respect to composers, this exchange has been very real too, although the results thus far have been uneven.

One hundred years ago, Ravel and Debussy became fascinated with Chinese music and incorporated elements of it in their own compositions. In our own time, however, though China is so open and receptive to foreigners, Western composers, for the most part, appear to be apathetic; the creative cross-fertilization seems to be coming almost entirely from Chinese musicians - composer/conductor Tan Dun, for example.

Tan Dun, born in Hunan province in 1957, studied at the Central Conservatory in Beijing. From there he went to New York. He now straddles two worlds and reflects that cross-culturalism in many of his works. He is - without a doubt - China's most successful composer of Western classical music, but more than that – his success is international. Few composers, whatever their national origin, are commissioned to write an opera for the Met.

Tan Dun is best-known for a film score - the music he wrote for Zhang Yimou's Crouching Tiger, Sleeping Dragon. In that score, he demonstrated a gift for theatricality and for creating sound effects in a Chinese idiom. These are qualities evident in his operas too, not least of all in The First Emperor, which Tan Dun was commissioned to write for New York's Metropolitan Opera Company.

The Met production of this opera got very mixed reviews. Some critics suggested that Tan Dun's music was no more than sound effects coupled with a musical style borrowed from Puccini and Peking Opera, and that the mixture was unconvincing.

There is some truth in these harsh observations, but they fail to account for the beauty and originality of both the opera and the production. Though Tan Dun may have failed to write a great opera, he nonetheless created a highly stimulating encounter between East and West.

In his orchestration of the story of The First Emperor, Tan Dun uses the Metropolitan Opera Orchestra ensemble pretty much 'as is', adding Chinese instruments to the percussion section as well as a giant bell and an amplified zheng – a sort of Chinese zither – on stage. This instrument is used with great imagination, in combination with the two harps in the pit at the beginning of Act Two. On the whole, the instrumental sounds are fresh, exciting and beautiful throughout the opera.

Tan Dun is on more uncertain ground in his vocal writing.

The First Emperor opens with a long scene featuring Wu Hsing-Kuo, a brilliant singer from the Peking Opera. This man plays the role of the Yin-Yang Master. He is superb in his scene in front of the curtain. His range of gestures from the most subtle to the overtly acrobatic was amazing and evidence of a tradition that does not exist in the West outside, perhaps, the Cirque du Soleil.

When we get into the story of the opera and the big stars appear – Placido Domingo as the Emperor and Elizabeth Futral as his daughter – the musical style changes. The Chinese musical character seems to become peripheral and a more or less (some might call it "tortured") traditional Western operatic idiom is more prominent - perhaps a concession to the Western performers . Whatever its inspiration, this uneasy mixture of exotic and traditional elements continues through to the end of the opera, and is ultimately unconvincing.

So be it. It is an enormous challenge to blend East and West and Tan Dun needs time and experience to show what he can do.

There are other problems with The First Emperor. The story of the opera is based on fact, but as scripted on stage at the Met, it came across as exceedingly silly. Admittedly, silliness is not uncommon in opera librettos, but in operas that hold their place in the repertoire, the silliness is greatly outweighed by the quality of the music.

That is not the case with The First Emperor. There are no show-stopping arias or ensembles. What the opera does have going for it is music that is often fresh and imaginative, and sets and costumes that are lavish and colorful and undoubtedly very expensive. Unfortunately, these assets may also work against the inclusion of this opera in popular repertoire. To be successful, The First Emperor needs a lavish production and few companies will be able to afford it.

Some revisions may or may not make this a better opera. It is certainly far too static. Many of the scenes go on too long, the chorus sits more than it participates, and apart from the gyrations of the Yin-Yang Master, there is not nearly enough movement.

On balance, I would applaud the Met for commissioning Tan Dun to write this opera and for making such a major financial commitment to trying to bridge the gap between East and West. The First Emperor may not be a great opera, but it was – and is - a noble effort.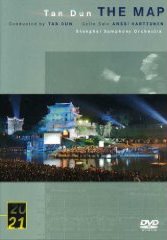 The Map: A Multimedia Event in Rural China
Anssi Karttunen/Shanghai Philharmonic
Composer/Conductor: Tan Dun
DG DVD 00440 073 4013

While in China I bought the DVD of another major Tan Dun work, The Map: A Multimedia Event in Rural China. The work was premiered by Yo-Yo Ma and the Boston Symphony in 2002 and it is to my mind a remarkable piece of artistic invention, and can be considered another attempt to bridge East and West.

The DVD documents a performance of The Map given outdoors in 2003 in the ancient city of Fenghuang in Hunan province. The concept of the piece is to blend film of various types of traditional Chinese music from the region, with music newly composed by Tan Dun. The use of giant screens behind the orchestra adds immensely to the theatricality of the experience.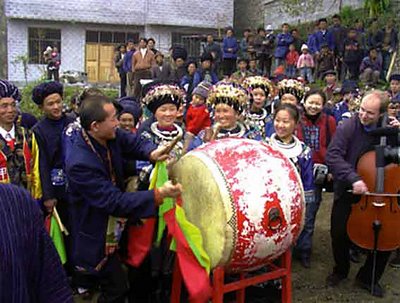 In
The Map
, Tan Dun's composition often begins where the traditional music leaves off and becomes a kind of riff or improvisation on the older material. In this terrific performance, the transitions are almost seamless, and the effect is extremely engrossing and powerful. Finnish cellist Anssi Karttunen plays like a man possessed and Tan Dun conducts the Shanghai Symphony with intensity and precision.
One of the most compelling aspects of the work is to see vivid examples of the wide variety of strange and beautiful music in Chinese folk culture. There is "cry-singing", a stylized form of choral singing by old women, and amazing music created by banging stones together – "stone music" which also appears in Tan Dun's opera,
The First Emperor
.
Altogether there are
eight different kinds
of traditional music used in
The Map
and they are put together in such a way that their strangeness is transformed into a kind of universal music. This is Tan Dun's achievement and it is amazing. Some might say that the piece is merely another sound effects opus by Tan Dun, and in its way, simply another film score. I don't agree. I think
The Map
is a highly original blending of Eastern and Western musical idioms. If you have a chance to see it performed, don't miss the opportunity.
As it happens, there is a performance scheduled at the
Festival International de Lanaudière
(Quebec, Canada) on July 11. The cello soloist is
Matthew Barley
and
Jean-Marie Zeitouni
conducts the Festival Orchestra.
Paul E. Robinson
is the author of
Herbert von Karajan: the Maestro as Superstar
, and
Sir Georg Solti: His Life and Music
, both available at Amazon.com.
Classical Music Blogs
Labels: China, classical DVDs, composers, Metropolitan Opera, Tan Dun, The First Emperor, The Map