GF Handel: Tamerlano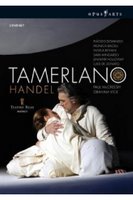 Plácido Domingo (Bajazet), Monica Bacelli (Tamerlano), Ingela Bohlin (Asteria), Sara Mingardo (Andronico), Jennifer Holloway (Iren), Luigi De Donato (Leone)
Orchestra of the Teatro Real (Madrid Symphony Orchestra)/Paul McCreesh
Stage Director: Graham Vick
Video Director: Ferenc van Damme
Opus Arte OA 1006 D (3 DVD – 241 min)
***** $$$$

Here is Plácido Domingo at the age of 70 giving the performance of a lifetime. The voice may no longer be the immaculate instrument of the past but Domingo has lost nothing of his ability to project a character on stage. This appearance, in Handel's most dramatic tenor role, amply confirms his standing as the commanding singer-actor of the era. Tamerlano is a work of annihilating gloom. Bajazet is the Ottoman sultan taken captive by the Oriental tyrant Tamerlano. In the first scene, he is anguished and seeking death (which will take him most of three acts to find). The plot is thickened by a diabolical love quadrangle, the mutually destructive devotion of a father and daughter and attempted regicide. Domingo's performance is remarkable, yet it is Monica Bacelli, in the title role, who really steals the show. She delivers inspired singing (with an impressive lower register so important in a 'trousers' role) in a strikingly kinetic manner. This lady can move to awesome effect. The remainder of the cast is excellent. The sets and costumes designed by Richard Hudson are gorgeous. Paul McCreesh directs a fine account of the orchestral score (on modern instruments), which supplements the momentum created by Graham Vick. An informative interview with McCreesh is included as a special feature on disc 1.
The general entertainment value of baroque opera in general and Handel in particular on DVD has escalated sharply in the past few years.
Tamerlano
as produced by Jonathan Miller and conducted by Trevor Pinnock in 2001 (Arthaus DVD) looks static and seems a lot longer than four hours when compared to this exciting Madrid production. The trend for the small screen was set in 2005 with David McVicar's Glyndebourne production of
Giulio Cesare
(Opus Arte) and continued with a sophisticated Zurich staging of Handel's
Orlando
(Arthaus) last year. William Christie conducted both and returned to Zurich with Cecilia Bartoli for
Semele
, which is being released by Decca. The key point to remember is that Handel illustrated everlasting characters and timeless relationships with his music. The new wave of baroque opera films has taken the works out of dusty archives for presentation in your home theatre.
- Stephen Habington
Buy this CD at amazon.com
Labels: DVDs, english, handel, product_review, Tamerlano