This Week in Toronto (June 6 - 14)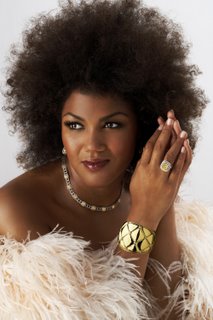 Soprano Measha Brueggergosman (photo: Joy von Tiedemann)
Starting with the next post, the posting date will change to Mondays, since my editor tells me that the readership is higher on weekdays. For fans of Canadian soprano Measha Brueggergosman, she will be making one of her comparatively rare appearances in Toronto where she makes her home. She is soloist in the magnificent Four Last Songs. I am an avid collector of VLL and it's one song cycle I never get tired of! Also on the program are two Bartok pieces - Divertimento for Strings and Concerto for Orchestra. TSO Music Director Peter Oundjian is at the helm. The dates are Wednesday June 10 at 8 pm, Thursday June 11 at 2 pm, and June 13 at 7:30 pm, all at Roy Thomson Hall. The June 10 performance will be broadcast on CBC Radio 2. Remember June 13 is a "casual concert", with an earlier start and a jazz ensemble entertainment in the lobby after the show. Don't forget this evening is the return of American violinist Joshua Bell at 8 pm Roy Thomson Hall. On the program is Lalo's Symphonie espagnole, Brahms Symphony No. 1, and Berlioz's Overture to Benvenuto Cellini. Leonard Slatkin conducts.
Another important event this week is the third annual
Luminato Festival of Arts and Creativity
in Toronto. While there are almost no "traditional" classical music events, there is a new opera by Canadian composer Murray Schafer,
The Children's Crusade,
that will receive its world premiere at the festival, celebrating the 75th birthday of the composer. Go to the following link for interview with the composer -
http://www.luminato.com/2009/events/42
The main focus of Luminato 2009 is popular music, dance, literature, and "spectacles". A worthwhile event is the presence of Cirque du Soleil. Go to www.luminato.com for details.
Toronto area opera fans can catch the riveting documentary The Audition, as the last offering of this season's Met in HD series, at 1 pm today at selected Cineplex theatres. The documentary covers the 2007 Met Auditions, a particularly interesting year, with three outstanding tenors in the finals. One of them was African American Ryan Smith, who had a beautiful lyric voice. Unfortunately, he was diagnosed with lymphoma last year and passed away in November. Also in the finals was soprano Angela Meade, who just won first prize at the MIMC in Montreal. At 2 hour 15 minutes, this documentary is unusually long but there won't be a doubt moment! It will be repeated on June 15, at 7 pm - an unusual time for the Met in HD series.