Chant 2009 Finals (Day 2 May 26)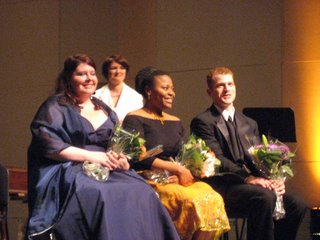 left to right: Angela Meade, soprano; Yannick-Muriel Noah, soprano; Andrew Garland, baritone
Photo: Joseph So
Tonight was the second of two evenings of the MIMC Finals. Four competitors -

Jennifer Borghi, mezzo-soprano (Italy)

Borghi has a modest-sized high mezzo of pleasant timbre. She began with "Or la tromba" from Handel's Rinaldo, showing good coloratura, although she did not sound entirely comfortable in this repertoire. This was followed by "Erbarme dich" from St. Matthew Passion, a really moving piece that requires solid legato and smoothness of vocal production. Borghi's tone, while quite lovely, lacked sufficient legato and her phrasing was choppy. I think oratorio and baroque does not show off her voice very well. Her third piece, Air des lettres from Werther was easily her best moment - she has just the right instincts for Charlotte. The voice was freer here, and her attention to the text and her expression were exemplary. She ended with the Composer's Aria from Ariadne, an extremely popular choice for high mezzos in competitions. She sang it very well, but overall, I found her a bit subdued and low voltage. She didn't really connect with the audience. She received polite applause, although she did get a very good hand for the Ariadne at the end.

Seil Kim, tenor (Korea)

I remember Kim from the last Montreal vocal competition. I thought he sang beautifully but missed the finals. I recalled a quality tenore di grazia, used with taste. So it was good to have him back. He opened with "Comfort Ye...Every valley" from Messiah. I have heard this probably a hundred times if not more in performance from Jon Vickers on down, so I confess it is hard to get too excited. Kim sang it well, with plangent tone and excellent English. But his voice sounded smaller than I remembered, and it didn't make the impact it should, even in the modest sized Theatre Maisonneuve. His coloratura, while quite good, is aspirated. Dies Bildnis from Die Zauberfloete went very well - his best singing of the evening. He sang it with attractive tone, his most successful piece. Then he went off stage for an unusually long time and came back with a bottle of water, the only contestant in the two evenings that used water. His aria from Iphigenie en Tauride had its moments, but it was also marred by a very tight top. And his final piece, Kuda, Kuda from Eugene Onegin was a bit of a disappointment. I expected him to be really good in this. His singing lacked that plaintive quality one has come to expect in Lenski's aria, and again his top was very tight, distorting the line.

Andrew Garland, baritone (USA)

If the first half was a little underwhelming, things picked up decidedly with the appearance of Andrew Garland. His is a lyric baritone of very good quality, well schooled, and he communicates very well. His Rinaldo aria was authoritatively sung, making a big, robust sound. He received the first bravos of the evening. I was impressed with his long breath-line. Yeletsky's aria from Pique Dame, another very popular choice in singing competitions, was gorgeously sung. For me, the monologue from Billy Budd was his best moment - I liked his acting and his total commitment to the character. He will make a very good Billy. Interesting that he made Ich bin der Welt from Ruckert Lieder his final choice, instead of something flashy. If the countertenor Costanzo was unable to sing a high pianissimo, Garland had pianissimos galore, and overall, his execution of this piece was far superior. The orchestra, especially the horns, always played better, and Trudel was able to get the right balance from the orchestra. Overall, an excellent performance. This guy is the total package.

Angela Meade, soprano (USA)

What can I say about Meade? When you have a young singer picked by the Met to step in to replace an indisposed Sondra Radvanovsky, you know she has got to be special. Meade has a great voice, excellent technical control, from impressive fortes down to the smallest high pianissimos, she has it all. She began with D'Oreste d'Ajace from Idomeneo. Very impressive singing, although those staccato runs at the end were not as wonderful as I expected them to be. Her Beim Schlafengehen from Four Last Songs - a real test piece - was impressive, but I missed that ethereal entrance of the voice after the violin solo. Her third piece was "Casta Diva" from Norma. It takes guts - ok, chutzpah - to sing this in a competition! Meade has the legato and the rock solid intonation to do it justice, only the forte top notes were a little steely. This piece allows her to show off her piano singing, and the final note was extremely impressive. It elicited the first big salvo of bravos from the audience. She saved her best for last - Pace, pace - a truly fabulous piece of singing, absolutely perfect technical control. A big woman, she has found the art of stillness and the economy of gestures. Again, the last note she held on seemingly forever. And for that she received a standing ovation, the only one of the evening.

The jury panel retired to deliberate for about 30 minutes, and returned with the following three winners -

First Prize - Angela Meade
Second Prize - Yannick-Muriel Noah
Third Prize- Andrew Garland

Like most others in the audience, I played the game of picking my own winners. I had the same top three singers on my list, although in a slightly different order. Tomorrow is the press conference where we will get to meet the jury members. I hope to have more to report afterwards.