Jaap van Zweden's 1st Season in Dallas a Phenomenal Success!
Review by

Paul E.

Robinson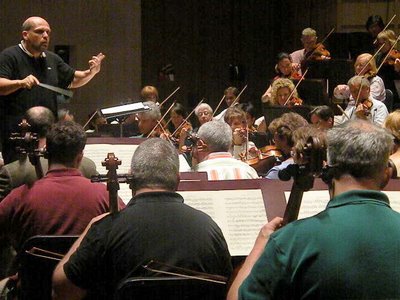 Classical Travels
THIS WEEK IN DALLAS
There is no doubt about it. A new era of musical excellence is underway in Dallas. Dutch conductor Jaap van Zweden has just finished his first season as music director of the Dallas Symphony Orchestra (DSO) and even the musicians are shaking their heads in disbelief. Is he really this good? Are we this good? "Yes," and "yes" to both questions.
All this excitement notwithstanding, on May 21st at the Meyerson, the 'curtain went up' on a program that appeared neither well planned nor very convincing – at least on paper.
Van Zweden is passionate about opera. For this evening, he and the DSO had scheduled a concert performance of
Madama Butterfly
, but like orchestras everywhere, the Dallas Symphony has had to rework its budget in the face of a punishing recession; thus, instead of
Madama Butterfly
, we had, on the face of it, a mishmash of Tchaikovsky and Brahms culminating in yet another unnecessary performance of the
1812 Overture
.
No matter. I would pay to hear Jaap van Zweden conduct Happy Birthday because I know he would give it one of the finest performances I have ever heard.
A Rousing but Anti-climactic 1812 Overture
The
1812 Overture,
on this occasion, was the version by
Igor Buketoff
in which a chorus is substituted for lower strings in the opening bars and then makes several later appearances in the piece. We didn't have cannons or fireworks in this performance, but the sparks were flying nonetheless in the overheated tempi chosen by van Zweden. The Dallas Symphony Chorus didn't sound very Russian – not enough Russian basses have emigrated to Dallas, I guess – but they did their work with accuracy and gusto.
As good as it was, the
1812 Overture
was an anticlimax after the most stunning performance of
Tchaikovsky's
Capriccio Italien
I have ever heard.
Superb Performance Recorded for DSO's Own Label!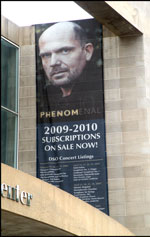 Capriccio Italien
begins with brass fanfares, based apparently on bugle calls Tchaikovsky heard played by an Italian cavalry regiment. It goes on to a series of Italian folk songs and street music and finishes with a wild tarantella.
One particular section in this performance of the work sounded more intense and ominous than I ever imagined it could. It was the soft, triplet accompaniment in the brass that did it. This figure was played with such rhythmic accuracy and so darkly that it became progressively more menacing.
'Menacing' or 'ominous' are not adjectives one normally associates with pop concert fare like Capriccio Italien. Hearing this performance, I began to suspect that the Italian influence here was Verdi.
This is what a conductor like van Zweden can do for 'familiar' repertoire. He approaches such pieces as if they deserved the commitment he would give to a Mahler symphony. Each phrase is given new life. Note values are accurately observed and balances are worked out in careful detail.
When Capriccio Italien moved into dance territory, van Zweden nearly danced himself off the podium and this involvement was infectious. The string sound soared and surged; it was fulsome and joyous. And the best was yet to come.
In this piece, Tchaikovsky's brass section is headed by pairs of cornets and trumpets, the former employed for their sound and their super chromatic capabilities compared to the trumpet in Tchaikovsky's time. Principal trumpet
Ryan Anthony
chose to play a cornet for this piece and the results were wonderful. It was just the right Italian folk music sound for the lyrical sections – with a generous helping of vibrato - and the agility of the instrument (and the player!) in the quick passages worked perfectly too.
For all its extraordinary nuances, what I'll remember most about this performance is how van Zweden steadily increased the tempo in the proverbial 'race to the finish.' Van Zweden was fearless in his acceleration and the DSO players were with him every step of the way. This was virtuoso playing of the highest order.
Fortunately, this concert was being recorded for broadcast. Even better, the Capriccio Italien is scheduled for release later this year on the DSO's own label. It will be coupled with a Tchaikovsky Fifth recorded earlier this season. If the recording of Capriccio Italien is anything close to what I heard Thursday night, it will be sensational.
Violinist Simone Lamsma Wows Audience!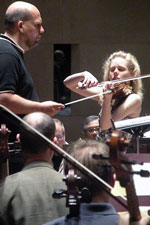 The first half of the concert was pretty remarkable too. The young Dutch violinist
Simone Lamsma
made her debut with the DSO in the Tchaikovsky Violin Concerto.
Ms. Lamsma was scheduled to be a featured soloist with the orchestra in its forthcoming European tour; unfortunately, the tour has been scrubbed for the time being. It is hard to justify foreign tours when the basic operating budget is taking such a beating.
In any case, it was a pleasure to make the acquaintance of the gifted Ms. Lamsma, winner of at least four major violin competitions in the past three years. She has a formidable technique and a warm, distinctive sound. With van Zweden on the podium - a colleague who has played this concerto himself -this was a fine collaboration. The orchestra played with great sensitivity and panache!
Ms. Lamsma returns next season to play the Britten Violin Concerto.
The concert opened with
Brahms
'
Schicksalslied
(Song of Destiny) , a setting for chorus and orchestra of a poem by Hölderlin. This is a beautiful if slight work by Brahms but it hardly fits in an all-Tchaikovsky program. And while the chorus sang beautifully, I thought that van Zweden miscalculated both dynamics and tempo. He started the piece so slowly and so softly that the line could not be sustained. Nor could the strings produce sufficient weight of sound. Still, this piece does not turn up often in concert and it was a pleasure to hear it, especially in an ideal acoustical setting like the Meyerson.
Jaap van Zweden has given Dallas a season of insight and excitement, with much more to come. Among the highlights next season will be the Mahler First and Second Symphonies, the Bruckner Ninth, the Rachmaninov Second Symphony and the Shostakovich Symphony No. 7 (Leningrad.)
Labels: classical travels, Dallas Symphony, Paul E. Robinson, Simone Lamsma, Texas