This Week in Toronto (May 2 - 8)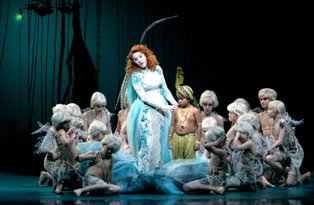 Soprano Laura Claycomb as Tytania in the Houston Grand Opera/Lyric Opera of Chicago/Canadian Opera co-production of
A Midsummer Night's Dream.

Photo: Felix Sanchez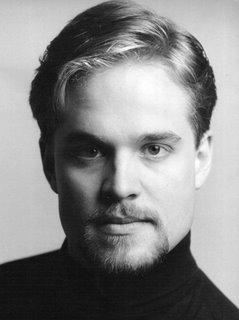 Countertenor Lawrence Zazzo, COC's Oberon
The last production of the COC's 2008-9 season, Benjamin Britten's A Midsummer Night's Dream, opens on May 5 and continues until May 23, in eight performances at the Four Season's Centre. It will be an "updated" production from Houston Grand Opera, directed by Neil Armfield. It stars American countertenor Lawrence Zazzo as Oberon. This will be Zazzo's belated COC debut, as he was originally announced to appear three seasons ago in Rodelinda. Soprano Laura Claycomb, last seen as Gilda in Rigoletto, returns as Tytania. Also of interest is the return of German baritone Wolfgang Holzmair as Demetrius, in a bit of unconventional casting. Holzmair made an unscheduled - and largely unannounced - debut two seasons ago in two performances of Cosi fan tutte as Don Alfonso, replacing Pavlo Hunka, near the end of the run. I look forward to hearing him in Toronto again. Also returning is soprano Giselle Allen, who was Marie in COC's last Wozzeck. Former Kansas City Symphony music director Anne Manson conducts.
On Tuesday May 5, Newfoundland's Duo Concertante will give a free noon hour concert at the Richard Bradshaw Amphitheatre, in the Four Season's Centre. The duo of violinist Nancy Dahn and pianist Timothy Steeves is launching its new CD, It Takes Two, with this free concert. It also appeared previously in a live performance at the New Classical FM 96.3 on April 8th. Be sure to arrive at least 30 minutes early to get a seat, as these concerts are almost always full.
Today (May 2) in over 30 theatres in Canada, Montreal distributor DigiScreen presents Royal Ballet's production of La Bayadere (The Temple Dancer), as part of The Royal Opera House's international Opus Arte Cinema series. It stars three of ballet's biggest stars - Tamara Rojo, Marianela Nuñez and Cuban superstar Carlos Acosta. I plan to attend the show at Empress Walk cinemas in North York.
Lieder fans will love Off Centre Music Salon's German-Spanish Salon on Sunday, May 3 2 pm at the Glenn Gould Studio. It stars the wonderful baritone Russell Braun, sopranos Monica Whicher and Lucia Cesaroni, with pianists Boris and Inna Zarankin.
Finally I want to report on the superlative concert I heard last Tuesday at Roy Thomson Hall. It was the National Philharmonic Of Russia led by Vladimir Spivakov, with guest soloist Denis Matsuev. I recall reading somewhere that Spiavkov was asked personally by Putin to put this touring orchestra together, as a means of keeping the great Russian talents at home. It is comprised of many great virtuosi picked from various Russian orchestras. Svetlana Dvoretskaia, the impresario of Show One Productions, brought the orchestra to Toronto for its Canadian debut. I don't have any statistics to back it up, but judging by casual observation, the audience was at least 80% Russian, if not more. It was a completely packed house, with people sitting even in the choir loft. There was also a palpable sense of excitement in the lobby before the concert.
The program began with Anatol Liadov's The Enchanted Lake, Op. 62. The hushed and evocative orchestral passages reminded me, of all things, passages from Schoenberg's Gurrelieder, except Liadov is more tonal. A very beautiful piece that I hope to hear again. That was followed by the centerpiece of the first half, Rachmaninoff's No. 1, with Matsuev. Since his win of the Tchaikovsky Competition in 1998, Matsuev has appeared around the world, in all the great venues the likes of Carnegie Hall and La Scala. I have to confess that of the three Rachmaninoff concertos, No. 1 is my least favourite. However, Matsuev's stunning technique and fluid phrasing was impressive, and he was expertly supported by Spivakov. Embarrassingly, the audience applauded after the first movement, even when Spivakov kept his hands raised to discourage the misdirected enthusiasm. Frankly I don't think he was amused by the rather gauche audience behaviour. He noticeably did not pause between the second and third movements to avoid a repeat.
The second half consisted of two pieces with the Romeo and Juiette theme, that of Tchaikovsky's Fantasy-Overture, and the meatier Four Pieces from the Romeo and Juliet Suite by Prokofiev. To me, this was the heart of the evening. I am at a loss to come up with superlatives to describe the sound - and the conducting - of these two pieces. The waves upon waves of incredible sound - and energy - coming from the stage was staggering. Ever the showman, Spivakov's conducting was so colourful that I couldn't take my eyes off him. His movement was fluid - he waved his arms like he was imitating a crane taking off! There were four encores, all chestnuts, that had the audience in a frenzy - many, many ovations and lots and lots of flowers, to be sure. This sort of audience response is rare in Canada but very common in Europe, particular the former Soviet Union. Spivakov's conducting reminds me of a racecar driving behind the wheel of a Ferrari - he could do anything he wanted with this orchestra! Simply amazing to watch and listen. Let's home that Show One will bring Spivakov and the superb NPR back to Toronto in the not-too-distant future.
Labels: COC, Duo Concertante, La Bayadere, Midsummer Night's Dream, Off Centre Music Salon, Royal Ballet