Met in HD: Puccini's La Rondine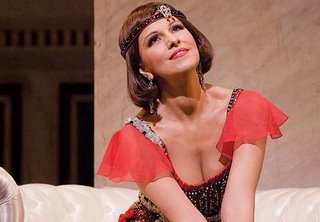 Angela Gheorghiu as Magda in Metropolitan Opera's
La Rondine
La Rondine, the "wall flower" among Puccini's operas, has barely a tenuous hold on the fringes of standard repertoire and for good reason. Others may disagree, but to my ears, this piece marks a low ebb in the composer's creative genius. Yes, it does have its moments, particularly the showpiece "Che il bel sogno di Doretta" and the splendid concertato in the Second Act, two genuinely inspired moments. But the rest of the piece does not really represent Puccini at his best, despite an occasional perfumy melody here and there. Also problematic is the rather thin, sugary plot where there is little action, particularly in Act One. The story bears some resemblance to La traviata except less developed, with elements of Strauss's Die Fledermaus thrown in for good measure. Frankly it pales in comparison to those two, far more successful operas. True, Puccini intended to write an operetta in the great Viennese tradition, complete with opulent setting, frothy melodies - but minus the spoken dialogue. In the end, the composer reverted back to the more conventional operatic form. There is even an alternate ending (to the one performed currently at the Met) where Magda dies. But either way, the end result does not measure up to some of Puccini's greatest creations, whether as an opera or operetta. It is no wonder that it has been absent from the Met stage since the 1930s.
The raison d'etre for the current production is Romanian soprano Angela Gheorghiu. Much like the Met Thais for American prima donna Renee Fleming, a production of Rondine can be successful as a diva vehicle. Gheorghiu has a particular affinity for this opera, having recorded it a decade ago and has previously sung it on stage. The Met spared no expenses in mounting a super-lavish production by Nicolas Joel to showcase the soprano. The decor is fin-de-siecle Art Nouveau, suitably French, with lovely imitations of Tiffany glass panels mixed in with splashes of early Deco. Some of the decor reminds me so much of the Franz von Stuck house (now a museum) in Munich I visited last summer! Some may criticize the Joel production for its rather cold aesthetics but overall it's really pleasing to the eye. The period costumes are uniformly gorgeous, the ones worn by Gheorghiu are particularly lovely, although the summer dress in Act Two with its uneven hemlines aren't terribly authentic.
As to the musical side of things - Peter Gelb went in front of the curtain to announce that Ms. Gheorghiu had a bad cold but didn't want to disappoint her fans so she consented to sing. Her first phrases were low, sounding uncomfortable in the chest voice. There wasn't much time before she had to sing the big aria, and it was clear that she wasn't sufficiently warmed up for "Che il bel sogno". With the big screen HD in Sheppard Grande, one could clearly see her working hard to get the saliva going to lubricate her throat for the aria. Other than a couple of pushed notes and a lack of high pianissimo singing, she did well under the circumstances. Her acting as Magda was endearing but not overdone, unlike Fleming's excessive posturing as Thais. Roberto Alagna was in acceptable voice, a little dry in spots and his forte top notes typically went sharp, but he was clearly enjoying himself as Ruggero, savouring the chance of singing with his wife. The two exhibited a dramatic and physical freedom with each other in art that is only possible (and probable) when such freedom extends to their personal lives as well. At one point, Alagna spontaneously kissed Gheorghiu's bosom - I ask you, when was the last time you see that happen between two singers onstage?!
The second couple were well taken by Marius Brenciu (Prunier) and Lisette Oropesa, suitably as - Lisette! The 2001 Cardiff winner Brenciu has a slender voice which he uses with taste and style, refraining from pushing it beyond its limits. Oropesa, who made her Met debut as Susanna in fall 2007 replacing a very pregnant Isabel Bayrakdarian, was a delicious Lisette, acting up a storm and her soubrette tailor-made for the part of the maid. The only superannuated singer onstage was Samuel Ramey as Rambaldo. His once impressive bass isn't what it used to be, and he wobbled his way through. But given the character of Rambaldo, this kind of imperfect vocalism actually adds to the role, and Ramey did well. Marco Armiliato deserves credit for treating the lightweight score with the respect of a work many times its status.
I saw it at my theatre of choice, the Sheppard Grande in North York. The facility was late opening this time. Given that the mostly elderly opera audience has a tendency to be early, the queue waiting to get in was extremely long by noon, and I heard quite a lot of grumbling. I spoke with Greg Buller, the theatre manager, who explained that he was short-staffed that day and for safety reasons he couldn't open the facilities any earlier. The transmission in Cinema #3 was perfect except for a few seconds worth of silence at the beginning of Act Three. The cinemas were as usual well maintained and spotless, no sticky floors anywhere that I was able to find. The service at the coffee-sandwich concessions continued to be on the slow side. Given that there are usually four or even five staff members behind the counter, service should be a lot more brisk. The washrooms had attendants stationed outside to take care of any special needs should they arose - a nice touch. The next show is the encore presentation of Damnation of Faust next Saturday, and the next new presentation is Orfeo ed Euridice on January 24.
Labels: Angela Gheorghiu, La Rondine, Met in HD, Roberto Alagna