Munich's Cuvillies Theater flooded by False Alarm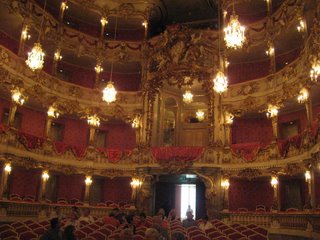 Interior of the Cuvillies Theater
Photo: Joseph So
Fellow journalist and colleague Frank Cadenhead reported in
Musical America
that the exquisite Rococo Theater that is the pride and joy of the Bavaria State Opera and the city of Munich was accidentally flooded when an estimated 7900 liters of water rained down. The cause of the mishap was originally attributed to a malfunctioning of the sprinkler system. Upon further investigation, it was discovered that the system was triggered by a false alarm received by the security firm. The circumstances leading to the mishap is still under investigation.
I visited the Cuvillies Theater last July as a guest of the Munich Opera Festival. As you can see from the above photo I took, arguably this performance space is the most elaborately beautiful of all Rococo Theaters in the world. Built in 1750 by court architect Francois Cuvillies and rebuilt after being destroyed during the Second World War, the theater had just reopened last July following a four-year closure and a 25 million Euro renovation, designed to bring the new backstage technology up to modern standards.
The good news is that none of the public area was affected by the flooding, as it was localized to the backstage. The lighting and sound system appear to be functioning normally but the stage equipments have suffered flood damage. Finance Minister Georg Fahrenschon pledged speedy repair so as the performance schedule won't be disrupted. While most of the performances of the Bavarian State Opera take place in the larger National Theater, certain productions, particularly of Mozart operas, use the more intimate space of the Cuvillies Theater. The next opera performance in the theatre, Mozart's
Cosi fan tutte
, is slated for April.
Labels: Bavarian State Opera, Cuvillies Theater