Glazunov: Symphony No. 6 / La Mer / Introduction and Dance from Salome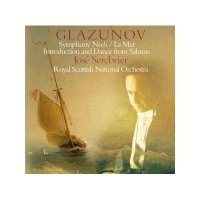 Royal Scottish National Orchestra / José Serebrier

Warner Classics & Jazz 2564 69627-0 (65 min 32 s)
**** $$$$
There is not word on Serebrier in the album booklet, but he is one of the busiest recording conductors around – and a very good one. He was born in Uruguay but made his career mostly in the United States. At one time he was Stokowski's assistant at the American Symphony Orchestra. Serebrier helped Stokowski make the first-ever recording of Charles Ives' difficult Fourth Symphony before making an even better one himself.

This is the latest installment from Serebrier's Glazunov symphony cycle with the RSNO. The Sixth is rich in melody and orchestral virtuosity with a wonderfully grand tune in the last movement. The performance is exciting and full-blooded with excellent sound.
A couple of intriguing fillers: La Mer, Op. 28 was composed six years before Debussy's more famous piece by the same name and has nowhere near the same poetry and subtlety. But if you like massive, crashing waves in music you'll enjoy this work anyways. Likewise, Glazunov's Dance of the Seven Veils doesn't challenge Richard Strauss but it is evocative and richly scored.
- Paul E. Robinson
Labels: Alexander Glazunov, CDs, english, product_review