Nutcracker & Adventures of Pinnocchio from Royal Opera at the Movies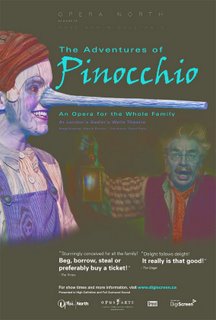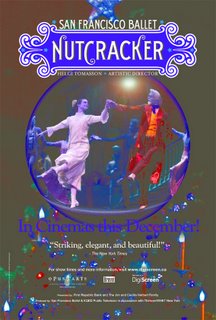 The Royal Opera House's OPUS ARTE HD SERIES
PRESENTS THE ADVENTURES OF PINNOCCHIO and NUTCRACKER
IN CINEMAS THIS DECEMBER

(IMMEDIATE RELEASE – Dec. 3, 2008) This December, The Royal Opera House's Opus Arte HD series distributed by DigiScreen Corporation will screen Opera North's acclaimed "Opera for the Whole Family" THE ADVENTURES OF PINNOCCHIO, followed by San Francisco Ballet' seasonal treasure, the magical NUTCRACKER.
THE ADVENTURES OF PINNOCCHIO appears onscreen Saturday, December 6 & 7th at 1pm in cinemas throughout Central and Western Canada. The performance was recorded live on March 28, 2008 in front of a full house at London's historic Sadler's Wells Theatre in cinema grade High Definition and full Surround Sound.
Opera North, England's National Opera in the North, has scored a triumph with its award-winning production of The Adventures of Pinocchio - an opera for the whole family that the Times calls a "miracle in Leeds". The Adventures of Pinocchio is brought bursting to life by award-winning composer Jonathan Dove and playwright Alasdair Middleton (The Young Vic's The Enchanted Pig). David Parry conducts and Martin Duncan directs the irresistible story of the wooden boy who longs to be real. Combining magical sets and costumes with a superb score, Opera North's adaptation of this classic tale is a truly lavish production which opened in Leeds and London to
rave reviews
this year.
Richard Morrison of The Times referred to the production as: "Tidings of great joy: a Christmas miracle in Leeds! A modern composer has produced a new opera that is funny, poignant, tuneful, spectacular – and, best of all, stunningly conceived for all the family. Beg, borrow, steal or preferably buy a ticket!"
The Stage Magazine echoed these sentiments with its own lavish praise: "Delight follows delight... youngsters were transfixed from start to finish. It really is that good!"
Lynne Walker of The Independent stated: "It cannot fail to beguile young theatre-goers. At Opera North's world premiere, the older audience was equally enthralled!" –
San Francisco Ballet's Nutcracker appears onscreen Saturday, December 13th at 1pm in cinemas across Canada. The performance was recorded live on December 19, 2007 at San Francisco's War Memorial Opera House in cinema grade High Definition and full Surround Sound.
Magic is real and dreams come alive! San Francisco Ballet's magnificent production of Nutcracker is one the world's finest productions of the classic ballet, playing to unanimous critical acclaim and sold-out audiences each December. Set in early 20th century San Francisco, one of the city's grandest eras, this production features a cast of 200 dancers, stunning images, and magical surprises that mesmerize and delight adults and children alike. Nutcracker remains the essential family-friendly ballet. Children are as crucial to the plot as they are to the ballet's atmosphere - taking over the stage as party guests, toy soldiers, baby mice and assorted extras. Visually a template for traditional Christmas fantasy, it builds steadily in pace and grandeur through its superbly pitched choreography, from the battle scenes to the climactic pas de deux for the transformed Clara and her Prince. San Francisco Ballet is America's most venerable Ballet company and their home, the War Memorial Opera House, is a theatre of magnificent grandeur. Damian Smith and Elizabeth Powell star in Helgi Tomasson's magical production.
Twenty-five Canadian theatres join some sixty cinemas in the United Kingdom presenting San Francisco's Nutcracker, this December.
"This is a Nutcracker on a grand scale--striking, elegant, and beautiful." – The New York Times
"The opulent new version of the seasonal classic, launched spectacularly by the San Francisco Ballet, is every parent's dream of a holiday treat. It looks scrumptious, tastes delicious, offers substantial nourishment and won't cause cavities." - Allan Ulrich, San Francisco Examiner
In the Toronto Area, THE ADVENTURES OF PINNOCCHIO and NUTCRACKER will be shown at the Empire Empress Walk 10 Cinemas in North York and Empire Studio 10 at Square One in Mississauga. The productions will be also be shown in Empire and independent theatres in Victoria, Vancouver, Edmonton, Calgary and Winnipeg in Western Canada and in Ottawa, Kingston, Richmond Hill, Bolton, London, St. Catharines, Waterloo, Kitchener and Montreal in Ontario and Quebec.
Empire Theatres in Halifax, Sydney, Fredericton, Moncton, St. John, Charlottetown and St. John's in Eastern Canada will screen NUTCRACKER.
Tickets will be available at $19.95 + tax per adult, $16.95 + tax per senior and $9.95 + tax per child. For cinema locations and to purchase advance tickets throughout Canada visit
www.empiretheatres.com
. For independent theatres in Vancouver, Waterloo and Montreal please visit
www.festivalcinemas.ca
,
www.princesscinemas.com
and
www.ex-centris.com
. For more information on DigiScreen, please visit
www.digiscreen.ca
.
For follow up information, please contact:
Blair Haynes, Director of Canadian Network Tel: (416) 560-7644
bhaynes@digiscreen.ca