Choral Music in the Nineteenth Century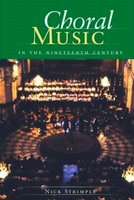 By Nick Strimple

New York: Amadeus Press (283 pg.)
ISBN 978-1-57467-154-4
Choral Music in the 19th Century
is a concise overview. Author Nick Strimple strayed from the catalogue approach, covering his material geographically. Included are composer anecdotes, illuminating quotations and relevant articles. Inevitably, some pivotal composers (Beethoven, Schubert, Brahms and Dvorak) are given more attention but he highlights some lesser-known works and composers worth examining. These works would be of particular interest to conductors looking for unusual repertoire. The works listed are varied, covering male, female, children's and mixed choirs. A comprehensive repertoire list and bibliography close the book.
Strimple also analyses the impact of major historical events on the composition in that era, including the French Revolution, the growth of Nationalism and the wars of 1848. He also notes the emergence of choral organizations and the growth of the male choir movement.
In conclusion, one can thoroughly recommend this volume to anyone who is interested in the choral music of this era. The casual listener will find a wealth of 'new' material to explore, conductors will find new repertoire choices and choral-lovers will enjoy a thorough overview.
- Iwan Edwards
Labels: book, choral, english, product_review