Bernard Labadie - Fresh Air at L'Opéra de Montréal

by Wah Keung Chan / October 10, 2003

---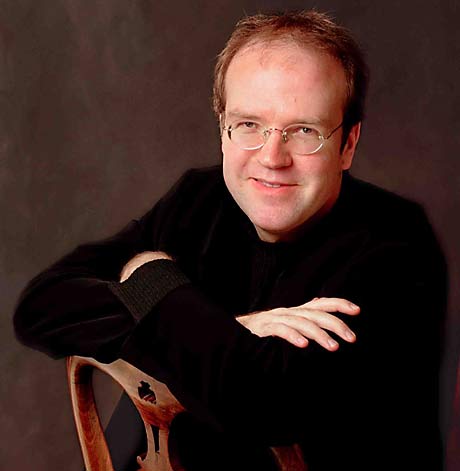 When the Opéra de Montréal (OdM)'s new artistic director announced the 2003-04 season last April, the only disappointment was the decrease from six to five mainstage productions. The lineup of Le Nozze di Figaro, Thaïs, La Bohème, Bluebeard's Castle/Erwartung and the French version of The Merry Widow seemed to silence the local critics. There was something for almost every taste: something new, something French, and casting of local and Canadian talent for the standard repertoire. Known as the director of Les Violons du Roy, Labadie brings to the OdM his nine years of experience as artistic director of the Opéra de Québec. Although he has been at the helm for one and a half years, Labadie really makes his mark on the OdM with Thaïs. When LSM spoke to Labadie following the announcement, he stated his long-term priorities as commissioning and premiering new works, putting on baroque opera, and establishing education programs."This season is a starting point. It definitely shows the paths I want to explore, while also clearly showing that there will be new paths and projects to be realized.
"We don't want to lose the older people but we definitely need to attract newer audiences. When Robert Lepage's double bill (Schoenberg's Erwarthung and Bartok's Bluebeard's Castle) was presented in Toronto, it attracted a different kind of audience. The 18-30 program seems to be working. We have to make sure that every part of the spectrum is covered to also attract teenagers, for instance."
What are objectives? "I want to broaden the repertoire to offer earlier works and venture into new works. In the last 15 years, there has only been one baroque opera (Poppea) and only one new commission, Nelligan, by André Gagnon in the early 90s. Every season we want to present at least one piece of the French repertoire, either a lesser-known piece or even some well-known pieces. For instance, French baroque repertoire, such as Lully, is very rich.
"I want to enlarge the aesthetic universe in which the OdM has evolved. In the last few years there have been many new trends and new approaches in opera with input from disciplines such as art, theatre, cinema and multimedia. The OdM has been out of the loop in these developments.
"I don't think we should privilege one specific way of doing things. There will be high-quality traditional productions, but at the same time I think audiences are clever enough to accept being guided to something different and that is what I intend to do--without losing track of our core audience.
Repertoire
"Eventually, I would like to get into commissions. There are very few full-scale productions of new operas being commissioned because they are so expensive. There are a lot more chamber operas and operas for kids, like Chant Libres' Pacamambo, which was extremely interesting. It would be nice to be involved every five or six years in a new full-scale production of new opera.
"We want new productions to represent new visions. Wilfrid-Pelletier Hall is huge and we usually need collaborations. There are problems related to the size of the hall. In Montreal we have to strike the set and clear the stage after every performance. The set has to be built a certain way. In Quebec City we don't have this problem as we can keep the Grand Théâtre du Québec during the run, which means we can build sets that are not intended for a quick move; these tend to be cheaper. As they do in the theatre world, the sets go into the trash when they are done. The difference could be four or five times less expensive, making it cheaper to rebuild sets than to store them. I want to find Montreal solutions for Montreal problems.
"Huge houses require specific casting, staging, and stage designing. I would like to do repertoire up to the time of Rossini in smaller halls. I don't think all opera should be made to fit into a single box."
Does it make economic sense? "Not right now. That is why we will not have baroque opera this year. We need to sell over 2000 tickets per performance."
What about Wagner? "I would love to present Wagner here. I've heard the word Wagner and Strauss a lot in the last year. This repertoire requires big voices and is expensive. The grants we are getting this year are $160,000 less than what we got 10 years ago. Right now OdM does not receive its fair share".
Budget shortfalls and fundraising concerns were behind the reduction from six to five mainstage productions and also the departure of former general director Kim Gayner, now replaced by David Mass, who has an established fundraising record. Thankfully for the OdM, Labadie is actively involved in lobbying and fundraising. "It's something an artist cannot avoid. Even in Europe, subsidizing the arts is very political, and conductors and artistic directors are involved at every level in meeting the politicians and presidents. I want to support the general director; however, it is artists who can best make the point on how necessary it is for society to support its cultural life and artists.
"For instance, we need as much rehearsal time today as in Mozart's day. And the cost of rehearsals keeps going up with inflation. For the arts to blossom, it's a choice society has to make. We must do more to raise funds from individuals and companies but not to replace funding from governments. The necessary fiscal regimes are not in place in Canada."
Education
The successful "Design me an Opera" continues at the Opéra de Québec in 2004 with L'Elisir d'amore

The Magic Flute at l'Opéra de Québec, 2000
Photo: Louise Leblanc
During the Labadie years, the Opéra de Québec was innovative in introducing young people to the opera. "I started the drawing competition 'Design me an Opera' for elementary schools in Quebec City to get kids involved in the process of opera making. Visually, it is stunning what can be done. We also project children's drawings to show people how we use them. The kids develop a sense of ownership. I also want to develop a certain repertoire attractive to kids. Some solutions lie with the Atelier lyrique. That is why we have a new musical director, Jean-Marie Zeitouni. The whole idea of the Atelier lyrique is under revision. Its main purpose is to train and support future professional singers, allow them to grow at their own pace. So far we've added a second vocal coach, Lyne Fortin, to go with Cesar Ulloa. We will look for the best singers available, train them and choose a program for Atelier lyrique accordingly, not the other way around. We want the Atelier to be more present in Montreal and make the connection with the main stage. We've downsized the tour with the Jeunesses musicales du Canada by half, taking part only in the Fall. In three years, we hope the Atelier will have its own production with orchestra so that the singers will work more with conductors." Some of these moves have already been evident. First-year intern Michèle Losier was a captivating Cherobina in the recent Nozze di Figaro.
How does Labadie make casting decisions? "It all depends on repertoire. We don't hire singers because they are Canadian or Quebecers, we hire them because they are good singers. It depends on repertoire. We must foster local talent, but the first principle is quality."
From what other opera companies does Labadie draw inspiration? "I admire Glimmerglass Opera. Their 900-seat hall makes it easier for casting and the productions are not that expensive ... They take risks and people follow--now it is hard to get tickets there. They have developed their own style."
Labadie is used to developing his own style. How long does he intend to stay at the OdM? "After nine years at the Opéra de Québec, I think it was time for a change. On a theoretical basis I think that it would be the same case in Montreal." Labadie is in the second year of a three-year contract. If things go well, we could be at the beginning of his next 10-year cycle.
---
Version française...