Thaïs at L'Opéra de Montréal

by Bernard Labadie talks to Réjean Beaucage / October 10, 2003

---
Maestro and new artistic director of the Opéra de Montréal Bernard Labadie takes on his full role with the upcoming production of Jules Massenet's Thaïs (1894). We asked him to tell us about the choices he had to make in mounting this new production, and about the work itself as well as its composer.
One of the first priorities that I set for the Opéra de Montréal (OdM) was to bring back French opera to our program--as I said at the press conference announcing my appointment. Production costs are very high, which forces opera companies to work in co-production. As a result, their repertoires may become rather uniform and not develop a distinctive edge. That's why I felt it quite logical and natural to make French opera a priority for the OdeM. It's all the more necessary when you look at programs for the last few seasons. French opera was rarely performed, and then mainly the great standards of the genre--Manon (Massenet), Faust (Gounod), or Carmen (Bizet). I've absolutely nothing against them and we'll certainly do these again, but there are many excellent French operas that are less frequently mounted. Massenet heads the list.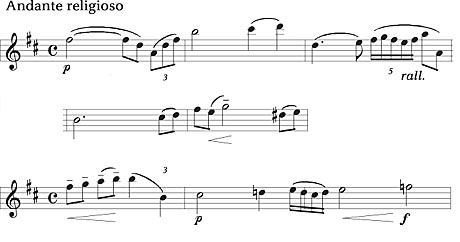 A choice for the company
Beginning with Thaïs was more a choice for the company than for myself, by which I mean that it isn't part of a repertoire I've often worked on, although I did a great deal of Romantic opera as artistic director of the Opéra de Québec. Choosing Thaïs specifically from Massenet's work has a lot to do with the fact that we have Lyne Fortin in Montreal. She's the type of singer for whom the role of Thaïs seems tailor-made. In my opinion she has an extraordinary voice, especially for the French repertoire. The role has great dramatic qualities as well. I believe Lyne Fortin is one of the best singer-actresses around, and I can't imagine a more appropriate person to perform Thaïs. Her part is in a fairly high register at the upper limits of the coloratura soprano range. It's really written for a lyric soprano. The role requires impeccable technique and the ability to give a believable portrayal of the character's fragility. She's completely torn inside and is experiencing a religious conversion at the same time that the male lead is losing his faith. It's a bit like two trains passing each other in opposite directions, but spending a brief moment side by side. I asked baritone Gaétan Laperrière to play the monk Athanaël, who wants to free Thaïs from her surrender to the pleasures of the flesh. Gaétan possesses a strong sense of humanity. With the right encouragement I think he'll make an extremely convincing Athanaël and transmit this character's conflicted feelings perfectly.
Another thing: when you mount a rarely performed opera, you have to find the various production elements--scenery, costumes--that you feel are right and that correspond to your vision of the work and of the company's development. Also, the singers you want must be available, and the production has to be affordable. Frankly, it's a matter of squaring the circle. In addition, this Thaïs is a joint production. We heard about it from Renaud Doucet (the director) and André Barbe (scenery and costumes), who'd been asked by the Opera Theatre of St. Louis to do a new production of Thaïs. André and Renaud often work with the OdM and the project seemed like a perfect match. We very quickly came to an agreement with the St. Louis people. I saw the production in June. They have an Elizabethan stage with the audience on three sides, which means fairly big physical constraints, mainly for changing scenery. Of course our stage is bigger, so we'll need to adapt the scenery. However, as we're going to keep it afterward, that isn't a problem. The scenery concept is based on a very pared-down vision, easily recognizable and providing the most effective possible background to the work. The costumes are absolutely extraordinary--highly imaginative and quite magnificent. These will remain the property of the St. Louis company. I will conduct the Montreal Symphony Orchestra for the occasion. I know the orchestra well, as I've conducted it several times. Obviously it's a great pleasure to be able to conduct this repertoire with an orchestra in the French tradition.
Getting to know Massenet
I was a latecomer to Massenet--about eighteen when I had my operatic epiphany. At that age you're more attracted to language and powerful images. This is easier with Puccini or Verdi. It took me quite a while to understand the grandeur of Massenet's music and harmonic language, which I find fascinating, especially in Thaïs. The opera is steeped in fin-de-siècle Orientalism of the late 1800s. Massenet is clearly exploring ways of developing a musical language with a special colour. He created a particular harmonic language for this work, but did it in his distinctive manner--that is, with unmistakably French harmony. This combination of modal inspiration and French harmony (I would call it "pre-colourist" in Massenet) is fascinating. He's also a past master at manipulating the French language. I've always admired Faurè's music greatly, and last year I finally conducted Duruflé's Requiem. These three composers are connected in their use of colour and language, as well as sacred undertones. The French have a special language for sacred music, and you find clear echoes of this in Thaïs, a work where religion plays a large part.
Another interesting thing about Massenet is that he creates his own clichés. For example, in his operas the male lead is almost always a baritone, while the tenor has a more secondary role--this last point perhaps contributing, along with other aspects of his work, to the fact that a number of Massenet's operas have remained somewhat marginal. You need singers who are able to understand and express all the subtlety of the characters and the language, as well as a director who is prepared to give his all. This isn't an opera that you can "place" like Rigoletto, for instance. Thaïs makes no sense if you don't get beneath the surface, because like many works in the French repertoire there's a deceptive superficiality. But if you scratch the surface a little, you find various layers of meaning. Puccini is obvious, although of course I'm looking forward to working on his operas. Massenet, however, is a challenge for the singer: his operas go beyond the obvious. [Translated by Jane Brierley]
Thaïs, by Jules Massenet, will be performed in the Salle Wilfrid-Pelletier of Montreal's Place des Arts on November 1, 6, 8, 12, and 15, 2003, at 8 pm. For information call (514) 985-2258. N.B.: Tenor William Joyner, previously listed as playing the part of Nicias, will be replaced by Paul Charles Clark.
---
Version française...
---