The Musical Table : Spaghetti alla Caruso

by Lucie Renaud / April 1, 2002

---
Photo by Russell Proulx
Caruso was as passionate about food as he was about music. .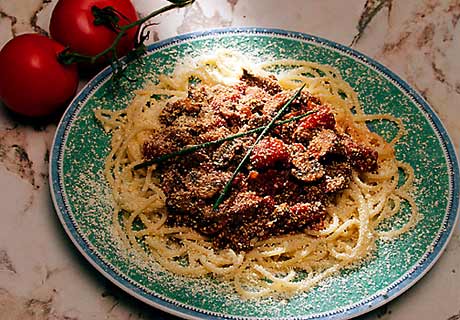 Serves 4
2 tablespoons olive oil
2 cloves garlic
2 finely chopped onions
250 g chicken livers, sliced in 4
250 g mushrooms, sliced in 4
1 tin (796 ml) San Marzano tomatoes
1 tin (136 ml) tomato paste
Basil, thyme and oregano, to taste
1 bay leaf
1 teaspoon sugar (to sweeten the tomatoes)
salt and pepper
450 g spaghetti
1 cup freshly grated Parmesan
Heat the oil in a thick-bottomed pot. Fry the onions and garlic for three minutes. Add the chicken livers and the mushrooms and fry approximately five minutes until the livers are brown. Add the tomatoes, tomato paste, herbs and sugar. Mix well and simmer gently on low heat approximately thirty minutes.

Meanwhile cook the pasta "al dente." Drain and place in a serving dish. Add enough sauce to cover the spaghetti. Sprinkle generously with Parmesan.

O sole mio!

Enrico Caruso, who reigned supreme over the Metropolitan Opera for 18 years, was as passionate about food as he was about music. He frequently told the story of an adventure he had while serving in the army: "I was in the artillery and my major wanted to know who it was that sang all the time. One blessed day, he introduced me to one of his friends, a rich amateur musician who listened to me and taught me the tenor parts from Cavalliera Rusticana and Carmen. Once, I didn't sing for a whole day. The major sent for me. 'Why didn't you sing today Caruso?' he asked. 'I can't sing when they serve me greasy soup!' The next day, my soup was perfectly seasoned, with the fat skimmed off."

The culinary tastes of the great tenor celebrated his Neapolitan origins. He used to say without batting an eyelid that this food was the sweetest, the simplest and the least expensive in the world. He was particularly proud of having enabled his compatriots, who were emigrating to the United States at the time (and settling in New York's Little Italy), to open numerous authentic pizzerias that continue, nearly a century later, to charm the palates of all gourmets. Caruso thus became the ambassador of the local specialities of his native region. Amalfi coast macaroni, Gragnano pasta, Torre Annunziata and Torre del Greco, extra virgin olive oil gathered in the hills of Sorrento and the now famous San Marzano tomatoes all owe part of their reputation to him. In fact, the tenor signed numerous advertising contracts with the companies that distributed these home grown products.

His talents as a chef were undeniable. He would often take over the kitchen at one or the other of the Italian restaurants in Brooklyn and regularly invited his friends to his sumptuous villa to treat them to his cooking savvy. The evenings would inevitably end in applause. He gave his name to two pasta recipes: Spaghetti alla Caruso (he apparently loved chicken liver) and Bucatini alla Caruso. The bucatini are covered in San Marzano tomato sauce along with mild yellow or red peppers, strong ground peppers and fried zucchini. An aperitif also bears his name. It consists of a mixture using variable proportions of gin, dry vermouth and green Crème de Menthe. The Grand Hotel Vesuvio in Naples, where the tenor spent the last years of his life, named its rooftop restaurant in his honour. [Translated by Alexandre Lebedeff]
---
---
Version française...
---