La Scena Musicale Online Reviews and News / Critiques et Nouvelles

Visit La Scena Musicale Online Reviews. [Index] Critiques de La Scena Musicale Online
---
Isabel Bayrakdarian in Salzburg 2003

By Ingrid Gäfvert / October 9, 2003
---
"A little piece of heaven!" There is no mistaking the delight of soprano Isabel Bayrakdarian as she talks about the time spent in Salzburg and its surroundings. While preparing for her debut at the prestigious Salzburger Festspiele she took time to explore the countryside, both by bike, until it was stolen, and by car, and she enthuses about the clean air of the mountains and the beautiful lakes. When we meet up in the canteen of the Festspielhaus on a tropically warm August evening she is just starting out on the round of performances that will introduce her to the discerning Festspiel-audience, singing Zerlina to Thomas Hampson's Don Giovanni in the revival of last years production.

"It's been a short rehearsal period since it's a revival, only two weeks," she says. "In the beginning, the others had to get used to me not being the singer from last year, both vocally and dramatically. But from the beginning I've had the freedom to make the role my own. I've been able to absorb things and to take the role to a new and higher level, to find new ways of colouring and shading the phrases. It's good to make the important debut here in a role that I've sung before, it has allowed me to be freer and much more of a risk-taker, and of course it helps to have such wonderful colleagues and a fantastic musical team with maestro Harnoncourt." What is her view of the character Zerlina? "She is not a victim, I will never portray my characters as victims, because in life I'm not a victim, I'm a survivor and I aim for honesty in every way on stage. Sure, Zerlina has people around her who physically and emotionally toss her around, but she's not accepting it and doesn't get stuck in self-pity."

Another Mozart-role that makes the soprano purr with enthusiasm is Susanna in Le Nozze di Figaro, a role she first sang at Ópera Bastille in Paris last year and which she is singing in Chicago in October 2003. "There are some roles that you identify so much with that it almost ceases to become acting and pretending, where the vocal writing suits your voice perfectly and it becomes almost like speaking. It becomes me in a way on the stage, it's just pure pleasure." Bayrakdarian is pleased that her Figaro from Paris, Italian bass-baritone Ildebrando D'Arcangelo, who is also Leporello in Salzburg, will also be singing the role again in Chicago.

After Chicago there are new challenges in store. "I have many new roles and it's going to be a year of intense study; fortunately they are beautiful roles and working hard keeps you on your toes. I have Teresa in a new production of Benvenuto Cellini at the Met and then I go to San Diego for Leïla in The Pearl Fishers." As it turns out that production has two other Canadians making debuts in the leads: Michael Schade as Nadir and Russell Braun as Zurga. "That is such a coincidence! It's very funny because shortly after San Diego, in March next year, we are going to do a real All-Canadian chamber music evening at Carnegie Hall with Michael's wife Noreen singing and Russell's wife Carolyn accompanying on the piano. We were laughing about this last night when Michael and Noreen were backstage."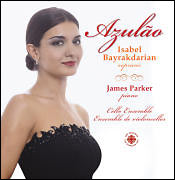 There are also new recordings scheduled for the busy soprano. October sees the release of her latest CD Azulao. "I also have a beautiful recording-project coming up with CBC Records following my Tafelmusik-concerts in Toronto. It's an all Cleopatra project, not only from Handel but also Hasse, Graun and a world-premiere recording of Mattheson in German, so I'm going to be singing Cleopatra in German. We were joking about translating it, not into Italian but perhaps into Egyptian or Arabic." A recent recording-venture was the soundtrack for the blockbuster-movie The Lord of the Ring — The Two Towers. "The musical director and composer of the Lord of the Ring soundtrack, Howard Shore, heard my Armenian sacred music CD Joyous Light with by chance, and he found it was the voice and the ethereal quality he wanted to represent the past. I rushed over to London for a two-day recording-session in Abbey Road Studios while I was singing Nozze di Figaro in Paris. It was fantastic, so much fun!"
So how important are recordings and PR in the career of a young opera-singer today? Bayrakdarian looks pensive. "Hmm. Very important — but to a certain degree. It's good to be ambitious, but there's a limit. It's important to understand how the business works, while at the same time not becoming too immersed in it because, then you are not concentrating on your art. You have to ask yourself if you are comfortable with the attention you get, being in the spotlight. I'm from the Armenian community and there you also have a kind of spotlight on you. I've learned what I can accept to be known publicly and what I want to keep private."
At the end of our conversation I ask the soprano how she would argue the case of opera as a cultural alternative for her own generation. "We are a generation that is used to multimedia and I think directors are responding to that, possibly a bit more in Europe than in North America. But the main thing is that you have an honest, committed performance. It's the same with any kind of live performance. Why is it that people get so carried away in concerts as opposed to listening to a CD, whether it's a pop-group or something else? In the live performance there's the adrenaline and that extra magic that I think people will always crave. I hope!"
Some of that magic definitely seems to be at work in the Grosses Festspielhaus the following evening. The appearance of Bayrakdarian on stage sends the audience scrambling for their programmes to check for her name, and from their eventual response it seems clear that they are unlikely to forget it.
Bayrakdarian will perform Suzanna in Chicago Lyric's sold out run of Mozart's Le Nozze di Figaro from October 10 to 25, 2003. Visit her website for her schedule.
Web:
• Official Isabel Bayrakdarian Website
• Spotlight on Isabel Bayrakdarian
---
Visit La Scena Musicale Online Reviews. [Index] Critiques de La Scena Musicale Online