Soprano Isabel Bayrakdarian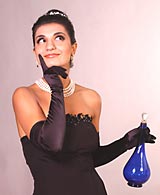 Isabel Bayrakdarian,
Photo: John Rennison,
Opera Ontario

Natural, warm, genuine, sincere and captivating are words that are commonly used to described the voice and artistry of Armenian-Canadian soprano Isabel Bayrakdarian. High praise for a 27-year-old. As vocal coach Stuart Hamilton told La Scena Musicale, "In 60 years, I have never worked with anyone with so much innate talent. Maureen Forrester had the ability to make you feel that she had a direct line to the composer; so does Isabel." Other champions of La Bayrakdarian include Marilyn Horne, Placido Domingo and now new manager Ronald Wilford of Columbia Arts Management (CAMI), whose list includes the likes of Rostropovich and Argerich.