CCOC Open House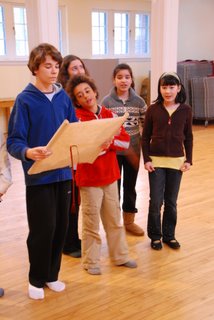 Canadian Children's Opera Company
with all five divisions of choruses performing
The Canadian Children's Opera Company (CCOC) will be holding an Open House, where all five divisions of choruses can be seen "in action", on Saturday, March 7, 2009, between 1:00pm and 5:00pm, at the First Unitarian Church in Toronto.

The 2008/09 season has already been a busy one for the CCOC. Preceding the Christmas holidays, the CCOC presented a tremendously successful run of A Dickens of a Christmas at the Enwave Theatre, they sang at the Ontario Legislature in Lights Across Canada, appeared with the Hannaford Street Silver Band in a Christmas Joy concert, and were the chorus of choice for The Canadian Tenors.

The CCOC also participated in three Toronto Symphony Orchestra concerts this year, The Snowman, A Very Merry Christmas Pops and the concert version of Mozart's The Magic Flute. On February 20th a CCOC chorus will sing at the Bohemian Ball, a benefit for the Sick Kids Foundation, and on April 9th, all 200 kids will sing the national anthem at a Blue Jays Game.

It is a busy life for a CCOC chorister! The junior division practices once a week; the Principal Chorus rehearse for two hours twice a week and, when preparing for a specific production, they add staging rehearsals to the mix! This is an enormous commitment for a young singer, but it illustrates the professional commitment by the members and why the CCOC is held in such high regard in the music community.

The Open House is a unique opportunity to meet the energetic and remarkable CCOC Artistic Director, Ann Cooper Gay, and all 200 children that make up the current chorus. Observe the CCOC staff conductors in action as they run an informal performance and rehearsal demonstration with each division of the CCOC.

In addition, there will be guest workshops, props making and drama classes, a Make-an-Opera workshop, as well as a bake sale, displays, merchandise, and audition information.

Composer Dean Burry (Pandora's Locker) leads the Make-an-Opera workshop demonstrating how to create an opera with nothing but imagination. Sophia Perlman, Co-ordinator of OPERAtion KIDS, will lead a workshop with the junior divisions.

And for all aspiring opera singers -- information, application forms and audition registration will be readily available.
Canadian Children's Opera Company
Ages 5-10: 1:00pm until 3:30pm; Ages 10-19: 2:30pm until 5:00pm
175 St. Clair Avenue West (at Avenue Rd), Toronto
For more information call 416.366.0467