RCM February events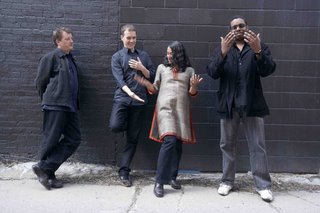 THE ROYAL CONCERT SEASON AT
Come in from the cold to the sparkling new TELUS Centre for Performance and Learning as the Royal Concert Season continues with concerts and lectures in February.

Great Artists Series start with Dublin International Piano Competition prize winner Li Wang playing Schumann's Kinderszenen, Chopin's Mazurkas, Op. 17, and Mussorsky's Pictures at an Exhibition on Sunday, February 1, at 4pm. Andrew McCandless, The Glenn Gould School faculty member and principal trumpet with the Toronto Symphony Orchestra, will appear onstage with fellow musicians Neil Deland, French horn, Gordon Wolfe, trombone, Vanessa Lee, piano, Julie Spring, harp, and Leonie Wall, flute, on Sunday, February 8, at 2pm, in a program of Bernstein, Ravel, Debussy and others.

World Music Concerts will continue on Thursday, February 19, at 7:30 pm, with Canada's renowned world music fusion group autorickshaw. Their music lies on the cultural cutting edge, as contemporary jazz and funk blends with the classical and popular music of India. autorickshaw has swiftly risen to become one of the most intriguing acts on the world music and jazz landscapes, garnering a 2004 JUNO nomination and winning a Canadian Independent Music Award in 2005. Suba Sankaran, autorickshaw's vocalist, was recently appointed as a resident artist at the Young Centre for the Performing Arts.

The last concert of the Royal Conservatory Orchestra series will present the Toronto Symphony Orchestra Music Director Peter Oundjian leading the RCO in Ravel's quirky and passionate Alborado del Gracioso and Elgar's Enigma Variations. Tchaikovsky's Piano Concerto No. 1 will round out the programme on Friday, February 20, at 8pm, and feature soloist Alexander Seredenko, the GGS Concerto Competition winner from 2007. This will be the last concert the RCO will be performing at the George Weston Recital Hall before their return home, to the TELUS Centre for Performance and Learning, next season.

The free Master Class Series is a wonderful way to see famous musicians as they teach the new generation to perfect their craft. Internationally renowned French-Canadian pianist and foremost interpreter of Liszt, Andrą© Laplante, will lead two master classes on Friday, February 20, at 10am and 2pm.
THE ROYAL CONCERT SEASON AT
Li Wang, piano (Great Artists Series):
Sunday, February 1 at 4pm
Andrew McCandless, trumpet, with the GGS Brass faculty (Great Artists Series):
Sunday, February 8 at 2pm
autorickshaw, world music fusion (World Music Concerts):
Thursday, February 19 at 7:30pm
Peter Oundjian, conductor, Alexander Seredenko, piano (RCM Orchestra):
Friday, February 20 at 8pm +
Andrą© Laplante, piano (GGS Master Class Series):
Friday, February 20 at 10am and 2pm*
Tickets $20.00 - $30.00, students $10
Tickets available online at www.rcmusic.ca, by calling 416-408-2824 X321,
or at the door at the RCM, 273 Bloor Street West, Toronto
* Free event
All events, except for the Royal Conservatory Orchestra, will take place at the Conservatory's new home, the TELUS Centre for Performance and Learning, 273 Bloor Street West.

+ The Royal Conservatory Orchestra performs at the George Weston Recital Hall at the Toronto Centre for the Arts. For RCO tickets visit www.ticketmaster.ca or call 416.872.1111.

More information about the 2008-2009 Concert Season is available on The Royal Conservatory website at www.rcmusic.ca.

The RCM 2008-2009 Concert Season is made possible through the generous support of:
Presentation Sponsors: BMO Financial Group and MasterCard¨∆
Performance Supporters: Acuity Funds Ltd.; Mona and Robert Bandeen; D. & T. Davis Charitable Foundation; Margaret and Jim Fleck; Invesco Trimark; Mr. Thomas Logan; Mary Jean and Frank Potter; Meredith and William Saunderson; Janet and Michael Scott; Shiu Pong
The Department of Canadian Heritage, the Ontario Arts Council and RBC Financial Group
Labels: The Royal Conservatory