March at the Royal Conservatory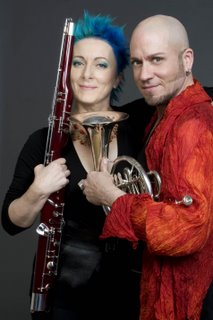 For Immediate Release: January 29, 2009 o Please include in your listings/announcements
at The Royal Conservatory
March at The Royal Conservatory starts on a truly high note, with an already sold-out Great Artists Series concert of Canada's premier piano duo of Anagnoson & Kinton. Entering a remarkable third decade of performances, the legacy grows richer each year for this legendary duo.

James Anagnoson & Leslie Kinton have enchanted audiences throughout Canada, United States, Europe, Asia and most recently Russia. Performers and scholars, they both hold distinguished places in academic circles: James Anagnoson is the Dean of The Glenn Gould School at The Royal Conservatory, and Dr. Leslie Kinton is on the faculties of both The Glenn Gould School and the University of Western Ontario. For their concert on Sunday, March 1, at 2pm, they will play Arenski's Suite No. 1, Brahms's Variation on a Theme by Haydn, selected works by Dvorˆ°k, and Gershwin's Rhapsody in Blue.

The second Great Artists Series concert of the month will take place the following Sunday, March 8, at 2pm, and will feature Nadina Mackie Jackson on bassoon, Guy Few on trumpet, with members of The GGS String faculty - violinists Marie Bˆ©rard and Aisslin Nosky, and other musicians - David Rose, violist, and Denise Djokic, cellist. The varied programme will include Baldassare's Sonata No. 1, Vivaldi's Concerto No. 26, Lachner's Concertino Op 43, Lussier's Bacchanale, and other works.

A leading bassoon soloist, Nadina Mackie Jackson is a passionate performer and teacher, whose seven solo recordings range widely from the Baroque period to contemporary pieces. Currently, she is involved in a five-year project concentrating on commissioning and recording solo and double concerti with trumpeter Guy Few. Heralded as "outrageously gifted" and "quite simply phenomenal" by Montreal's Le Devoir, Guy Few is a virtuoso, in demand as a trumpeter, cornist, pianist, and singer.

Much of March is dedicated to enlightening lectures and master classes, given by prominent musicians and teachers, all of which are free and open to the public! Monday, March 2, will belong to the critically acclaimed Irish pianist John O'Conor. This masterful interpreter of the Classic and Early Romantic piano repertoires has been praised for his formidable technique and, through his eloquent phrasing, mastery of keyboard colour. His unique sound has led him to be called a true Poet of the Piano.

Another master pianist, Canadian Anton Kuerti, will give three master classes: the first two will be on Friday, March 13, at 10am and 2pm, and the last - the penultimate offering in his 5-part lecture series on Beethoven's Piano Concertos - will take place on Friday, March 20, at 2pm. Kuerti is an Officer of the Order of Canada and was awarded the Canadian Governor General's lifetime artistic achievement award in 2008. Most recently, he was made an Honorary Fellow of The Royal Conservatory, and he treated graduating students to an inspiring address at the Conservatory's 2008 Convocation.

March 20th is a big day, for two more master classes will also be taking place: the first will be given by Constanza Cuccaro, who was one of the leading lyric coloratura sopranos of her time, and the second will be conducted by pianist Kolja Lessing. Lessing, one of the most versatile musicians of our time, is both a prominent violinist and pianist, who was awarded the German Critics' Prize for Music in 2008.

The last master class of the month on Friday, March 27, at 2 pm, will be given by the illustrious French-Canadian pianist Louis Lortie, who is best known for his interpretations of Ravel, Chopin, and Beethoven. An international soloist, he has made over 30 recordings on the Chandos label.
March is blooming, and so is the next generation of future stars at The Royal Conservatory.
THE ROYAL CONCERT SEASON - March 2009
Anagnoson & Kinton, piano duo (Great Artists Series): Sunday, March 1 at 2pm
SOLD OUT
John O'Conor, piano (GGS Master Class Series): Monday, March 2 at 10am and 2pm*
Nadina Mackie Jackson, bassoon & Guy Few, trumpet, (Great Artists Series): Sund, March 8 at 2pm
Anton Kuerti, piano (Master Class): Friday, March 13 at 10am and 2pm*
Anton Kuerti, piano (GGS Lecture Series): Friday, March 20 at 2pm*
Constanza Cuccaro, voice (GGS Master Class Series): Friday, March 20 time TBD*
Kolja Lessing, piano (GGS Master Class Series): Friday, March 20 at 10am*
Louis Lortie, piano (GGS Master Class Series): Friday, March 27 at 2pm*
Tickets $20.00 - $30.00, students $10
Tickets available online at www.rcmusic.ca, by calling 416-408-2824 X321,
or at the door at the RCM, 273 Bloor Street West, Toronto
* FREE EVENT
All events take place at the Conservatory's new home, the TELUS Centre for Performance and Learning, 273 Bloor Street West.

More information about the 2008-2009 Concert Season is available on The Royal Conservatory website at www.rcmusic.ca.

The RCM 2008-2009 Concert Season is made possible through the generous support of:
Presentation Sponsors: BMO Financial Group and MasterCard®
Performance Supporters: Acuity Funds Ltd.; Mona and Robert Bandeen; D. & T. Davis Charitable Foundation; Margaret and Jim Fleck; Invesco Trimark; Mr. Thomas Logan; Mary Jean and Frank Potter; Meredith and William Saunderson; Janet and Michael Scott; Shiu Pong
The Department of Canadian Heritage, the Ontario Arts Council and RBC Financial Group


Media Contact: Barbora Krsek, 416.533.7710 X236, barbora@flip-publicity.com
FLIP PUBLICITY, 720 Bathurst Street, #403 TOR M5S 2R4 o www.flip-publicity.com
Labels: The Royal Conservatory, Toronto