Messiah Makeover for the TSO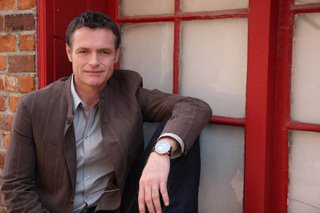 Toronto Symphony Orchestra
This holiday season, the Toronto Symphony Orchestra invites audiences to experience Handel's MESSIAH in a whole new way with a production that will dazzle the eyes as well as the ears of everyone in the concert hall.

MESSIAH, a much-loved holiday tradition with the TSO, will this year incorporate a bold visual element courtesy of renowned designer and TV host Glen Peloso, who has created a spectacularly imaginative visual environment to complement Handel's dramatic music.

Peloso's design incorporates unique laser-cut stainless steel 3-D silhouettes of trees and stars that will interplay with Bonnie Beecher's innovative lighting design. Together, these visual elements will combine to create a spectacle that frames and enhances Handel's lush musical score.

Glen Peloso has been working in the world of design for the past ten years since completing a Masters degree in Fine Art. The principal of Glen Peloso Interiors, he is perhaps best known as the star of TV shows Restaurant Makeover, Renovate my Wardrobe, and Take this Home and Sell It. His transformative vision will give Toronto's longest-running Messiah a unique and bold framework for new appreciation and aural enjoyment.

THE TORONTO SYMPHONY ORCHESTRA presents
TORONTO'S FAVOURITE MESSIAH
Roy Thomson Hall, 60 Simcoe Street, Toronto
Tuesday, December 16 @ 8pm; Wednesday, December 17 @ 8pm;
Friday, December 19 @ 8pm; Saturday, December 20 @ 8pm; Sunday, December 21 @ 3pm
Tickets range from $35 - $99
Call the Roy Thomson Hall box office 416.593.4828
or purchase online: http://www.tso.ca