A New Vision for the Young Centre Annoucement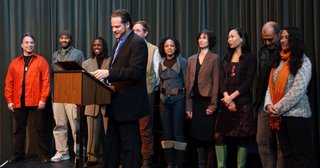 A New Vision for the Young Centre
Today, Albert Schultz, General Director of the Young Centre for the Performing Arts proudly introduced twelve new Resident Artists who will, for the next twelve months, call the Young Centre home: Waleed Abdulhamid, David Buchbinder, Roberto Campanella, Andrew Craig, Weyni Mengesha , John Millard, Claudia Moore, Andrea Nann, Patricia O'Callaghan, Soheil Parsa, Noah Richler, and Suba Sankaran.

The Resident Artist Initiative is made possible by a one million dollar visionary gift from Donna and Gary Slaight. The Young Centre, with the leadership of its Resident Artists will now turn its focus to establishing a vibrant, cultural destination across the disciplines of Dance, Music, Theatre and Spoken Word. The programming mission for the Young Centre will be:

o to answer the needs of our community's artists
o to embrace and showcase emerging artists and original work
o to engage and develop new audiences and the youth of our community

In establishing the Young Centre as Toronto's vibrant, cultural destination for arts education, artistic development and performance excellence, the Resident Artists will serve as visionaries, performers, facilitators and mentors, crossing all disciplines and cultural boundaries.

"The new vision for the Young Centre for the Performing Arts is an important one for Toronto. We are delighted to be supporting the Young Centre resident artists and their contribution to this exciting artistic landscape." Donna and Gary Slaight

The Slaight's generous gift has ensured the Artist in Residence Initiative through 2012, during which time the Young Centre's Vision will be achieved through the activation of four programmatic platforms:

1) Outreach/Education
o enriching and inspiring youth
o developing new audiences
o professional development for emerging artists
2) Incubation

o Discovery Labs - up to 100 weeks a year of fully supported studio creation space will be granted to artists in the community for the exploration and development of original work
o Open Studios - several times throughout the year the Young Centre will create opportunities for the work coming out of the Discovery Labs to be technically supported and showcased free of charge for potential funders and the public

3) Festivals

o Canwest Cabaret Festival - as premiered this fall, the Young Centre is transformed for four days into a vibrant collection of intimate performing spaces showcasing over one hundred Canadian artists in 50 concerts across all performance disciplines
o New Waves Festival- a five day collaborative explosion between the Young Centre's Resident Artists, Toronto's emerging artists and youth creators showcasing exclusively original work. The New Waves Festival is a partnership between the Young Centre and Luminato, Toronto's Festival of Arts and Creativity.
o Summer at the Young - for six consecutive Sundays in July and August of 2009 the Young Centre will open its doors to the community for a building-wide celebration of creativity featuring concerts, symposia, readings, multi-disciplinary performances and "Open Studios". Each Sunday will be programmed around a theme to be determined by the Resident Artists.

4) Presentations

o Performance Series - across all performance disciplines
o Year- Long Cabaret - intimate multi-disciplinary events year-round
o Community Partnerships - partnerships with independent Toronto-based arts organizations

"I call this a visionary gift for a very good reason. Acts of generosity of this magnitude are rare in the arts. What is even rarer is the Slaight's ability to see the potential that their generosity will unleash in the Resident Artists, the Young Centre and the community at large. Donna and Gary are interested in culture yes, but more specifically they are interested in how an investment in culture today will change our city's tomorrow. We are honoured and grateful to be associated with the Slaight family."
Albert Schultz
Labels: Toronto