An Indigo Christmas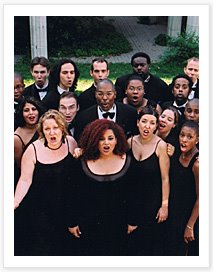 NATHANIEL DETT CHORALE PRESENTS
AN INDIGO CHRISTMAS
Raise the Roof with Great Joy!
It's Toronto's blue-tinged Christmas tradition! NATHANIEL DETT CHORALE brings its annual holiday concert, AN INDIGO CHRISTMAS, to the Glenn Gould Studio for two performances only: Wednesday, December 17 and Saturday, December 20 at 8 pm.

AN INDIGO CHRISTMAS is an evening of Christmas music, gospel style! Toronto's renowned NATHANIEL DETT CHORALE, recently returned from a successful US tour, will be joined by acclaimed pianist/composer Joseph Joubert, a live band, and members of the York University Gospel Choir. Included in the program will be Great Joy-a collection of traditional Christmas music co-arranged by Joubert.
Joseph Joubert is a world-renowned composer, arranger, and musician. His many credits include pianist for the current Broadway production of Billy Elliot, pianist/associate conductor for Oprah Winfrey's The Color Purple on Broadway, and orchestrator, musical director, and pianist for the world premiere of 3 Mo' Divas. He has been nominated for Grammy Awards and Drama Desk Awards, collaborated with renowned concert artists such as Kathleen Battle and Florence Quivar, and worked as producer/arranger/keyboardist for popular artists such as Whitney Houston, Patti Labelle, Diana Ross, Judy Collins, Jennifer Holliday, and Ashford and Simpson.

Founded in 1998, the NATHANIEL DETT CHORALE is Canada's first professional choral group dedicated to Afrocentric music of all styles. BRAINERD BLYDEN-TAYLOR, founder and artistic director, is an internationally respected conductor, clinician, and adjudicator.

AN INDIGO CHRISTMAS will be performed in the Nathaniel Dett Chorale's new home at the Glenn Gould Studio, 50 Front St. West in Toronto.

Nathaniel Dett Chorale presents
Wednesday, December 17, 2008 at 8:00pm
Saturday, December 20, 2008 at 8:00pm
Glenn Gould Studio, 250 Front Street West, Toronto
Subscribe to all 3 NDC concerts for $99; individual tickets $39.50, students/seniors $35
Tickets available in person at the Roy Thomson Hall box office, 60 Simcoe St.,
by calling 416.872.4255 or online at www.roythomson.com
www.nathanieldettchorale.org