RCM - ARC Concert Release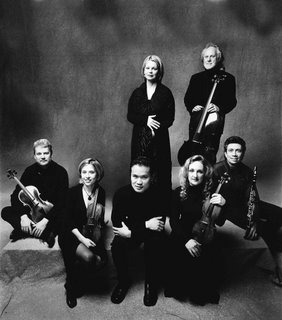 ARC - Artists of The Royal Conservatory
ˆâmigrˆ© Composers of the 1930s
James Conlon is ARC's Honorary Chairman
ARC - Artists of The Royal Conservatory - and Artistic Director Simon Wynberg, have long been passionate about the repertoire they will present this November in Toronto, New York, and Washington, DC, for the 70th anniversary of Kristallnacht.

Seventy-five years after Adolf Hitler's rise to power, ARC will introduce "Music in Exile", celebrating the music of Jewish composers forced to flee the Third Reich, and German composers who resisted the Nazi regime. In Toronto ARC will appear at the Royal Conservatory of Music on November 7 at 8 pm, in New York they will present a five-day series of concerts, talks, and music-theatre pieces from November 9 to 13 at the Museum of Jewish Heritage, and in Washington they will play the Kennedy Center on November 18.

James Conlon, one of today's preeminent conductors (Music Director of the Los Angeles Opera, the Ravinia Festival and the Cincinnati May Festival, and previously principal conductor of the Paris National Opera, music director of Cologne Opera, and the Rotterdam Philharmonic) and a vocal advocate for the performance of music by composers affected by the rise of Nazism and the events of WWII, has agreed to be ARC's Honorary Chairman. In 1999 Mr. Conlon received the Zemlinsky Prize, awarded only once before, for his efforts in bringing the composer's music to international attention, and in 2007, he received the Crystal Globe Award from the Anti-Defamation League (ADL) for his efforts in championing the works of these composers.

TORONTO
In 2008, ARC took its "Music in Exile" series to London, Budapest, Rome, Poznan and Warsaw - appearances that were all received with great attention and unanimously enthusiastic reviews. In Toronto, they will further explore music of this era with Adolph Busch's Sextet for Strings, Robert Kahn's Suite for Violin and Piano, Op. 69, Mˆ°tyˆ°s Seiber's Divertimento for Clarinet and String Quartet, and Sˆ°ndor Vˆ°ndor's Air for cello and piano - all Canadian premieres. This performance, on November 7, will also coincide with Holocaust Education Week, which will be running from November 2 - November 9.

NEW YORK
As ARC's honorary chairman, Mr. Conlon will introduce the Ensemble's five-day "Music in Exile" series of concerts and lectures in New York. The series takes place at the Museum of Jewish Heritage and includes premieres by six different composers and a lecture on "Entartete" (degenerate) Music by the director and critic Gottfried Wagner, great-grandson of composer Richard Wagner, and the founder of the Post-Holocaust Dialogue Group. Simon Wynberg, artistic director of ARC, is curator of the entire series, and Stephen Vann is the artistic producer for the Museum of Jewish Heritage. Other artists include violinist Daniel Phillips, co-founder of the Orion String Quartet and professor of violin at Queens College; Canadian bass Robert Pomakov, and the American baritone Chris Pedro Trakas. The series concludes on November 13 with Marc Neikrug conducting his music-theatre work Through Roses, featuring veteran Canadian actor Saul Rubinek.

Pre-concert talks by such authorities as Michael Beckerman, professor of music and historical musicology at New York University, and Bret Werb, musicologist of the U.S. Holocaust Memorial Museum, will complement several presentations.

WASHINGTON, D.C.
ARC's concerts in New York are followed by a programme of works by Szymon Laks, Weinberg, and Prokofiev in the ensemble's debut at the Kennedy Center on November 18. ARC's 2006 recording "On the Threshold of Hope" (RCA Red Seal), of music by Miezcyslaw Weinberg, a composer who found refuge from the Nazis in the Soviet Union and became a lifelong friend of Dmitri Shostakovich, was nominated for both Juno and Grammy Awards.

"Music of this quality cries out for exemplary musicianship and the ARC Ensemble sets the skin rippling at every turn with its magical phrasing" The Strad (UK)

Established in 2002, ARTISTS OF THE ROYAL CONSERVATORY, is composed of faculty members of the Glenn Gould School of the Royal Conservatory of Music in Toronto. All are seasoned chamber musicians and veteran performers, either as soloists or as principals in major orchestras. They have dedicated themselves to the performance of both the traditional chamber music canon and the rediscovery of repertoire that, through political changes or shifts in musical fashion, have been ignored or marginalized.

"ARC is a standard bearer for the musical excellence of both The Royal Conservatory and Canada. Its members represent the very best this country has to offer and in their roles as mentors and performers they continue to inspire, stimulate, and delight."
Dr. Peter Simon, President, The Royal Conservatory of Music
Artists of The Royal Conservatory
ˆâMIGRˆâ COMPOSERS OF THE 1930s
Marie Bˆ©rard and Erika Raum - violin
Steven Dann and Yosef Tamir - viola
Bryan Epperson and David Hetheringon - cello
Joaquin Valdepeˆ±as - clarinet
David Louie and Dianne Werner - piano
Sˆ°ndor Vˆ°ndor: Air
Robert Kahn: Suite for violin and piano, op 69
Mˆ°tyˆ°s Seiber: Divertimento for Clarinet and String Quartet
Adolf Busch: Sextet for Strings in G major, op. 40
Friday, November 7, 2008 @ 8pm - One Performance Only!
Mazzoleni Hall at the Royal Conservatory of Music, 273 Bloor St. West, Toronto
(entrance off Philosopher's Walk)
Tickets
$30.00 Adult / $10.00 Student
On-line:
www.rcmusic.ca
, at the door (while quantities last), or by calling 416.408.2824 X321
Labels: Toronto