Italian Soprano Francesca Ruospo Makes Canadian Debut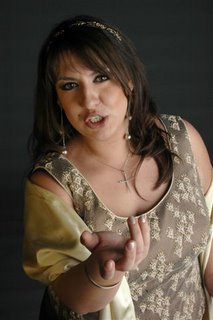 November 3 at Roy Thomson Hall
CANADIAN DEBUT OF ITALIAN SOPRANO FRANCESCA RUOSPO
IN PERFORMANCE WITH ORCHESTRA INTERNAZIONALE D'ÄôITALIA
Toronto, October 3, 2008'Ķ Award-winning Italian soprano Francesca Ruospo makes her Canadian debut, direct from a starring role at La Scala. She gives her first Canadian performance at Toronto'Äôs Gala Italia at Roy Thomson Hall, when Kerry Stratton conducts the Orchestra Internazionale d'ÄôItalia, Monday, November 3,
Ms. Ruospo is starring as the Countess in Mozart'Äôs Marriage of Figaro, this month at Milan'Äôs legendary opera house. She is appearing under the baton of noted baroque and classical specialist Giovanni Antonini in the production of famed opera director Giorgio Strehler (1921-1997).
She will join Maestro Stratton and the Orchestra in arias from four Puccini operas, celebrating the 150th anniversary of the famous operatic composer (1828-1924). As well, the program will include will include Puccini'Äôs Capriccio Sinfonico for orchestra.
Still in her 20s, soprano FRANCESCA RUOSPO was born in Conversano, near the southern Italian city of Bari. Beginning her studies in piano, she switched to voice, graduating in 2001 with highest honors from Bari'Äôs N. Piccinni Conservatory. Her many awards include the 2003 Scholarship of the Maria Caniglia competition, and one from the Boris Christoff Foundation in collaboration with Rome'Äôs Teatro dell'ÄôOpera. In 2004, she captured top prizes in two international competitions 'Äì first prize in the Mario Lanza and second prize in the Tito Schipa.
In 2005, she won admission to the Accademia Teatro alla Scala in Milan, where she has completed the two-year training. In the 2006 Leyla Gencer International Competition, she earned second prize.
At home in Italy, Ms. Ruospo has sung the roles of Ines in Il Trovatore (Verdi) in Teatro Marchetti di Camerino (2004) and in Teatro Piccinni, Bari (2005); Corinna in Il Viaggio a Reims (Rossini) in Teatro Marrucino di Chieti, Suor Angelica (Puccini) in Teatro comunale di Modena and Piacenze (2007); Dorabella in Cosi fan tutte (Mozart) in Teatro alla Scala (2007) and Teatro Piccolodi Milano in the Strehler production; and Mimi in La Bohˆ®me (Puccini) at the Lyric Festival, L'ÄôAbbazia di Casamari (August 2008).
Internationally, she has performed in Chicago, in Strasbourg for the European Parliament, and in London, Abu Dhabi and Beijing.
GALA ITALIA is presented on the occasion of the 13th edition of the annual Italian wine-tasting, and supported by the Italian Cultural Institute, International Touring Productions, the International Resource Centre for Performing Artists, and the New Classical 96.3 FM.
Tickets, $35; $25 seniors and students; and $20 group rate, are available through the Roy Thomson Hall Box Office, 416-872-4255, or via www.roythomson.com. For more information, call 416-362-1422 or visit www.sumarts.com/ircpa.