Distinguished pianist Alexander Tselyakov releases Sonata Album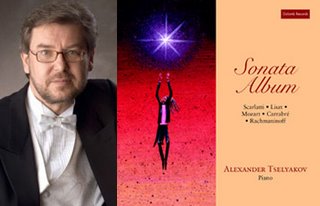 Distinguished pianist and BU Professor Alexander Tselyakov releases Sonata Album
BRANDON, MB 'Äì Distinguished pianist and Brandon University professor Alexander Tselyakov has released a new CD titled Sonata Album through the Brandon-based Golomb Records. The release contains two discs, with selected pieces reflecting the historical development of the Sonata form and the various approaches and styles to sonatas, from the baroque, classic, romantic, post romantic and modern eras. Sonata Album represents a collection of timeless standards sure to please the most discerning classical piano classical fan. The album is being distributed by the Canadian Music Centre, an international distribution agency.
Included on the album is a fabulously performed selection of the following masterworks: Disc One includes Dominico's Scarlatti Sonatas in D minor, K.32/L.423, in E major, K.380/ L.23, Sonata in F minor, K.184/L.189 and in A major, K.39/L.39, as well as Franz Liszt's Piano Sonata in B minor. The sonata in B minor is possibly the best example of Liszt¬¥s mastery in piano and in composition and represents a pinnacle in the history of piano and of music in general, not only for his improvements to the technique but also for the revolutionary conception of the piece itself. Disc Two includes Mozart's Piano Sonata in F major, K.332, the world premiˆ®re recording of T. Patrick Carrabrˆ©'s Sonata No.1 for Piano - Black Echoes (a composition dedicated to Alexander Tselyakov), and Sergei Rachmaninoff's meltingly affectionate Piano Sonata No.2 in B Flat Minor, Op.36 (revised version, 1931).

Former Brandon University School of Music Dean Dr. Lawrence Jones wrote the program notes for the CD package.


Alexander Tselyakov "...represents the best aspect of Russian pianism and all its attributes...effectively synthesized the emotional balance of Arthur Rubinstein and the more highly-strung febrile quality of Horowitz." Harris Goldsmith, New York Concert Review
Recognized as one of Canada's most outstanding musicians, Alexander Tselyakov has distinguished himself as a guest soloist with great orchestras and as a recitalist in major concert halls, such as the Carnegie Recital Hall in New York, Wigmore Hall in London, England, the Centre de Doelen, in Rotterdam, and the Shostakovich Large Hall of the St. Petersburg Philharmonic, and has won major prizes at the International Tchaikovsky Competition and the International Music Competition of Japan. Tselyakov has been described as "representing the best aspect of Russian pianism and all its attributes" by the New York Concert Review; and "amazing at the keyboard" by The Globe and Mail. A busy concert pianist, teacher and chamber musician, Tselyakov collaborates with many leading Canadian musicians. He is artistic director of two Chamber Music Festivals; at Clear Lake in Manitoba and Pender Harbour, British Columbia. Tselyakov resides in Manitoba, where he is Professor of Piano at Brandon University School of Music. This recording was made possible with the generous support of the Manitoba Film & Sound and Brandon University.

Tselyakov's Sonata Album can be purchased through the Canadian Music Centre, at the Brandon University School of Music, at Brandon University Campus Books or online at http://www.tselyakov.com, where one can also find more information on Professor Alexander Tselyakov, including previous recordings, recent appearances and concerts, and a long list of praise from classical music critics and experts.