Gerald Finley news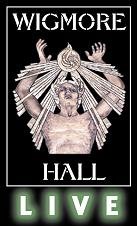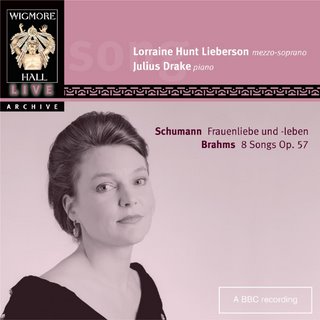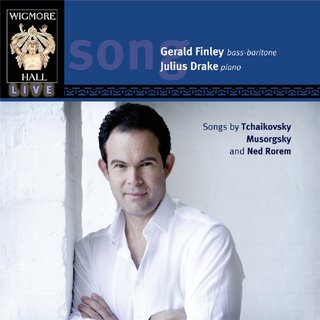 Lorraine Hunt Lieberson & Julius Drake
BRAHMS
8 Lieder und Gesˆ§nge Op. 57
Schumann
4 Lieder from Goethe'Äôs Wilhelm Meisters Lehrjahre Op. 98a
Frauenliebe und leben Op. 42
Release Details
Lorraine Hunt Lieberson mezzo-soprano
Julius Drake piano
Schumann Frauenliebe und leben, Brahms 8 Songs Op. 57
Release Date: 27 October 2008
Catalogue Number: WHLive0024
SALES POINTS:
'Ä¢ Lorraine Hunt Lieberson - 1 March 1954 - 3 July 2006
'Ä¢ Wigmore Hall Live are proud to release on their Archive series this very special 1999 live recital by the great, beloved American born mezzo-soprano Lorraine Hunt-Lieberson who tragically died in 2006.
'Ä¢ This release adds to the universally acclaimed 1998 recital also released by Wigmore Hall Live (WHLive0013) 'Äì 'ÄúNow that her recordings are all we have left, this one is particularly valuable'ĶI]t captures the incomparable beauty of Hunt Lieberson'Äôs voice'Äù 'Äì
Amazon.com
'Ä¢ The dramatic intensity and passionate commitment to her material earned her countless comparisons to Maria Callas.
'Ä¢ Noted for her interpretation of Handel and Bach, this recital of lieder by Schumann and Brahms demonstrates the breadth of her repertoire and her meticulous artistry.
'Ä¢ After her death, she won the 2007 Grammy Award for Best Classical Vocal Performance for her Rilke Songs and again in 2008 for her
performance of her husband's Neruda Songs.
PRESS ACCLAIM FOR PREVIOUS HUNT-LIEBERSON RELEASE WHL0013:
A GRAMOPHONE AWARD NOMINATION to the final shortlist of 3 discs
ALBUM OF THE WEEK - THE INDEPENDENT "This Wigmore disc shows what magic she wrought with Mahler and Handel" The Independent
VOCAL CHOICE OF THE MONTH - BBC MUSIC MAGAZINE "The unique warmth of tone is sounded in the first notes even of the lighter Mahler songs, but there's also a spiritual grace in her approach ... peerless" BBC Music Magazine
Gerald Finley & Julius Drake
e
Tchaikovsky
Mussorgsky
Songs and Dances of Death
Ned Rorem
War Scenes
Release Details
Gerald Finley bass-baritone
Julius Drake piano
Songs by Tchaikovsky, Musorgsky 'ÄòSongs and Dances of Death, & Ned Rorem 'ÄòWar Scenes'Äô
Release Date: 27 October 2008
Catalogue Number: WHLive0025
SALES POINTS:
'Ä¢ Gerald Finley writes: 'ÄúIt is with great sense of pride that this disc becomes the 25th release of the Wigmore Live series, in a musical partnership I have enjoyed for many years with Julius Drake. Performing at the Wigmore is always a highlight of any career. The others in the series are distinguished performers I have admired for years and the performances are wonderful. The audiences at the Wigmore are always welcoming and knowledgeable, and this atmosphere is captured perfectly. Already a fine catalogue, I hope the Wigmore Live series continues its honour roll'Äù
'Ä¢ Critically praised for his performances both on stage and in concert, this recital of American and Russian song by Gerald Finley offers listeners the rare opportunity to hear one of today'Äôs most in-demand baritones within the beautiful,
Intimate setting of the Wigmore Hall.
'Ä¢ After a recital at Carnegie Hall in March, 2007, Finley was praised by New York Times critic Bernard Holland as having a "bass-baritone of easy luxury" and that his "sensibilities begin with the pre-eminence of words."
'Ä¢ His recording of Stanford's Songs of the Sea and Songs of the Fleet with Richard Hickox and the BBC NOW for Chandos received the Editor's Choice Award at the 2006 Classic FM Gramophone Awards.
PRESS ACCLAIM FOR FINLEY AND DRAKE AT WIGMORE HALL:
'ÄúGerald Finley is one of the few baritones before the public today with whom it's virtually impossible to find fault'Äù Music OMH
'ÄúNo other baritone can touch him for declamatory expressiveness'Äù The Independent
'ÄúFinley and Drake paced them all tactfully, precisely mediating between relaxed storytelling and rapt introspection. Here was very fine singing of truly great songs'Äù The Guardian
'ÄúFor my money this inspired pianist is now the best in the business'Äù New York Magazine
Labels: CD