Nagata Shachu's 10th Anniversary Concert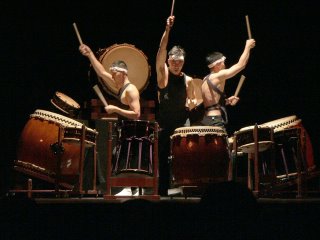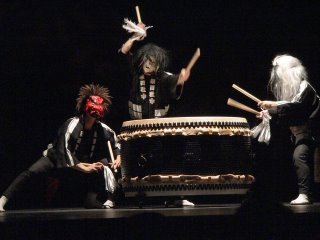 Japanese Taiko and Music Group
10th Anniversary and CD Release Concert
NAGATA SHACHU, Canada's pre-eminent taiko (Japanese drum) group, will celebrate their tenth anniversary with a release of a new recording, Tsuzure (tapestry), and a very special concert on Saturday, November 29, 2008.

Featuring new works, a number of pieces from the CD, as well as old favourites from Nagata Shachu's extensive repertoire, this year's annual concert promises to be like no other. Featuring an arsenal of taiko (including the massive O-Daiko drum), bamboo flutes, the three-stringed shamisen and an array of gongs, cymbals, shakers and wood blocks, NAGATA SHACHU'S 10th Anniversary Concert will take you on a musical journey beyond all borders.

New works to be premiered will include:
o Mamagoto (composed by Kiyoshi Nagata)
Mamagoto or 'child's play' features two shinobue (bamboo folk flutes), orchestra bells, various taiko drums, cymbals and an array of toys and noise makers. It is a light-hearted and whimsical tune depicting the adventures of children as they play their day away.
o Take Ito Kawa (improvisations by Aki Takahashi, Scott Kusano, and Kiyoshi Nagata)
The contrasting yet complimentary sounds of bamboo shakuhachi flute (TAKE), silk-stringed shamisen (ITO), and the skin of the taiko (KAWA), combined with the performers' improvisational skills and musical instincts, are at the heart of this rapid-fire exchange.
o Jinari "Rumbling of the Earth" (composed by Kiyoshi Nagata)
In this physically demanding and thrilling solo, Kiyoshi Nagata will perform on the massive O-daiko (big drum), that requires body, mind, and spirit to become one.
o Finale
This yet to be titled work is a heart-stopping showcase featuring four drummers playing improvised solos on the large taiko drums accompanied by the sharp and rapid attack of three small drums. This piece is guaranteed to awake the senses and turn Ryerson Theatre into one big boom-box!

Amidst a very busy touring schedule, NAGATA SHACHU will present their 10th Anniversary Concert for one night only, Saturday, November 29, in Toronto. On October 31 and November 1 NAGATA SHACHU will be participating at La TOHU in Montreal and later that month they will be guests at the prestigious CAPACOA in Ottawa. In February 2009 they will travel to the Colonial Theater in Pittsfield, MA, in March to McMaster University in Hamilton, and in April they will tour Michigan.
NAGATA SHACHU (formerly the Kiyoshi Nagata Ensemble) has enthralled audiences with its mesmerizing and heart-pounding performances of the Japanese drum (taiko) since its formation in 1998. The group has toured widely throughout Canada, the US, and Italy, performing in theatres, concert halls, and at major music festivals. While rooted in the folk drumming traditions of Japan, the ensemble's principal aim is to rejuvenate this ancient art form by producing innovative and exciting music that seeks to create a new voice for the taiko. Taking its name from founder Kiyoshi Nagata and the Japanese word shachu, meaning group, Nagata Shachu, has become renowned for its exacting, straightforward, yet physically demanding performances as well as for its diverse repertoire. Their playing is the combination of unbounded spirit and passion with the highest levels of musicianship and discipline. The result is an unforgettable experience that is both powerful in expression and heartfelt in its sincerity.
The ensemble's artistic director Kiyoshi Nagata's career as a preeminent taiko soloist spans twenty-six years. After completing his studies with prominent taiko musicians, he started teaching himself at the University of Toronto's Faculty of Music, as well as at the Royal Conservatory of Music in Toronto. For eight years, he instructed two community groups, Isshin Daiko in Toronto and Do-Kon Daiko in Burlington, which he helped establish in 1995. Kiyoshi is also regularly invited by universities and taiko groups to conduct workshops and present lectures. In 1994, Kiyoshi founded the cross-cultural percussion ensemble, Humdrum, whose debut Toronto performance was ranked fourth in Now Magazine's "Top Ten Concerts of 1995". He has composed and performed taiko music for dance, theatre, film and radio and continues to collaborate with artists from all genres of music including traditional Japanese instrumentalists.
"Since 1998, the nine-person group, headed by Kiyoshi Nagata has consistently added new layers of invention to the traditional drumming-and-dancing repertoire." John Terauds, Toronto Star
NAGATA SHACHU
formerly Kiyoshi Nagata Ensemble
Presents 10th Anniversary and CD release Concert
Kiyoshi Nagata, artistic director - taiko, shinobue
Aki Takahashi - shamisen, vocals, taiko
Scott Kusano - taiko, shakuhachi
Angela Colangelo - taiko, shinobue
Miki Kato - taiko, sanshin
Saturday, November 29, 2008 @ 8pm - One Show Only!
Ryerson Theatre, 43 Gerrard Street East, Toronto (between Yonge and Church)
Tickets
$25-$30 adults; $20 seniors and students
On-line: www.UofTtix.ca; By phone: 416-978-8849
www.kiyshonagata.com