Angela Cheng with the Victoria Symphony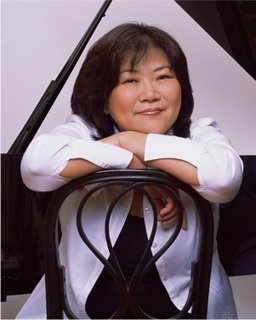 One of Canada's brightest stars, pianist Angela Cheng opens the 2008/2009 Victoria Symphony Legacy Series
Victoria, BC 'Äì On September 29, Canada's own Angela Cheng will open the Victoria Symphony's innovative and inspiring Legacy Series. Conducted by Tania Miller, Ms Cheng will perform Brahms' Piano Concerto No. 1. Pieces also on the program are Dvo‰ôˆ°k Symphony No.6 and Overture to Russlan and Ludmilla composed by Glinka. There will be only one performance at the Royal Theatre, September 29 at 8:00pm.
Consistently cited for her brilliant technique, tonal beauty and superb musicianship, Angela Cheng is one of Canada's brightest stars. She has appeared as a soloist with virtually every orchestra in Canada as well as many across the United States. Ms Cheng has received rave reviews from major newspapers and media across the country: "'Ķmore important is the musical evidence that [Cheng] is now speaking not with the voice of generic virtuosity and conventional received wisdom, but with her own voice, about individual works in which she is passionately and artistically involved...It was enthralling." The Globe and Mail.
Cheng will be performing Brahms' Piano Concerto no.1, a piece that overflows with vibrancy and colour. The second movement features beautiful passages highlighting the oboes and clarinets and the last movement is brought home with heroic themes and spectacular flourishes.
The Legacy Series presents performances of past and present legacies, honouring musical works that have endured the test of time and also introducing future classics. In 2008/2009 glorious symphonies such as Mendelssohn's Symphony no. 1 and Schubert's Symphony
no. 9 "The Great" will be performed as well as the world premiere of Estacio's Symphony no. 2. Concertmaster Terence Tam makes his solo debut with the orchestra and three extraordinary pianists, Angela Cheng, Anton Kuerti and Katherine Chi will make guest appearances. The finale of the Legacy Series is an impressive performance of Carmina Burana led by Music Director Tania Miller.
Angela Cheng appears regularly on recital series throughout the U.S. and Canada and has collaborated with numerous chamber ensembles including the Takˆ°cs, Colorado and Vogler quartets. Her many festival appearances include Chautauqua, Colorado, Houston, Vancouver and the Festival International de Lanaudiˆ®re in Quebec. This summer Ms Cheng performed with Pinchas Zuckerman and the National Arts Centre Orchestra and with Kent Nagano and the Montreal Symphony Orchestra.
Ms Cheng was the 1986 Gold Medal winner at the Arthur Rubinstein International Piano Masters Competition as well as the first Canadian to win the prestigious Montreal International Piano Competition in 1988. In the same year, the Canada Council awarded Ms Cheng its coveted Career Development Grant. For her outstanding interpretations of Mozart, she received the Medal of Excellence at the Mozarteum in Salzburg in 1991.
The 2008-2009 season marks Tania Miller's sixth as music director of the Victoria Symphony, an appointment that made her the first woman to hold such a significant position in Canada. Her vibrancy and dynamic approach to music making have inspired many innovations with the Victoria Symphony and a new era of artistic growth for the orchestra.
The Victoria Symphony is Vancouver Island's largest and most active arts organization offering its audiences 68 years of tradition, a commitment to fostering new music and a dedication to community involvement through music education. Showcasing the outstanding talents of its musicians and guest artists the Victoria Symphony's 2008-2009 season offers a diverse and exciting line-up of over 50 concerts led by its vibrant Music Director Tania Miller.
The Victoria Symphony's Legacy 1 concert with Angela Cheng takes place at the Royal Theatre on Monday, September 29 at 8:00pm.
Tickets from $28.50 to $67.50. Student tickets from $16 to $25.50.
Tickets can be purchased by calling 250.385.6515 or 250.386.6121 or online at www.victoriasymphony.ca
Support for this concert provided by Neville and Jill Gibson.
For complete programming details of the 2008-2009 season please visit www.victoriasymphony.ca.