Nathaniel Dett Chorale's 10th anniversary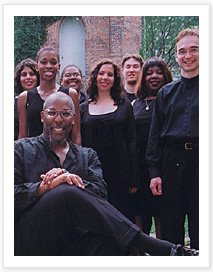 A NEW HOME, NEW TOURS, MORE CONCERTS, MORE OUTREACH!
THE NATHANIEL DETT CHORALE'S 10TH ANNIVERSARY SEASON
Founder, Artistic Director Brainerd Blyden-Taylor
The 2008-2009 season gives Canada's acclaimed Nathaniel Dett Chorale more reason than ever to sing! The Chorale presents its 10th anniversary season from a new home in downtown Toronto with more concerts, old friends, two tours, and a new program to cultivate the next generation of Chorale vocalists.

Through a partnership with the Corporation of Massey Hall and Roy Thomson Hall, the Nathaniel Dett Chorale moves to the acoustically dazzling Glenn Gould Studio in the Canadian Broadcasting Centre. The ever-popular concerts will once again be centred around the themes of "An Indigo Christmas" as the holiday offering; "Voices of the Diaspora" will be performed in February, and "And Still We Sing" in May. The February concert will also feature famous Chorale alumni. Throughout the season, the Chorale will give two performances of each program, with concerts on Wednesday and Saturday evenings.

Two major tours also highlight the 2008-2009 season. From the end of September through October, the Nathaniel Dett Chorale tours the United States with stops in Michigan, Missouri, Oklahoma, Texas, Louisiana, and Tennessee. In February 2009, the Chorale heads out west for concerts in Alberta, British Columbia, and the Yukon.

This season, the Chorale also launches its first training choir for senior high school students. Working in cooperation with the Toronto District School Board, the Chorale will select talented students of African Heritage from across the Greater Toronto Area to participate in this initiative, which includes vocal coaching, sight singing and ear training instruction, mentoring in choral technique, and immersion in Afrocentric repertoire, history, and philosophy. Participating students will be given the opportunity to interact and perform with the professional singers of The Nathaniel Dett Chorale, and will be encouraged to demonstrate leadership and mentorship in their home schools. This pilot project is made possible through the generous support of The Bennett Family Foundation (Toronto) and the RBC Foundation.

The Nathaniel Dett Chorale is Canada's first professional choral group dedicated to Afrocentric music of all styles, including classical, spiritual, gospel, jazz, folk and blues. These 21 classically-trained, outstanding vocalists have shared the stage with internationally recognized artists such as Juno Award-winning jazz pianist Joe Sealy, opera star Kathleen Battle, and the Toronto Symphony Orchestra. The Nathaniel Dett Chorale's vision is to build bridges of understanding, appreciation, and acceptance between communities of people, both Afrocentric and other, through the medium of music. They seek to dissolve the barriers of stereotype, to empower humans in general, and those of African descent in particular.


The Nathaniel Dett Chorale's 2008.09 Concert Season in Toronto
An Indigo Christmas Great Joy!: Wednesday, December 17, and Saturday, December 20, 2008, at 8pm
Voices of the Diaspora Dett to Africa: Wednesday, February 25, and Saturday, February 28, 2009, at 8pm
And Still We Sing All o' We Is One: Wednesday, May 27, and Saturday, May 30, 2009, at 8pm
Glenn Gould Studio, 250 Front Street West, Toronto
Subscribe to all 3 concerts for $99; individual tickets $39.50, students/seniors $35
Tickets available in person at the Roy Thomson Hall box office, 60 Simcoe St.,
by calling 416.872.4255 or online at www.roythomson.com
www.nathanieldettchroale.org
Labels: 2008-09 season, Choral, Toronto