Opera superstar Jane Eaglen opens the Victoria Symphony season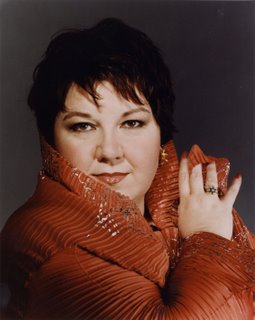 Opera legend Jane Eaglen makes her first appearance in Victoria to open the Victoria Symphonyĺ─˘s 2008-2009 season
Victoria, BC ĺ─ý On September 14 and 15, opera superstar Jane Eaglen will perform in Victoria with the Victoria Symphony for the very first time. Conducted by Music Director Tania Miller, she will sing arias from three of Wagnerĺ─˘s most well known operas. There will be two performances at the Royal Theatre, September 14 at 2:30pm and September 15 at 8:00pm.
Pre-concert talks will begin 45 minutes before each performance.
Ms. Eaglen has an international reputation and the repertoire chosen for these concerts will highlight her renowned portrayals of Wagnerĺ─˘s heroines. Wagnerĺ─˘s operas are celebrated for their drama, their powerful scores, and their emotion. Ms Eaglen will sing the joyful ĺ─˛Dich, Teure Halleĺ─˘ from Tannhłžuser, aswell as the emotional and tragic ĺ─˛Liebestodĺ─˘ aria in which her character, Isolde, sings over the body of her dead lover. Ms Eaglen has performed these roles all over the world to critical acclaim and her visit to Victoria will no doubt have audiences on their feet.
Music Director, Tania Miller is very excited about this first time collaboration,
ĺ─˙It will be an immense thrill to work with the great Wagnerian icon, Jane Eaglen, in her debut performances with the Victoria Symphony. The great roles of Brunnhilde and Isolde will be brought to life in these electrifying opening concerts of the season. The Symphony and I are excited to be performing some of the great music of Wagner and to be making music together again!ĺ─¨
Other highlights of the new season include performances of Nielsenĺ─˘s Symphony no. 4 ĺ─˙The Inextinguishableĺ─¨, Handelĺ─˘s Water Music and Last Night of the Proms. The season also includes collaborations with the South Island Dancers, the Greater Victoria Youth Orchestra and a spectacular performance of Orffĺ─˘s Carmina Burana in March which will feature the Victoria Childrenĺ─˘s Choir and the Victoria Philharmonic Choir. Over 50 diverse concerts will be performed in this exciting and busy concert season.
The 2008-2009 season marks Tania Miller's sixth as music director of the Victoria Symphony Orchestra, an appointment that made her the first woman to hold such a significant position in Canada. Her vibrancy and dynamic approach to music making have inspired many innovations with the Victoria Symphony and a new era of artistic growth for the orchestra.
Jane Eaglen has one of the most formidable reputations in the opera world today. She has garnered spectacular reviews worldwide, enjoying unique success in the contrasting roles of Isolde (for the Metropolitan Opera, Seattle Opera, Teatro Liceu Barcelona, Lyric Opera of Chicago and in Puerto Rico); Leonore (debuted for the Seattle Opera) and Brunnhilde (performed in Chicago, Seattle, San Francisco, Milan, New York, Oslo and the UK).
The Victoria Symphony is Vancouver Islandĺ─˘s largest and most active arts organization offering its audiences 68 years of tradition, a commitment to fostering new music and a dedication to community involvement through music education. Showcasing the outstanding talents of its musicians and guest artists the Victoria Symphonyĺ─˘s 2008-2009 season offers a diverse and exciting line-up of over 50 concerts led by its vibrant Music Director Tania Miller.
Jane Eaglen performs at the Royal Theatre with the Victoria Symphony on Sunday, September 14 at 2:30pm and again on Monday, September 15 at 8:00pm. Tickets can be purchased at by calling 250.385.6515 or 250.386.6121 or online at www.rmts.bc.ca.
The Victoria Symphony wishes to acknowledge the generous support of the newly created Egon Baumann Foundation for these performances.
For complete programming details of the 2008-2009 season please visit www.victoriasymphony.ca.
Labels: 2008-09 season, opera, victoria, VSO