This Week in Toronto (Feb. 8 - 14)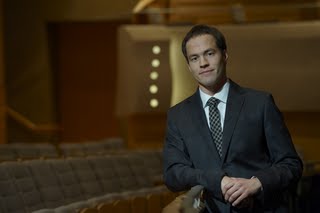 COC Music Director Johannes Debus conducts RCM Orchestra on Feb. 12.
Photo: courtesy of Michael Cooper Canadian Opera Company
With practically all the major music organizations going full steam this week, one can choose from a delectable selection of events. Conductor Johannes Debus, appointed last year as the COC's music director starting this current season, comes to town to conduct the RCM Orchestra in the RCO In Concert Series at Koerner Hall on Feb. 12 8 pm. The program features Prokofiev's Symphony Classique, Poulenc's Concerto for Two Pianos, Ravel's Sheherazade, and Stravinsky's Firebird. Soloists are mezzo Wallis Giunta, a RCM alumna and now with the COC Ensemble Studio, as well as pianists Nicholas King and Lucas Porter. Debus conducts the upcoming COC production of The Flying Dutchman. Concert is at the RCM Koerner Hall at 273 Bloor Street West. Tickets are a bargain at $20.
The Toronto Symphony Orchestra presents Beethoven's Symphony No. 5 in C Minor, Op. 67 with guest conductor Douglas Boyd on Feb. 10 and 11, 8 pm at Roy Thomson Hall. Also on the program is the Beethoven's Overture to Fidelio, plus the North American premiere of a percussion concerto, A table of noises, by Simon Holt.
On Friday Feb. 12th 8 pm, Canada's Angela Hewitt, one of the foremost Bach interpretors of the world, celebrates the 25th anniversary of her win at the International Bach Piano Competition, with a concert at Roy Thomson Hall, the very venue of her triumph in 1985. On the program is Bach's Italian Concerto, Beethoven's Sonata in D Major, Op. 10, no.3, and Brahm's Sonata in F Minor. I understand this program is a reprise of her winning concert.
There are several interesting offerings on the vocal scene. First of all, the great Karina Gauvin is coming to Roy Thomson Hall in a recital as part of the RTH Vocal Series on Sunday Feb. 14, 2pm. In keeping with Valentine's Day, she will have a program of love songs by Scarlatti, Chausson, Bizet, Ravel, and Kurt Weill. She will be accompanied by collaborative pianist Michael McMahon. On Wednesday Feb. 10 at 7:30pm, the Aldeburgh Connection presents A Night in Spain, as part of it Discovery Series featuring up and coming singers. It is a program of love songs by Schumann. Soloists are soprano Johane Ansell, mezzo Erica Huang, tenor Christopher Enns, and baritone James Baldwin. As usual, with Stephen Ralls and Bruce Ubukata at the piano.
The Talisker Players presents a program called To the Sea in Ships: Songs of Swashbucklers. The soloists are Vicki St. Pierre, Keith Klassen, and Alexander Dobson. It takes place on Feb. 9 and 10 at 8 pm at the Trinity St. Paul's Centre. For a free preview, you can line up at the COC Noon Hour Chamber series on Feb. 9 at the Richard Bradshaw Amphitheatre, Four Seasons Centre, when the artists will present selections from the program. Be sure to line up at least 45 minutes early for a seat.
The
Canadian Opera Company
continues its winter season with
Carmen
(Feb. 9 and 11 at 7:30 pm and Feb. 14 at 2 pm) and
Otello
(Feb. 10 at 7:30 pm). Both shows have received excellent reviews and are not to be missed. All performances at the Four Seasons Centre. For something much more modest in scale but presented with enthusiasm, try the
Toronto Opera Repertoire
, which is in its 43rd year of existence. It is a community-based organization supported by local opera enthusiasts and volunteers. Its program of typically two staged operas with piano accompaniment per season constitute a course with the Continuing Education Program of the Toronto District School Board. It is the brainchild of former tenor
Giuseppe Macina
, who has run it since its inception in 1967. The singers are non-professionals. This year, the TOR is presenting
Marriage of Figaro
(Feb. 10, 13, 19, 21, 24, 27) and the double-bill of
Cavalleria Rusticana
and
Pagliacci
(Feb. 12, 13, 17, 20, 26, 28)
. All performances are at the Bickford Centre 777 Bloor Street West in downtown Toronto. Go to
http://www.toronto-opera.com/
for additional information.
Finally, the retired National Ballet of Canada's ballerina Veronica Tenant will be appearing this evening (Monday Feb. 8 at 7:30 pm) as part of the Roy Thomson Hall Unique Lives and Experiences Series. I have great memories of Tenant - she was my first Aurora and Giselle. This series has presented some of the highest profile women in the past and is always interesting, entertaining, and often thought-provoking and moving.
Labels: Aldeburgh Connection, Angela Hewitt, Douglas Boyd, Johannes Debus, Karina Gauvin, RCM Orchestra, Veronica Tenant