Balanchine's A Midsummer Night's Dream comes to your local screen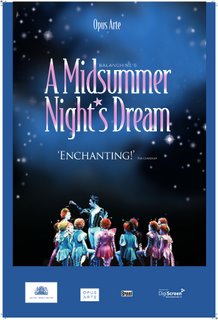 On Saturday August 15, summer audiences will have a chance to enjoy a special presentation of George Balanchine's enchanting ballet A MIDSUMMER NIGHT'S DREAM at Empire Theatre locations and other select theatres throughout Canada. Distributed worldwide by Montreal distributor DigiScreen, the highly acclaimed production appears on select Canadian screens as part of an ongoing cinema series from the world's great stages presented by The Royal Opera House's Opus Arte.
Choreographed by the great George Balanchine, Shakespeare's comedy of magic and love's delusions is a guaranteed audience pleaser, set to the beautiful music of Felix Mendelssohn. The Pacific Northwest Ballet displays all the vitality, brilliance and versatility of its wonderful dancers in this award-winning production of Balanchine's first original full-length ballet. The characters from Shakespeare's much-loved comedy are as enchanting as ever: the haughty, unattainable Titania (Patricia Baker), mysterious Oberon (Paul Gibson), chaotic mischief-maker Puck (Seth Belliston), charming buffoon Bottom (Timothy Lynch). Balanchine brings the essence of the 'Dream' to life and creates his own pure dance magic as he and Shakespeare intertwine to bring the story to a whimsical climax. A highlight is a breathtaking pas de deux danced so beautifully by two dancers of whom most audiences may never have heard, Louise Nadeau and Olivier Wevers.
Based in Seattle, Pacific Northwest Ballet is one of the largest and most highly regarded ballet companies in the United States and known for its fascination with George Balanchine. A MIDSUMMER NIGHTS DREAM is a milestone for the company winning the highest award from IMZ Dance Screen.
"Lavish! Full of colour and brilliant images! Such productions surely guarantee the survival of classical ballet well into the next millennium." - Morning Star
"Enchanting!" - Guardian
The performance will be presented across Canada on August 15 at Empire Theatres and select locations. For details screenings, please go to www.digiscreen.ca and locate the participating theatre in your area.
Montreal distributor DigiScreen in association with Royal Opera House's Opus Arte, releases 10-16 HD productions throughout the year. The award-winning A MIDSUMMER NIGHTS DREAM was captured in High Definition and Surround Sound on the stage of London's storied (and newly restored) Sadler Wells in April 1999.
Tickets will be available at $19.95 + tax per adult, $16.95 + tax per senior and $9.95 + tax per child. For cinema locations and to purchase advance tickets throughout Canada visit www.empiretheatres.com/opusarte. For Landmark Cinemas in Alberta and BC, go to www.landmarkcinemas.com. For independent theatres in Vancouver, Waterloo and Montreal please visit www.festivalcinemas.ca, www.princesscinemas.com.
About Pacific Northwest Ballet
www.pnb.org
Pacific Northwest Ballet, one of the largest and most highly regarded ballet companies in
the United States, was founded in 1972. In July 2005, Peter Boal became Artistic Director, succeeding Kent Stowell and Francia Russell, Co-Artistic Directors since 1977. The Company of fifty-one dancers presents more than 100 performances each year of full-length and mixed repertory ballets at Marion Oliver McCaw Hall and on tour. The Company has toured to Europe, Australia, Taiwan, Hong Kong, Canada and throughout the United States, with celebrated appearances at Jacob's Pillow and in New York City and Washington DC.
About Opus Arte
www.opusarte.com
Opus Arte, owned by the Royal Opera House, has been recording in High Definition for the past decade and has amassed a substantial catalogue of outstanding productions from around the world. Opus Arte led the way by being the first company to release a Classical HD-DVD, and also the first to release a Classical Blu-ray disc into the world market. Working closely with top organizations such as the BBC and TVE, Opus Arte has enabled a large number of people to share the magic of seeing an opera or ballet live. Partnerships with the world's top opera houses has enabled Opus Arte to capture some of the most magnificent productions ever experienced on DVD for people to enjoy over again.
About DigiScreen Corporation
DigiScreen is a digital network for the distribution and presentation of independent film and alternative content. The company's low-cost high quality HD technology allows exhibitors to access content with a very low overhead. DigiScreen launched the network in 2007 with an exclusive collaboration with Opus Arte and the Royal Opera House of London. Thanks to this collaboration, the company is able to showcase the world's most prestigious contemporary performing arts companies in an ongoing series of spectacular operas and ballets. These productions are captured live, in High Definition, from locations such as Convent Garden (London), Palais Garnier (Paris), Teatro Real (Madrid), Licieu (Barcelona), War Memorial (San Francisco) and other great stages of the world. These HD productions are presented exclusively by DigiScreen and its partners to audiences in more than 300 cinemas across the United States, Canada, United Kingdom, Europe, Japan and Australia. Presentations in South Africa and other territories will be staring shortly.
For details of time and location, go to http://www.empiretheatres.com/opusarte
Labels: A Midsummer Night's Dream, Empire Theatres, Opus Arte