Munich Opera Festival announces tempting 2009 lineup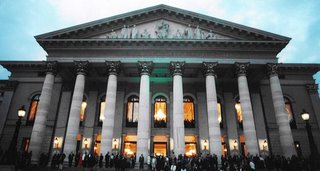 by Joseph So
Are you already getting the early winter blahs? I admit I am - as I write this, Toronto is getting whacked by a wicked snowstorm, to be followed by a second deluge 48 hours later. When faced with such a depressing scenario, there is no better tonic than planning the next opera trip, especially one as delectable as the annual Munich Opera Festival. This august festival dates back to 1875 - how's that for longevity! I attended the summer fest last July and had the greatest time. In the span of a week, I saw five operas and a Liederabend, starring some of the biggest stars in the opera world - Kent Nagano, Jonas Kaufmann, Diana Damrau, Angela Denoke, and Canada's own Adrianne Pieczonka. There may be other festivals with equally starry lineups and cutting-edge productions - Salzburg and Glyndebourne come to mind - but none can beat Munich for the sheer variety and consistency of product.
The 2009 Munich Opera Festival Season is five weeks long, from June 30 to July 31. It marks the first season at the helm for Nikolaus Bachler, their new intendant. For me and undoubtedly all Wagnerites, the main attraction will be the festival premiere of a new production of Wagner's
Lohengrin
, starring German tenor Jonas Kaufmann (opening night July 5). I heard him in a Liederabend last July, and to my ears he is the best young heldentenor today. The timbre of his sound is so reminiscent of a young Jon Vickers that it is absolutely uncanny - the only difference is Kaufmann has better high notes. Opposite him will be the marvelous Greek-German soprano Anja Harteros as Elsa. The conductor is the great Kent Nagano. Montreal audiences will be familiar with his work, but mostly in the symphonic repertoire, so this represents an opportunity to hear him conduct this great score. The stage director is Richard Jones, so expect something cutting edge and unconventional!
The second attraction for me will be my favourite tenor, Rolando Villazon, singing two performances of
Werther
. I saw this very production last July with the fine Polish tenor Piotr Beczala, but to me Villazon is in a class by himself. Also high on my list is a revival of last season's sensational
Ariadne auf Naxos
starring Canadian soprano Adrianne Pieczonka. It was at the intimate Prinzregententheater - it was the hottest ticket at the festival last July. The 2009 revival will have the same cast, but with Bertrand de Billy replacing Nagano, and it is slated to be taped for release on HD DVD, according to Dr. Ulrike Hessler at a press luncheon last July. Pieczonka will also sing Desdemona in
Otello
opposite Johan Botha. Italian soprano Barbara Frittoli will sing the title role in
Aida
in a production staged by Christoph Nel and conducted by Daniele Gatti. An eclectic item on the program is the festival premiere of Leonard Bernstein's one act opera
Trouble in Tahiti
. Kent Nagano will lead the Mahler Chamber Orchestra in a new version especially prepared for Munich, at the Cuvillies Theater.
Last summer in the Cuvillies, performances of Mozart's
Idomeneo
marked the reopening of this exquisite Rococo theatre. This production will be revised for performances on July 23, 26, and 30. One can also look forward to the return of two big-name divas - Edita Gruberova in
Lucrezia Borgia
(July1, 6), and Angela Gheorghiu in a gala concert (July 27). Aficionados of song recitals will get to hear Diana Damrau (July 5), Waltraud Meier (July 20), and Jonas Kaufmann (July 26). As is typical of festivals of this calibre, tickets don't come cheap, but there will be a number of free outdoor events to make the festival accessible to all - a concert on June 28 with Nagano conducting the Bavarian State Orchestra will take place on Marstall Square, and on July 5, the opening performance of
Lohengrin
will be telecast live on Max Josef Square.
The demands for seats to the operas, ballets and symphonic concerts at the Festival have always been high, and given the lineup this coming summer, it is likely to sell out quickly. July is also high season for travel to Munich, so one would be wise to book air tickets early. For details, visit the Munich Opera Festival website at:
http://www.muenchner-opern-festspiele.de/798-ZG9tPWRvbTQ-~opernfestspiele~index_mopf.html?l=en
Labels: Munich Opera Festival