Richard Wagner: Tristan und Isolde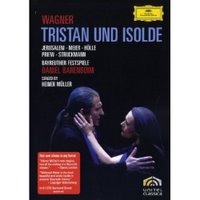 Siegfried Jerusalem (Tristan), Waltraud Meier (Isolde), Mathias Hölle (King Marke), Uta Priew (Brangäne), Poul Elming (Melot)
Bayreuth Festival Orchestra and Chorus / Daniel Barenboim
Stage Director: Heiner Müller; Video Director: Horant H. Hohlfeld
DG 00440 073 3349 (2 DVD: 235 min)
***** $$$$
Late last year, DG released the 1983 Bayreuth performance of Tristan und Isolde, an exquisite Jean-Pierre Ponnelle production conducted by Daniel Barenboim with René Kollo and Johanna Meier in the title roles. A 2007 Glyndebourne staging directed by Nikolaus Lehnhoff with Jiřỉ Bělohlávek in the pit with the LPO soon narrowly surpassed this. Now, Barenboim can reclaim the benchmark for the opera on DVD in this 1995 Bayreuth collaboration with stage director Heiner Müller. Müller was the conductor's personal choice after Patrice Chéreau pulled out of the new production planned for 1993. In the revision of his autobiography, A Life in Music (London 2002), Barenboim recalls, "He thought I was crazy since he had no experience of staging opera, little knowledge of music in general and of Wagner in particular… he was much more of a visual person than I had expected, and together with Erich Wonder, he developed a presentation of the work which heightened the claustrophobic nature of the drama to a remarkable level. Muller's realization gave the impression that there was no way out… no way to escape the chromaticism of the score, itself a musical maze of half resolutions ad infinitum."

What Müller and Wonder did was to erect a giant, open-ended shoe box of a set in the middle third of the stage. With adjustments of slope, a few props and colour variations, this structure serves throughout the performance. The second act is set in King Marke's armoury with the characters knee-deep in a geometric maze of breastplates. Their movement and interaction is purposely contrived. Like the stage action, the costumes (by fashion designer Yamamoto of Paris) convey a fascinating oriental mystique.

None of this would be of any significance without musical excellence. Siegfried Jerusalem and Waltraud Meier were new to the roles when this production was first staged in 1991. Their portrayals of the doomed couple might well be considered definitive. The Act II marathon duo is truly miraculous to behold. Barenboim displays great sensitivity in the accompaniment and the principals never need to strain their voices to be heard above the orchestra. Compared to the splendid 1983 performance, the orchestra sounds even better. This is not entirely due to the conductor's greater experience and sagacity. The collapse of the GDR a few years earlier allowed many gifted musicians (along with stage director Müller) to travel from East Germany to join the festival orchestra.
We can now claim to be afflicted with an embarrassment of choices for Tristan und Isolde. The 1983 Ponnelle version is still competitive although the picture aspect ratio is 4:3. Making a selection of a single version for a personal collection really boils down to Barenboim II vs Glyndebourne. Hardcore Wagnerians will need all three of these superb performances. And for more of Barenboim at the top of his form in Bayreuth, don't miss the EuroArts DVD issue of the 1999 performance of Die Meistersinger von Nürnberg.
- Stephen Habington
Labels: dvd, english, product_review, Richard Wagner