Met Opera in HD opens with Glittery Gala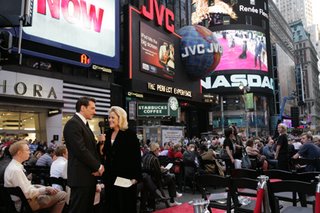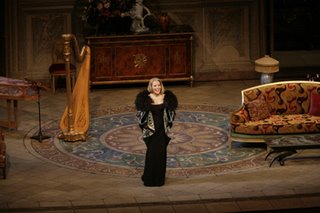 Top Left: Deborah Voigt interviewing Paulo Szot in Time Square
Photo: Ken Howard
Top Right: Renee Fleming in Capriccio
Photo: Ken Howard
Below:Renee Fleming as Violetta
Metropolitan Opera in HD opens with Glittery Gala
Joseph So

Now in its third season, the Gelb-inspired, wildly successful Metropolitan Opera in HD opened Monday night with a starry gala consisting of one act each from three operas featuring America's reigning diva, soprano Renee Fleming. The live simulcasts of 14 operas the past two seasons have attracted 1.3 million viewers, a staggering figure when you consider the Met, humongous as opera houses go, has a capacity of only 4,100 including standing room. With this new innovation, the Met has managed to reach a huge worldwide audience, as these shows are also seen in Canada, Europe, Japan, and Australia, and for the first time, Mexico City, the home of tenor Ramon Vargas who also starred in two of the three operas. Despite a few naysayers, there is no question that the Met in HD initiative has gone a long way to promote opera to the general public.
Given the Met success, other houses have jumped on the bandwagon. La Scala's opening night
Tristan und Isolde
last December 7 was shown in movie houses in Europe and the US (but sadly not in English Canada); San Francisco, Covent Garden and Opera Australia each have their own, non-live simulcasts, but their impact cannot compare to the live Met events, which has a real sesne of occasion. None was more stunning than the opening gala on Monday. Taking a page from Hollywood, the Met laid down the red carpet in Lincoln Center to welcome celebrities the likes of Martha Stewart, German soprano Diana Damrau, and NY mayor Michael Bloomberg. The show was also shown on outdoor screens in Time Square and Fordham University. Mezzo Susan Graham and soprano Deborah Voigt served as roaming reporters speaking, with luminaries and opera fans/tourists alike, lending the event a truly festive feel.
The centerpiece of the event was of course soprano Renee Fleming, America's sweetheart, at least operatically speaking. She combines personal beauty with a seamless, creamy voice and loads of personality. To showcase her talent, the Met put on Act 2 of
La traviata
, Act 3 of
Manon
, and the final scene from
Capriccio.
Now twenty years after winning the Met Auditions, the Fleming voice is still in pristine shape, a testament to her excellent technique and musical acumen. For this extravaganza, several designers created gowns for her, and she wore
La Voce
, her own perfume. Even Martha Stewart made a special champagne concoction, The Grand Dame, to toast Renee during intermission - talk about being in diva heaven!
Opposite Fleming in two of the three operas was Mexican tenor Ramon Vargas - perhaps not the most romantic-looking of tenors around, but certainly among the most vocally impeccable today, especially as Alfredo. (Too bad his cabaletta was cut) As Des Grieux, his lyric tenor was stretched in "Ah fuyez, douce image" in the St. Sulpice scene, but he coped well. American baritone Thomas Hampson is no stranger to Germont, having sung it in many high profile productions, including the recent Salzburg production with Rolando Villazon and Anna Netrebko. Despite his good intentions, there is no disguising the fact that Hampson is not a true Verdi baritone. He sang all the notes with honour if not distinction. To my ears, Hampson lacks the vocal opulence, the large, rich, mellow, commanding sound of a Robert Merrill or a young Sherrill Milnes to do Germont justice - one longs for Dmitri Hvorostovsky or Bryn Terfel in this role.
The "other" leading American baritone of the evening was Dwayne Croft, in the rather thankless role of Lescaut. He sang correctly but given Fleming's star power, Lescaut's little aria went by with nary a stir from the audience. British bass Robert Lloyd did rather better as a commanding Comte des Grieux. Capriccio's final scene is essentially a one-woman show, and Fleming never looked more gorgeous in the Art Deco outfit, or sounding more vocally resplendent in Madeleine's musing of the primacy of word or music. Veteran American baritone Michael Devlin did a star turn in the cameo role of the Major Domo.

Final Thoughts - few singers today are as gifted as Renee Fleming, and by and large she lived up to the hype. However, I must say that she has become more and more mannered with time. Much of that mannerism was in evidence here. It suited her Manon better than her Violetta - afterall, Manon is the born coquette. Even here, her vocal mannerism was a bit over the top, especially in the cloyingly sung Gavotte. The last twenty minute of Capriccio has some of the most sublime music Strauss ever wrote, and Fleming sang it very beautifully to be sure. But her acting was so extravagant, so excessive that it almost ruined it for me - sometimes, economy of movement makes more of a statement than the incessant waving of hands caressing every inch of one's face and neck. One marvels at the depth of feeling in the aristsocratic stillness of Kiri Te Kanawa, Elizabeth Söderström, or even Johanna Meier as Madeleine. I am afraid there is nothing Parisian - or Straussian for that matter - about the Madeleine of Renee Fleming, only American Apple Pie.

The Met orchestra was led by three maestri - James Levine received a rousing ovation, not only for his conducting of the Verdi, but for his recovery from kidney cancer surgery. The Met Traviata production combines acts 2 and 3, and Levine led the Met forces even more leisurely than usual. In Manon, Marco Armiliato led the orchestra with a firm and sure hand. But for me, the best of the evening was Patrick Summers in the 20-minute final scene from Capriccio - the moonlight music never sounded more trancendent.

I saw the simulcast at the Scotiabank Theatres in downtown Toronto. Everything went well, except for about 15 minutes in the beginning when there was no subtitles. There was likely some technical improvements to the picture quality from last season, as the brightness level has really improved. The sound quality was glitch-free. The next show will be Salome with the great Karita Mattila - get your tickets, you wouldn't want to miss it!
Labels: Capriccio, La traviata, Manon Lescaut, Met in HD, Renee Fleming