Kent Nagano & Montreal Symphony Take on The General
BEETHOVEN: IDEALS OF THE FRENCH REVOLUTION
reviewed by Paul E. Robinson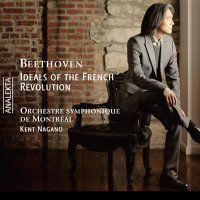 The General:
for orchestra with soprano, choir and narrator.
Music
by Beethoven: Symphony #5 in C minor Op.67;
Egmont
Op.84; Incidental Music (
exerpts
);
Opferlied
Op.121b
Text
by Paul Griffiths. (
English version
)
Maximilian Schell,
narrator
/Adrianne Pieczonka,
soprano
/Orchestre Symphonique de Montréal/OSM Chorus/Kent Nagano,
conductor;
Analekta:
AN 2 9942-3 (
2 cds
)
For his first recording with the
OSM
,
Kent Nagano
has come up with a fascinating project. This album features the music of Beethoven, but it is presented from a distinctly Canadian point of view.
Musically,
The General
is essentially Beethoven's incidental music for Goethe's play,
Egmont
; the original Goethe text, however, has been set aside and replaced by a new one created by the Welsh music critic,
Paul Griffiths
. The new story is based on the Rwandan experiences of Canadian general Roméo Dallaire, as recounted in his book,
Shake Hands With the Devil.
Dallaire was head of the UN peacekeeping mission in Rwanda in 1993-4 and as the Hutus prepared to massacre hundreds of thousands of Tutsis, Dallaire did everything he could to prevent it but failed; the world was simply not interested. Dallaire returned to Canada a disillusioned and broken man - one of the great tragic heroes of our time.
Nagano and Griffiths came up with the concept and then Griffiths set to work. He decided to tell the Rwanda story without mentioning either names or places. For the most part, the narration is given between the musical numbers. As I mentioned, the music is mostly from
Egmont
, but Griffiths also drew on excerpts from other Beethoven works, most of them little-known.
While one wants to applaud Griffiths and Nagano for their ambition,
The General
is ultimately disappointing. By avoiding naming names and places, Griffiths has robbed the piece of its potential power. The genocide in Rwanda has already taken its place in history as one of the greatest horrors of modern times and Dallaire's own account of it is totally engrossing. But without any mention of Rwanda, Dallaire, Tutsis and Hutus, Griffiths' text is almost meaningless and incomprehensible. The bits of narration are far too brief to establish any context, nor is there really any coherent story being told.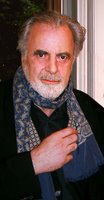 In the performances which preceded the recording, the narrator was the celebrated Canadian actor
Colm Feore
; unfortunately, he was unavailable for the recording. In choosing
Maximilian Schell
(
left)
as narrator, Nagano and Griffiths have the benefit of a great actor, but he has nothing to work with. What's more, judging by the mismatches in tempo and volume, one can assume that he did his work alone in a studio rather than with the orchestra.
Finally, Griffiths chose to end
The General
with Beethoven's
Opferlied
for soprano, chorus and orchestra. In his notes Griffiths tells us that he wrote new words for
Opferlied
and he tells us that these words and Beethoven's music were exactly what was needed to end the piece. Beethoven's
Egmont
music ends with a Victory symphony and that was hardly appropriate for the Rwandan story. Unfortunately, since there are no texts included in the CD booklet, we have no idea what those words are. This recording has been issued in both an English and a French version, but neither one includes the text.
Beethoven's music for
Egmont
is wonderful and with carefully chosen excerpts from Goethe's play, a performance with narration can be moving and inspiring. Griffith's new version left me totally uninvolved and baffled by the whole enterprise. It is curious that Dallaire himself was not associated with this project in any way even though he has readily gotten involved with several film projects relating to his experience in Rwanda. In fact, while Griffiths explicitly names Dallaire as 'the protagonist' of his drama he never even mentions the title of Dallaire's book in his notes. Could it be that Dallaire or his publisher had something to do with that, and with Griffiths' decision to avoid any mention of either Dallaire or Rwanda in his text?
On the positive side, Nagano and the OSM play Beethoven's music with great intensity. The same goes for their performance of the Fifth Symphony on the second CD. Nagano's approach indicates he has been strongly influenced by the period instrument specialists. He takes all the repeats and very quick tempi in accordance with Beethoven's metronome markings. He has the strings play with little or no
vibrato
much of the time. The opening of the slow movement sounds strikingly different with this approach. And he makes the most of Beethoven's timpani writing. There are some inconsistencies: why eliminate
vibrato
in the strings at the opening of the slow movement, but allow it in the bassoon solos later on? On the whole, however, this performance of an old warhorse is fresh and exciting. Still, one can't help wondering what the Fifth Symphony has to do with "the ideals of the French Revolution."
For some reason, the overture and two songs from
Egmont
and
Opferlied
are repeated at the end of the second CD. I can understand repeating the vocal works – in
The General
they are given in English (or French) while here they are performed with the original German texts – but why repeat the overture?
The music for
The General
was recorded in Studio MMR at McGill University, and the Fifth Symphony was done in the Salle Wilfred-Pelletier at Place des Arts; neither one has the warmth of the famous church in St. Eustache where so many of the OSM/Dutoit recordings were made by Decca.
Some fine music-making on this 2-CD set but lots of questions too. Fans of Kent Nagano – and there are a growing number of them – will want to have this album in any case, as the first recorded documentation of his work in Montreal.
Paul E. Robinson is the author of
Herbert von Karajan: the Maestro as Superstar
and
Sir Georg Solti: his Life and Music
, both available at
http://www.amazon.com/
. For more about Paul E. Robinson please visit his website at
http://www.theartoftheconductor.com/
.
Labels: Nagano