Stratford and Shaw: Artistic Turmoil, a Tough Economy & Life is a Cabaret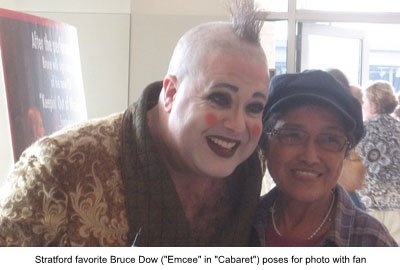 I've been visiting the
Stratford
and
Shaw
Festivals for as long as I can remember. Growing up in Toronto, I learned early that Stratford was home to one of the greatest theatre companies in the English-speaking world. The Shaw Festival in Niagara-on-the-Lake came a little later, but it too quickly became famous for the quality of its productions. I returned this summer for a major dose of both festivals – four shows in two days at each festival – and I was rarely disappointed.
Superstar Christopher Plummer Plays with Newcomer Nikki M. James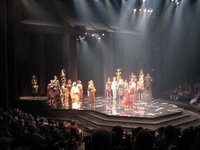 From the beginning, Stratford was known not only for its
Shakespeare
but also for its ability to attract stars. Director
Tyrone Guthrie
started things off, and then came Alec Guinness, James Mason, Paul Scofield, Alan Bates, Maggie Smith, Peter Ustinov and many others. This year we had
Brian Dennehy
in O'Neill's
Hughie
and Beckett's
Krapp's Last Tape
, and
Christopher Plummer
in Shaw's
Caesar and Cleopatra
. I missed Dennehy but enjoyed every moment of the 78-year old Plummer's wise and witty Caesar beguiled in Egypt by the teen-aged Cleopatra. In this production with
Nikki M. James
playing the young Queen, we had something close to a real teen-ager in the role (she is 27 but looks and sounds much younger).
James turned out to be one of the most controversial elements in a season of controversy in Stratford. She was clearly out of her element in
Romeo and Juliet
but the more colloquial language and shorter speeches in Shaw's play allowed her to put forward her best qualities - grace and youthful charm. James was originally cast in a smaller role in
Caesar and Cleopatra,
but a late withdrawal by broadway star
Anika Noni Rose
gave her the opportunity to play Cleopatra.
The casting of the all but unknown James in two major roles in her Stratford debut season was the work of Stratford's new artistic director
Des McAnuff
, and one could argue that he must take most of the blame for her less than stellar Juliet. Not a good omen for his new regime. But then it wasn't planned to be that way - that is,
his
regime.
Three Artistic Directors Two Too Many!

When the 2008 Stratford season was announced, there was a trio of artistic directors appointed to succeed Richard Monette. By all accounts, the three new directors couldn't get along and McAnuff managed to emerge victorious and in sole charge. Perhaps he had sharper elbows. (News Update: After writing this article I learned that Richard Monette (left) passed away in a hospital in London, Ontario. This was sad and surprising news. He had put his heart and soul into the Stratford Festival.)
In spite of his questionable judgement in casting and a propensity to parachute in American cronies – just look at the bios in the programmes for this year's plays – McAnuff is a gifted director and both
Romeo and Juliet
and
Caesar and Cleopatra
demonstrated that fact. He used the famous thrust stage in the Festival Theatre to great effect in both plays.
Michael Roth
(
Romeo and Juliet
) and
Rick Fox
(
Caesar and Cleopatra
) gave us original music that thankfully didn't consist largely of pompous fanfares. Some of McAnuff's talented American imports - among them actor
John Vickery
, fight director
Steve Rankin
, aerial effects designer
Paul Rubin
, costume designer Paul Tazewell, director
Amanda Dehnert,
choreographer Kelly Devine and the afore-mentioned Michael Roth - even rivaled the best of the old Stratford guard.
McAnuff may or may not be an egomaniac; that unpleasant possibility notwithstanding, one must admit that in his first season he has already brought a fresh approach. Stratford has a long tradition and is proud of it, but even venerable institutions need retooling from time to time.
Musicals, Money, and Broadway-on-Avon
Musicals have become Stratford's cash cows in recent years and there are those who find this turn of events disgraceful. "How," they ask, "could Stratford's distinguished Shakespeare company – 'North America's leading classical theatre' it calls itself - become so obsessed with commercialism?"
The fact is that Stratford is a commercial operation and needs to make a lot of money to sustain itself. It puts on about fifteen shows a year and runs in repertory in three theatres from April to November. The musicals draw the crowds but their success also enables Stratford to continue presenting Shakespeare and more esoteric fare. And, as it happens, Stratford has become one of the best producers of musicals anywhere; this year, for example, we had a brilliantly fresh
Cabaret
with local favorite
Bruce Dow
as the Emcee! One has come to expect precision and attention to detail in the Stratford musicals and
Cabaret
was no exception. The orchestra too sounded wonderful in its
ersatz
Kurt Weill charts.
I must confess that I dislike the sound systems used everywhere today for musicals. Both the singers (with mikes poking up beside their ears!) and the orchestra in the Stratford musicals, are miked. The idea is to make everything sound bigger and louder and to compensate for tiny voices. No Ethel Mermans need apply anywhere anymore.
The effect of miking an orchestra is usually a congested and artificial sound. No so in this Stratford
Cabaret
.
The Music Man
in the same theatre (Avon) the following night, however, was another matter. Since the sound designer for both productions was Jim Neal, it is difficult to know why the results were so different. For the record, our seats were nearly the same for both productions - three or four rows back in the centre section of the orchestra.
In a struggling U.S. economy and with the Canadian dollar nearly at par with the U.S. dollar – not to mention the high cost of gas – there were lots of empty seats for the Stratford performances I attended. It was a similar situation at the Shaw Festival in Niagara-on-the-Lake. While both festivals tend to rely heavily on retirees, at the Shaw this year I was struck by the large numbers of much older patrons.
Life is a Cabaret and Getting Married is a Good Laugh at Shaw!
The Shaw Festival has chosen to concentrate on plays by GBS (George Bernard Shaw) and his contemporaries. That repertoire comprises a large chunk of programming and the company has become very good at it. This year we had
Terrence Rattigan's
After the Dance
(1939), a depressing drama about bright young things partying their way to destruction between wars. Come to think of it, the theme of this play is not so very different from that of
Cabaret
. We also had
J.B. Priestley's
An Inspector Calls
(1945), another play touching on the insularity and selfishness of the British upper classes. Jim Mezon's direction was atmospheric and provocative, as were the lighting, the sets and the sound effects. The "elevator" almost became another character in the play, and a somewhat nasty one at that.
Shaw's
Getting Married
is one of those Shavian plays people like to dismiss as hopelessly didactic and argumentative. Shaw wrote it in 1908 as an attack on the divorce laws currently in effect in England. It was virtually impossible to get divorced and few people did. Shaw's view was that if people no longer wanted to be married, it should be easy for them to go their separate ways. In the play he thrusts us into a household in which the Bishop's daughter is about to be married. As family and guests arrive, a discussion develops about the virtues and drawbacks of marriage. Rather than a dry legal or philosophical discussion, what develops is a hugely entertaining exchange of ideas between some highly eccentric folks. As directed by Joseph Ziegler, this production was great fun! Many of the ideas expressed in this play are as relevant today as they were in Shaw's England of 1908.
Wonderful Town Not Quite as Wonderful as it Might Have Been
The Shaw Festival, as did Stratford, has turned to musicals to attract a broader audience. This year's programming included
Leonard Bernstein's
Wonderful Town
and Stephen Sondheim's
A Little Night Music
.
Bernstein was a phenomenon, of course, and one of America's greatest composers of Broadway musicals.
Wonderful Town
quickly became a smash hit when it opened in 1953. Seeing it 55 years later, I was initially shocked to realize how much of a period piece it had become. The musical idioms, the 1950s references in the lyrics by Comden and Green all seem a bit dated. But then everything at Shaw is dated and that perhaps, is part of its appeal.
Each generation, at some point in time it seems, experiences nostalgia for bygone days. Elderly audiences come to mind once again. Many of us can relate to the recent history of
Getting Married
(1908), say, in a way that we can't relate to Shakespeare, Ibsen or Chekhov. We see our roots in Shaw, Rattigan, Priestley, Wilde and all the rest. Nostalgia is partly what draws the older crowds to Shaw, but these are also people who "grew up with" the classic Broadway musicals.
Wonderful Town
is not as old as
Oklahoma
or
South Pacific
, but it has now passed into that semi-frozen state of theatre pieces that used to be current, but are not yet full-fledged classics.
Wonderful Town
was done well at Shaw, but not in my opinion, nearly as well as such things are done in Stratford. The singing and dancing are not on the same level. The orchestra sounded - well - "miked"! The sound designer John Lott must have been partly to blame, but perhaps also conductor Paul Sportelli who is credited with the orchestrations.
If you want to hear how
Wonderful Town
should sound, listen to a recent
DVD
with Simon Rattle conducting the Berlin Philharmonic with outstanding singing by Kim Criswell, Audra McDonald and Thomas Hampson.
Good Theatre, Charming Towns, Fine Food & Wine
It is the consistently high quality of the plays and musicals presented that draws me back to Stratford and Niagara-on-the-Lake each summer, but admittedly, the towns themselves are an important part of the total experience.
Niagara-on-the-Lake is the more picturesque of the two, and has the beauty of Lake Ontario and the Niagara River nearby, not to mention the excellent wineries which have sprung up in recent years and which offer tours, wine-tasting and fine dining.
If you want to sit by the water and enjoy a quiet lunch away from the tourist hordes, there is one special place to do that - the patio at the Niagara-on-the-Lake
Golf Club
at the foot of Gate St., just a short walk from the main shopping district.
Stratford does not have the charm of Niagara-on-the-Lake, but it is nonetheless a very welcoming small town with lots of very good restaurants. The Belfry – the poor cousin upstairs from the overpriced but often spectacular
Church Restaurant
– used to be one of my favorite hangouts, but it has now upgraded its menu to the point where it is impossible to get anything recognizable as traditional fare. A much better choice these days may be the
Keystone Alley Café
. It offers good food, well presented, at reasonable prices.
Paul E. Robinson is the author of
Herbert von Karajan: the Maestro as Superstar
and
Sir Georg Solti: his Life and Music
, both available at
http://www.amazon.com/
. For more about Paul E. Robinson please visit his website at
http://www.theartoftheconductor.com/
.