Report from Bel Canto, New Music Festival in Quebec
The first in a series of reports from Festival Bel Canto 2008 by Paul E. Robinson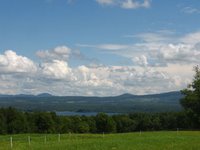 In a feature article last week, Christopher Huss of Le Devoir chose the heading "Knowlton, le Glyndebourne du Nouveau Monde?" (Knowlton, Glyndebourne of the New World?). Even with the question mark attached, this was heady stuff. Knowlton is a charming but tiny town (population: 5,000) in the Eastern Townships of Quebec, with scarcely a single memorable concert to its name let alone a world-class festival. What is going on here?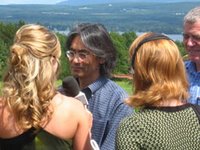 Festival Bel Canto was created almost overnight by the combined talents and energy of two men: Kent Nagano, music director of the Orchestre Symphonique de Montreal (OSM), and Marco Genoni, a Swiss businessman who has a home in Knowlton (Lac Brome). Late last year Nagano came to Knowlton as Genoni's guest and before the visit was over they had inspired each other to launch a new festival. The initial inspiration had a lot to do with the natural, unspoiled splendour of the area – "One of the most beautiful places in the world" Nagano enthused at his Press Conference at the festival site held just hours before opening night – and its proximity to Montreal.

But reality usually sets in a few days later when the visionaries float back to earth and face the problem of finding the money. In most cases, that is the end of it, especially when the dream involves an orchestra and major artists. But Nagano and Genoni are not most cases. Genoni formed an advisory group of Knowlton residents and among them and their friends they found the money. The game was on!

For Nagano and Genoni it was not enough to create a festival with Nagano and his orchestra as the prime focus. They had bigger dreams. One idea led to another and before long they were in touch with Bruno Cagli, director of the famed Santa Cecilia Academy in Rome. Cagli is one of the greatest living authorities on Italian opera, and particularly that period – 1820-1840 – in which Rossini, Donizetti and Bellini produced their greatest works. This is often called the Age of Bel Canto although the term is also used to describe virtually the whole history of singing in Italy.

For Nagano and Cagli the term will be used primarily in its narrower sense at their new festival. Thus, the major event at the inaugural festival will be Bellini's opera "Norma", and music by Bellini, Donizetti and Rossini figures in almost every concert. The festival runs from August 15 to August 24 and features some of the biggest stars in opera, and all of them have excelled in this repertoire. Not only will they be heard singing this music but they will take time to give master classes too. The vision of Genoni, Nagano and Cagli is not only to create a major festival but to include in its activities an important teaching component.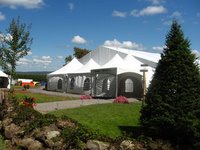 Opening night at Festival Bel Canto was filled with excitement and anticipation. Patrons and donors rubbed shoulders with local folk and there were even two former prime ministers in attendance (Jean Chretien and Paul Martin). The site itself is in a field overlooking Lac Brome. Patrons leave their cars at the famous Canards du Lac Brome (Brome Lake Duck Farm) and are taken by bus to the site, about a five-minute ride. The performance space is a white tent seating about 600. The shuttle system worked remarkably well on opening night and avoided the problem of where to park nearly 300 cars, especially if it rains and cars are stuck in fields turned into muddy swamps. The tent is not an ideal acoustic for classical music but on opening night it worked well enough. A sophisticated sound system is in place to enhance the sound coming off the stage but Nagano said that this was put in mainly to guard against disaster. For this first festival they had no idea what the sound would be like and wanted to have other options.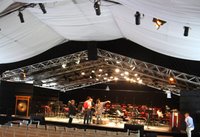 As expected on such occasions, there were speeches and more speeches and finally we got to the music. And there was something else. Master of Ceremonies Kelly Rice, a CBC Radio Music producer, asked all the participants in the festival to come on stage together so that when Knowlton residents saw them in town going to the grocery store or sitting in a pub they would recognize them and say hello. This was a fine gesture and an important one if Knowlton is going to embrace this strange encroachment on their idyllic community.

Still another inspired Nagano gesture. This evening was advertised as a recital featuring American mezzo-soprano Jennifer Larmore but before she came on Nagano conducted two short pieces with a small ensemble of recent prizewinners in OSM competitions. The idea was to 1) give pride of place to the musicians of the future who will inherit the festival, and 2) underscore the pedagogical aspect of the festival. For this purpose Nagano chose two short pieces in keeping with the festival's theme: Boccherini's very familiar Menuet and Rossini's little-known "Serenata per piccolo complesso." Both were played with skill and style by Nagano and his young players.

Jennifer Larmore opened her program with Rossini's delightful "La Regata Veneziana." Larmore never loses sight of the fact that she is an entertainer - a point she also emphasized at her master class the next day. She exudes joy and enthusiasm when she takes the stage and she uses her face and body with great skill to tell us about the characters she is portraying and the stories in the music. She is so good at this aspect of her art she could easily have a career as a mime if she ever decides to stop singing.

"La Regata Veneziana" is delightful and funny and Larmore did everything she could to bring it alive for us, but she would have been even more successful had she explained the piece beforehand or had the texts been included in the program. Another option might have the use of the surtitle equipment being used for the festival's "Norma" performances. Surtitles would be equally effective for vocal recitals.

But make no mistake. While Larmore is a superlative actress, she is also possessed of an extraordinarily beautiful voice. What is more to the point at this new festival is that she knows how to create the beautiful line and toss off the virtuoso requirements demanded by Rossini, Donizetti and Bellini. She gave us excerpts from operas by all three bel canto masters and threw in some Mozart for good measure.

Larmore was in equally fine form the next afternoon as she led a master class devoted to bel canto at Chapelle Saint-Édouard. Some talented young singers presented excerpts from operas by Bellini and Donizetti and Larmore worked with them with obvious love and commitment.

On Saturday morning in the same venue singers from l'Atelier lyrique de l'Opera de Montréal offered their takes on excerpts from more operas by Rossini, Donizetti, Bellini and Verdi. For each of the events in the chapel there were about 70 people and they seemed to enjoy what they heard. Both events were free.

In my next blog I'll be able to report on the first concert at the festival involving the OSM. On the basis of what I have heard so far, anyone with the slightest interest in Italian opera should be in their cars and headed for Knowlton. Kent Nagano, his colleagues and friends are in the process of creating something very special.

Paul E. Robinson is the author of Herbert von Karajan: the Maestro as Superstar and Sir Georg Solti: his Life and Music, both available at
www.amazon.com
. For more about Paul E. Robinson please visit his website at
www.theartoftheconductor.com
.