Mademoiselle: Nadia Boulanger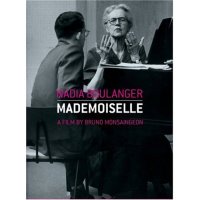 A film by Bruno Monsaingeon
Ideale Audience International DVD5DM41 (79 min, B&W)

****** $$$$
Nadia Boulanger (1887-1979) is arguably the most celebrated teacher of composition - and certainly the best known – of the 20th century. Her list of students, running into the thousands, reads like the Who's Who of classical music, among them Aaron Copland, Elliot Carter, Roger Sessions, Phillip Glass, Virgil Thompson, Ned Rorem, Marc Blitzstein, Thea Mugrave, and Leonard Bernstein – although in the film, Bernstein claims he never had formal studies with her. Boulanger's influence on the development of 20th-century classical music was profound, though with the rise of serialism in the 1950's, her adherence to tonal style was considered passé. This documentary was made in 1977 by filmmaker Bruno Monsaingeon, when Boulanger was already 90. It was Monsaingeon's first film, and he has since gone on to make numerous important documentaries on musicians the likes of Menuhin, Gould, Richter, Perahia, Oistrakh, Tortelier and Fischer-Dieskau.
Titled Mademoiselle (as she liked to be addressed), Monsaingeon focuses entirely on Boulanger the teacher. Even at such a grand age, with her voice shaking and hands gnarled by age and arthritis, Boulanger remains in full possession of her faculties. She comes across as quite formidable but not unkind. The extended footage of her weekly composition lessons held in her salon, with dozens of students, famous and obscure, crammed into every nook and cranny, is fascinating. This footage is interspersed with interviews by Monsaingeon of Igor Markevitch, Bernstein, and Boulanger herself, where she goes into detail about her pedagogical style and her philosophy on music in general.
Astoundingly, in one of her group classes, she has her students sing the opening lines of Schumann's "Davidsbünder", with pianist Charles Fisk at the keyboard, all the while adding her pearls of wisdom. One also gets to see Bulgarian child prodigy Emile Naumoff demonstrating at the piano. Both students went on to significant performing, teaching and composing careers. The most poignant moment for me is not in the film, but rather in the accompanying booklet, wherein Bernstein recounts his last visit to the dying Boulanger. Gravely ill and in a coma, Boulanger miraculously responded to Bernstein and the two actually had a brief exchange that absolutely gives me the shivers. At 54 minutes, the film itself is lamentably short, so a performance of Mozart's Prague Symphony conducted by Markevitch is tagged on, but for no good reason. The picture quality is vintage black and white, and the sound only so-so. Despite these limitations, Mademoiselle is an indispensable historical document and a must-see for students of music theory and composition.
-Joseph K. So
Labels: dvd, Nadia Boulanger, product_review