Prokofiev Orchestral Works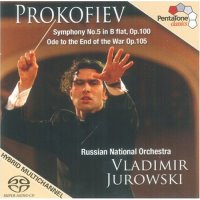 Symphony No. 5/Ode to the End of the War
Russian National Orchestra

Vladimir Jurowski, dir.

Pentatone Classics
PTC 5186 083 (57 m 7 s)

***** $$$$
Once again, chalk one up for the young guns: the new generation of conductors is truly yielding some remarkable talents. Russian Vladimir Jurowski, 35, has become a household name in Britain, where he holds directorships with the London Philharmonic and the Glyndebourne Opera, in addition to his work with noted period instrument ensemble, The Orchestra of the Age of Enlightenment. Even with all this activity in the UK, he still finds time to return home and visit the Russian National Orchestra in his capacity as Principal Guest Conductor and record treasures of the repertoire. The latest? Prokofiev's immortal Symphony No. 5. Our expectations of such a recording should be high, since the RNO has proven itself over recent years as an ensemble worthy of significant international attention and, after all, one expects the national orchestra to be at the top of its game to play the nation's gems. Somehow romantic yet economical, grandiose yet with the intimate ambience of chamber music, Jurowski and the RNO sculpt a remarkable interpretation of this epic warhorse. Jurowski stays away from any sense of the mechanical rigidity so often heard in other versions, while razor-sharp technique and disciplined ensemble playing through all sections of the orchestra make Jurowski's tempo fluctuations seem organic and convincing. What is perhaps most striking about the recording of this symphony, however, is the crystal-clear view it provides of Prokofiev's genius when it comes to orchestration. This is critical, as many other recordings of the Fifth neglect textures and orchestral colours rarely heard outside the composer's oeuvre: full marks to both the musicians and the recording team at PentaTone. A fresh and insightful approach to a standard, this recording is highly recommended for veterans and newcomers alike. The bonus track is Ode to the End of the War, a seldom-heard 1945 work written for a truly bizarre array of instruments (wind orchestra with 8 harps, 4 pianos, percussion, and 8 double basses). While the title and era of composition might lead one to see it as nothing more than a Soviet composer's duty to appease Stalin and the party, it is truly a great piece, no doubt neglected simply due to its unconventional ensemble roster.
-Graham Lord
Labels: jurowski, product_review, prokofiev