LSM Newswire / Communiqué
| | | |
| --- | --- | --- |
| La Scena Musicale News Update - May 6, 2002 | | |
La Scena Musicale News Update - May 6, 2002
http://en.scena.org
Inside:
- May 2002 contents
- Next Issues (June - 6th Annual Summer Festival Guide and July-August '02)- Distribute La Scena Musicale- Student Writing Contest
- Bring a Teen Program
- Canadian Classical Music Calendar
- LSM Newswire
- Web design
- Subscriptions
--------
This month in La Scena Musicale
May 2002 - Vol. 7, No. 8
http://www.scena.org/lsm/content.asp?Vol=7&No=8&lan=2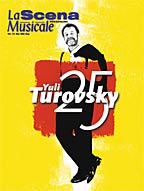 • On the cover: Yuli Turovsky will celebrate 25 years in Canada this month. Equally at ease as the maestro of I Musici, a famed cellist and a reputable teacher, Yuli Turovsky has lots to say about life and music. La Scena Musicale presents a one-on-one meeting with this intense and genuine artist. CD Contest: Win one prize of 5 Turovsky Cds courtesy of Chandos and SRI Canada. Ends: June 17, 2002.

• Charles Dutoit's abrupt departure as maestro of the MSO has music lovers talking. Our editorial looks at the chain of events.
• Montreal will play host to an international music competition for the first time in years. To be launched later this month, the Concours International de Montréal des Jeunesses Musicales (CIMJM) will be devoted to young singers this year. We look behind the scenes to see how the competition came about.
• We publish the last of the winning papers of our 2nd Student Writing Contest. The article looks at different interpretations of Beethoven's masterpiece, the Ninth Symphony. The deadline for this year's contest is May 15, 2002.
• The fame of the Studio de Musique Ancienne de Montréal has grown steadily in the last few years, thanks to its dynamic maestro Christopher Jackson. He talks about baroque voices.
• La Cena Musicale: The recipe of the month is the Opera Cake, a classic amongst classics.
•Don't miss our calendar, our jazz section (portraits of Rémi Bolduc and Yannick Rieu) and CD reviews! Have a great month!
Distribution: 40 000 copies
Next Issues
June 2002 - 6th Annual Guide to Summer Festivals
- On the cover: Montreal's new International Competition, the CIMJM
- Our Annual Guide to Summer Classical Music Festivals in Canada and Abroad. All festivals will also be listed on the web. For more info visit http://festivals.scena.org
- A map of Canada will also be include with locations of the festivals.
- New: A Guide to Jazz Festivals in Canada
Copies: 54,000 across Canada
Publication Date: May 31, 2002
Deadline for advertising: May 17, 2002
Deadline for Festivals: May 8, 2002 see http://festivals.scena.org
Deadline for individual concerts in calendar: May 10, 2002
Ad material date: May 21, 2002
July-August 2002 - Summer Readings
- double issue on La Scena Musicale (July-August 2002)
- Book Reviews
Copies: 40,000 across Canada
Publication Date: June 28, 2002
Deadline for advertising: June 17, 2002
Deadline for individual concerts in calendar: June 12, 2002Ad material date: June 19, 2002
---
Become a Distribution Point of La Scena Musicale
Distribute La Scena Musicale at your summer festival, music event, music group or commercial establishment. Free for quantities of 25 or more.Download the agreement form at http://www.scena.org/pdf-files/LSMDistributionAgreement.pdfor call (514) 948-2520 or email ericg@scena.org
---
The 3rd Annual La Scena Musicale Canadian Classical Music Student Writing ContestPrizes:Four prizes (two in English and two in French) will be awarded. The winning papers will be published in a future issue of La Scena Musicale. Furthermore, the best paper in each language will be awarded a cash prize of $250.00. The prize for the best English paper is courtesy of Sony Classical Canada. The prize for the best French paper is courtesy of Deutsche Grammophon, a Universal Music company.
Visit http://www.scena.org/lsmnews/2002StudentWritingcontest.html for more details.
Deadline: May 15, 2002
---
The Bring a Teen program

La Scena Musicale is pleased to introduce the "Bring a Teen" mentoring program to promote the live classical music experience. Any adult purchasing a ticket can receive a second ticket free for a teenager. The live concert experience is one of the best ways for young people to discover the wonders of classical music, and we feel that this kind of program will help build audiences in both the short and long term.
In our May 2002 issue, we launched a new advertising campaign with the picture of a mother and daughter who are participants in the program.See http://www.scena.org/pdf-files/sm7-8bringateen.pdf
If you would like to be a featured participant, please email us at
teen-ado@scena.org.
Visit http://teen.scena.org for more info.
---
The Canadian Classical Music Calendar
http://calendar.scena.org
- over 6300 classical music performances, and radio and TV listings
Montreal Classical Music Calendar Page
http://montreal.scena.orgLSM Newswire
is a service which allows classical music press releases to be
available electronically on the internet in one central location.
http://newswire.scena.org
---
Job Postings
- Project Coordinator: La Scena Musicale seeks a Special Project Coordinator. Bilingual, good communicator, initiative, fundraising. Must be eligible for a Bon d'emploi from Emploi-Québec. Position begins in May 2002. Fax: 514-274 9456 or admin@scena.org
- Calendar Data Entry Clerk: La Scena Musicale seeks a full-time data entry clerk. Bilingual and a good communicator. Must be eligible for a Bon d'emploi from Emploi-Québec. Minimum 30 weeks. Position begins in May or June 2002. Fax: 514-274-9456 or admin@scena.org
- La Scena Musicale is looking for advertising sales reps with experience. Commission. Email: info@scena.org
Seeking Volunteers for fundraising committee, translations, copy editing, distribution etc.
- contact admin@scena.org
* La Scena Musicale Online is looking for writers and contributors,
and also an editor of the online newsletter.
- contact info@scena.org
* La Scena Musicale seeks good quality office furniture.
- contact info@scena.org
---
Web Design
http://www.scena.org/design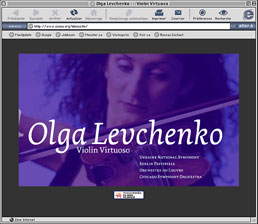 • La Scena Musicale is offering special web design services for musicians and non-musicians. We also specialize in design for print (brochures, flyers, posters, advertising, business cards)
Contact 514-274-2199 or design@scena.org
---
A Classic Gift - Subscription
Offer a subscription to La Scena Musicale (the print magazine)
- $ 25 Cdn for one year (in Canada).
- $ 25 USD for one year (outside Canada).
- Relive the 10 great issues of 2000-2001: $15 (postage not included)
(514) 948-2520 - Eric Ginestier or Email : subscription@scena.org
VISA:__________________________________
exp:___________________________________
____________
For information:
La Scena Musicale
(514) 274-1128
info@scena.org
http://en.scena.org