A Discussion about Chamber Music with Denis Brott, Oliver Jones and Daniel Taylor

by Réjean Beaucage / May 10, 2004

---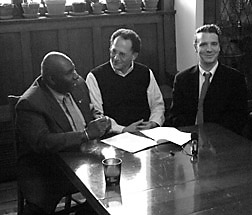 The 9th edition of the Montreal Chamber Music Festival presents music from the Renaissance to 20th century jazz. What does all this different chamber music have in common? La Scena Musicale asked the Festival's three artistic directors: founder, cellist Denis Brott; pianist Oliver Jones, who oversees the jazz category; and countertenor Daniel Taylor, who is in charge of a new category devoted to early music.
LSM: Chamber music as a musical concept includes quite a huge part of the repertoire, but when people think of chamber music they don't normally associate it with jazz or even early music.
DB: From the start of the Festival in 1995, we wanted to broaden the accepted concept of chamber music. To do so it was necessary to agree on some basic definitions. First of all it represents a very refined form of art: look at how many of history's great composers considered composition for string quartet as a kind of ne plus ultra of musical artistry. Second--and for me this is the key to chamber music's appeal--it creates something that is greater than the sum of its parts. Every player has an independent role but he or she contributes an equal, democratic part to the shape of the group's sound. If all goes well you don't have one person imposing their style on the others; that runs against the collaborative grain, so to speak. And chamber music is sometimes cast in an elitist light but I completely disagree with that approach. The festival is designed partly to defeat that idea. We want to show that chamber music can equally be jazz, or baroque, or a host of other styles, just as we've seen in past editions.
OJ: From my point of view it's pretty clear that chamber music is the jazz of classical styles. Essentially it's a kind of music where it's up to each member to carry the group along. There's one important difference, of course: in jazz we take more liberties with what's written in the score. But whatever the style is, we're always circling that musical theme, walking through variations that either take us out from the centre or draw us back in. We all know that 5 and 5 make 10, but so do 9 and 1, 7 and 3, etc. There's more than one way to arrive at the same destination, and the best musicians in jazz make the most of that. You might think this is funny but I've never had any jazz training at all. My piano studies were all classical. I was already used to hearing fugues when I was seven, since my father was a great fan of Bach. It helped me understand how parts could follow an independent line while still fitting into the whole composition. And when I was still young I had the chance to study classical piano with someone who really understood the spirit of jazz. It must have been in her blood: she was Oscar Peterson's sister! I would wear myself out practising the same passages and exercises over and over, trying to integrate the classical motifs she was teaching me into my own works using a series of rhythmic variations. But the foundation of it all was still classical.
LSM: You could also argue for similarities between jazz and early music, given the way the latter will have musicians add embellishments to a theme that is outlined only in a basic way in the score.
DT: I think that what we all have most in common is a kind of intimacy that emerges between musicians when playing, especially in the smaller groups. When you are attuned so closely to what your partners are doing you can explore and develop the music that much more intensely. It's actually analogous to what we're trying to do inside our own little trio of festival directors. We have three different generations of musicians, but by working closely together we can develop a concert program that's both diverse and unified. I think the public is in for a very interesting musical journey.
LSM: It's true that there's a huge difference between what a musician will do in a small chamber ensemble and what he or she can do in an orchestra.
DB: Definitely. For musicians who have spent their lives learning to play an instrument--developing expertise, creating a musical identity and a rapport with the instrument--it comes as a real shock when they join an orchestra and find they have to leave all that personality at the door. But there is another kind of liberty in playing with an orchestra, I think. Now jazz, of course, offers the greatest freedom for the individual player, but in early music, players were also expected to embellish upon the themes that were given to them. In the 16th and 17th centuries it was understood that members of the group would improvise their own rhythms during a recital. Unfortunately it's an art that's more or less been lost. I greatly admire musicians who can improvise--I feel pretty limited by my classical training in this respect! But as Daniel says, the intimate musical relationship that springs up between the players is the key aspect, whatever the style of music.
OJ: It's a kind of dialogue. When you can communicate so deeply with your fellow players, it's a really marvelous feeling. I know that if I play with five different bassists they will contribute five different approaches to the music, and they'll draw my playing down avenues that I might never have discovered without them.
DT: In the Renaissance there was a school of philosophy that spoke about putting the music in the centre, between the audience and the players, almost as if the music was a prism that refracted light from both sides and shone out in different colours. The essence here is there's an exchange of energy happening, a kind of communion. I feel it's a real luxury to be able to take part in that in a regular way.
The Montreal Chamber Music Festival runs from June 4–26, and will feature concerts by Lara St John and the Eroïca Trio, the Tokyo String Quartet, the Ranee Lee Quintet, the Canadian Brass, the Ottawa Bach Choir, and many others. For more information, visit www.festivalmontreal.org or phone 514-489-3444.
[Translated by Tim Brierley]
---
Version française...