Recensions et annonces / Reviews & Previews

Par/by Marc Chénard / October 10, 2003

---
Thom Gossage / Other Voices the now beyond
Effendi FND039

Deux ans après le lancement du premier disque de son ensemble Other Voices, (Effendi FND018), le batteur Thom Gossage présente ici la suite de son projet avec cette toute nouvelle offrande musicale. Signant les 12 pièces qui garnissent cette généreuse surface de plus de 72 minutes, le leader nous offre un copieux programme musical qui fait preuve d'une plus grande imagination que la moyenne, tant dans l'agencement des parties écrites et improvisées que dans leur exécution... Soulignons ici le travail des deux excellents saxos, Rémi Bolduc et Frank Lozano, qui se livrent à de bons chassés-croisés à plus d'une reprise. Plus discret, le guitariste Gary Schwartz ne prend pas beaucoup d'envolées comme soliste, mais il instaure plutôt des climats sonores qui s'avèrent un peu trop planants par moments. Ce côté éthéré se fait aussi ressentir lorsque le bassiste Miles Perkin et le chanteur Josh Lebofsky (ce dernier présent sur un seul titre) y vont de leurs interventions vocales respectives. En dépit de sa longue durée, ce disque requiert une écoute attentive, ne serait-ce que pour relever bien de petits détails sonores intéressants en cours de route : l'usage simultané des saxos soprano et ténor de Lozano dans un passage ou encore un second solo ténor en surenregistrement dans l'avant-dernière plage, voire une boucle de violoncelle échantillonnée à un autre endroit. Empreinte de l'influence d'un jazz contemporain new-yorkais, la musique de Other Voices se tient bien d'elle-même et ne passe nullement pour un quelconque ersatz du genre.
Quatuor Michel Donato Quartet
Jazz en Liberté
Just a Memory JAM 9150-2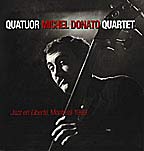 A musical find to say the least, this recording comprises excerpts from two live radio broadcasts recorded a mere month apart for the Radio Canada French network in 1969. Spearheaded by the stalwart Montreal bassist Michel Donato, the first 38-minute session is devoted to a piano-less quartet comprised of trumpeter Al Penfold, the sadly inactive drummer Claude Ranger and the now-legendary tenor man Brian Barley. The opener, Wayne Shorter's Pinocchio and the next track Stella by Starlight, are indicative of this band's stylistic bent, i.e. the sixties Miles Davis Quintet. Yet it is after a short bass solo feature piece and the ensuing balladic Reverie (based on the standard Autumn Leaves, another Davis repertoire staple), that the real revelation of this disc appears: that of being the first commercially available track from the now mythical first trio of the late saxophonist Brian Barley. Considered by many as the most promising new jazz talent in Canada of that period, Barley passed away at age 28 in 1971, having left only one release under his own name (Brian Barley Trio 1970 / Just A Memory JAS 9502-2). Minus the trumpeter, this unit explores more open spaces, and the greater harmonic and rhythmic freedom of the reedman could be likened to what Dewey Redman was doing at that time. This nearly 14-minute excursion with an odd title (Backseat Generator, How Come It's Taken so Long Because Oh1) is a tantalizing piece of evidence that Barley was one of the most forward-looking musicians of his time. Bearing in mind that these radio shows were one hour long each, we can only wish to hear the rest of those tapes some day. Not only that, but this same trio laid down a few tracks in the studio as well. The session engineer continues to sit on them to this day. Now that is surely another memory worth pursuing!
En ville / Around Town
Tel qu'indiqué dans la chronique du mois dernier, ce n'est qu'en octobre que la rentrée culturelle bat son plein. À l'instar des années précédentes, on assistera de nouveau à un vrai déluge de spectacles dans les semaines à venir, tant en jazz, en musiques improvisées, expérimentales, créatives et autres. À ce titre, le calendrier des événements présentés plus bas n'est qu'une liste partielle des activités offertes dans ce mois des plus chargés.
Based on experiences from the past few years, there will be yet another tidal wave of cultural activities in the offing for this month; and of these, the following jazz-related events are a mere cross-section of what will be going down throughout this busiest of months on the cultural front.
Jazz à l'année / Jazz All Year Round
(20 h pour tous ces spectacles; 8 PM all shows)
(4) Carole Therrien Oracle / Salle du Gesù
(8) Omar Sosa Octet / Spectrum
(15) Yves Léveillé Sextette / Savoy du Métropolis + Lancement de disque / Record Launch
(25) Brad Mehldau Trio / Spectrum
(30) Dino Saluzzi Trio / Théâtre Outremont
Innovations en concert / Le nouveau piano / Chapelle historique du Bon-Pasteur
(16) Marilyn Crispell
(17) Paul Plimley
(Voir profil de la série à la page 55 / See feature article on this series, p. 55)
(Info : www.innconcert.ca)
Silence... on jazz 13e édition / Maison de la culture Frontenac
(17) Seamus Blake / Bryn Roberts Duo (22 h)
(18) Michel Donato Trio (22 h)
(19) Ingrid Jensen Project O (20 h) / Christine Jensen Quartet avec Geoff Keezer (22 h)
(22) Iks + Charles Papasoff (20)
(25) Jean Vanasse Quartet + Yannick Rieu (20 h)
Sala Rossa, Casa del Popolo (21 h 30)
(18) Trio Undersound (John Heward, Dominic Duval et Joe McPhee + Paul Bley)
SuperOption (Productions SuperMusique) / Info détaillée au www.supermusique.qc.ca
(29) Trois spectacles avec tête d'affiche : Otomo Yoshihide et Martin Tétreault, instruments électroniques
(30) Trois spectacles comprenant le piano solo de Marilyn Lerner avec sonorisation de Ken Gregory
Église unitarienne de Montréal (5035, boul. de Maisonneuve Ouest, métro Vendôme)
Jazz et justice sociale
(25) François Bourassa et André Leroux duo (20 h)
(Premier de cinq concerts-bénéfice pour le Comité unitarien canadien de service)
(First of five benefit concerts for the Canadian Unitarian Service Committee)
Information : www.usc-canada.org
---
Version française...