Mirela Tafaj: Have Voice, Will travel

by Joseph So / September 3, 2003

---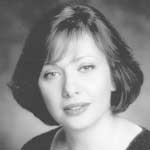 For soprano Mirela Tafaj, her beautiful voice is her calling card. With the fall of the iron curtain, Mirela Tafaj (pronounced 'Taff-eye'), a native of Albania, is one of in a number of exciting new voices now calling Canada home. Her Canadian debut as Musetta for Opera Ontario last season was warmly received by audiences and critics alike, and Montreal voice buffs had the good fortune of hearing her at L'Opera de Montreal's Gala last December, followed by a recital at La chapelle du bon Pasteur in March.
Gifted with a lovely natural voice and a talent to imitate, young Mirela grew up singing at weekly family gatherings. Without having had a single voice lesson and fresh out of high school, she learned a couple of arias by rote, auditioned and was accepted at the conservatory in Tirana. Her talent was recognized early and she rose quickly through the ranks after graduation, singing Violetta, Gilda, Mica๋la, Nedda, Despina, Donna Anna and Tosca for the National Opera. A high point early in her career was winning first prize at the 1998 Umberto Giordano International Vocal Competition in Italy.
An attractive woman with luminous eyes, a warm personality and a ready smile, Mirela Tafaj now calls Toronto home, where she lives with Jim, her violinist husband, and Ditmar, their son. The political changes in Albania from the highly regulated communist system to a fledgling but chaotic democracy were not easy for her. "The normally busy opera season was reduced to two or three shows a year, and we just couldn't make a living," explained Tafaj, in her accented but quite serviceable English. Like so many people from communist countries, Tafaj craves the artistic freedom not yet possible in her home country. "If you are an artist, you can only go so far; you don't have many opportunities." Tafaj chose her words carefully, reluctant to talk politics: "We have a system of exit visas, so unless you are invited at the highest level, you can't leave. Here in Canada, I can move anywhere, sing anywhere."
Her luscious soprano has a distinctive, instantly recognizable timbre. The middle voice is unusually dark for a soprano, especially one that can sing ringing high E-flats. With temperament to spare, Tafaj brings a strong sense of drama to her singing. Her Tosca – despite an essentially lyric sound – is a spitfire, yet the Vissi d'arte is full of pathos. "My sound is (that of) a lyric soprano, but my spirit is more dramatic soprano!" Tafaj confessed amid gales of laughter. Turning serious, she explained, "I love to laugh and cry on stage; I love to move myself and my audience. If you feel the emotions, it really shows in the voice."
Changing country and culture is never easy, and in her case, coming from a small communist country means exploring unfamiliar repertoire. German and English works are rarely performed, and oratorios are just about nonexistent in officialy atheist Albania. Opera programming is heavily Italian, and Albanian pieces – "we have some wonderful operettas!" – are practically unknown outside its borders. To make herself more marketable, Tafaj is adding new pieces such as the soprano part in Handel's Messiah and the saucy Adele from Die Fledermaus for auditions. Down the road, she would like to explore Leonora in Il Trovatore and Rosina in Barbiere. Is there a dream role? "I would just love to do Carmen someday – many, many years from now!" In the meantime, she has had fun learning new pieces such as the Rachmaninoff Vocalise, which she sang in the La chapelle du bon Pasteur recital. She is also adding Villa-Lobos' Bachiana Brasileiras No. 5 to her repertoire.
An experienced voice teacher at the conservatory in Tirana, Albania, Mirela Tafaj is quickly establishing herself as a teacher of renown in the Toronto area. She finds substantial stylistic differences in singing here, which takes some adjustment on her part as a teacher. An analytical singer eager to express her ideas, Tafaj is enthusiastic about teaching. "Yes, I enjoy it very much – it is wonderful when students understand what you are trying to say and they improve." Despite the culture shock and the difficulties in re-starting her career, Tafaj is happy that she is doing what she loves in her new country – performing and passing on her passion for singing to her students.
---
Version française...
---