Michael McMahon: The Accompanist

by Réjean Beaucage / September 3, 2003

---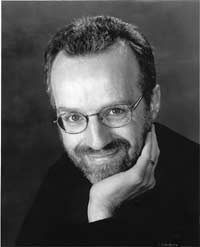 Michael McMahon is beyond question one of Canada's most sought-after accompanists. The Montreal-born pianist studied with Charles Reiner at McGill University before completing his studies at the Mozarteum International Summer Academy in Salzburg, as well as the Franz Schubert Institute and the Hochschule fur Musik und darstellende Kunst in Vienna, where he graduated in vocal accompaniment.
McMahon returned to McGill University's faculty of music, where he now teaches song interpretation. He is also vocal coach for the song workshop of the Opéra de Montréal and the Banff Centre for
the Arts.
The list of Canadian vocal artists with whom he has worked is long. It includes such names as Nathan Berg, Manon Feubel, Maureen Forrester, Karina Gauvin, Wendy Nielsen, and Brett Polegato.
His extreme sensitivity is apparent in his accompaniments on recordings with soprano Lyne Fortin (Analekta), mezzo-soprano Catherine Robbin (Marquis and CBC Records), and baritone Kevin McMillan (CBC Records).
The profession of accompanist is a thankless one at times. Audiences often tend to pay more attention to the singer, unconsciously relegating the pianist's contribution to the level of decoration. However, as the following interview with McMahon demonstrates, there's no top dog in the musical pas de deux that is in fact a piano/voice duo. Here is his take on the subtle art of accompaniment.
"I don't see my role as being someone who plays behind the star performer," says McMahon, "but rather as sharing a musical partnership. Neither role can exist without the other. The pianist is literally acting as the orchestra--no small task! Of course, we're limited to the piano's capacities, but we must succeed in suggesting the idea of an orchestra--and in thinking like the imaginary conductor, working for the voice with all our skill. The piano must always be present, but not too present, and it must provide phrasing that gives the singer a chance
to breathe. The accompanist has to know the work being performed intimately, so as to provide maximum flexibility in the piano/voice dialogue while remaining true to the music. That's why preparation is so important for accompanists. Ideally, they should understand the language of the lyrics and be sensitive to the singer's breathing, vocal strength, and technical powers. They must listen carefully to the singer and be with him or her every moment, which means being completely comfortable with the piano score."
Does an accompanist need to have specific gifts? And do soloist and accompanist each have a distinctive "temperament"?
"Some people prefer playing solo. It gives them complete control of every second of the performance. Accompanists, I think, should like dialogue, be able to appreciate the other's presence, and take pleasure in sharing talents."
Clearly, accompanists have to adapt to each new artist. Working with both students and artists who are masters of their artistic medium, McMahon is aware of all the risks of his profession. "I normally have the pleasure of working with professional artists who are excellent musicians," he says, "but it's very different from my role as an accompanist for students. In the latter case I have far greater responsibility for providing leadership, although each case is unique. Some singers know the works so well that everything moves along effortlessly. All you need to do is sit down and play!'
What about the artists with whom he'll be sharing the stage in La Scena musicale's upcoming gala concert?
"Unfortunately I've never met Mirela Tafaj," says McMahon, "but of course I've heard of her and I'm very keen to work with her. However, I've known John Mac Masterfor many years--since he was a student at McGill, in fact, and I'm very pleased to see the direction his career is taking. The same is true for Annamaria Popescu, whose career I've followed from McGill to La Scala! With regard to the program, there are some pieces with which I'm less familiar, but I've performed them all before. I think we'll have a wonderful evening!"
[Translated by Jane Brierley]
---
Version française...