Fred Frith and Nouvel Ensemble Moderne at FIMAV

by Paul Serralheiro / May 5, 2003

---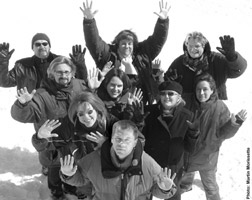 If you're going to have a party to celebrate an anniversary, you'll want to invite old friends. This is one reason why the people who organize the Festival International de Musique Actuelle de Victoriaville (FIMAV) have invited Fred Frith. The English guitarist-composer and musical polyglot has appeared many times at the festival since its inaugural year. For the 20th anniversary Frith will perform with René Lussier, another old friend, on May 15, and he'll be sharing the bill on May 18 with the Nouvel Ensemble Moderne (NEM).
The program for the latter concert consists of works that Frith wrote for different ensembles at various times, the most recent of which, "Shading my face it shall be you," was commissioned by the Relâche Ensemble and premiered in January of this year. Also on the program is "Traffic Continues," a suite of pieces recorded by Frith and the Ensemble Modern of Germany in 2002. It is an ambitious creation, arranged in modules of composed music and improvisational sections. Frith is eclectic in his handling of themes, rhythm, harmony and timbre, going full-tilt into exploration of sonic textures alluding to everything from Stravinsky to global folk music and the world of machines. The piece combines, in the words of the program notes for the event, "a seamless quilt of popular and so-called 'serious music' sensibilities." Lorraine Vaillancourt will conduct and Frith will play electric guitar and cue in improvised parts.
The chemistry required for this approach to work seems to have been established when Frith, Vaillancourt and the NEM got together in December 2002 for a first run-though. "There was good rapport between the musicians and I am very confident about this project and the ability of my musicians to do this," Vaillancourt recently commented. Michel Levasseur, artistic director of the festival, is equally enthusiastic: "I wanted to bring together the world of contemporary music and musique actuelle. Frith was the perfect person for this."
Fred Frith and Nouvel Ensemble Moderne, Sunday May 18 at 10:00 PM at the Colisée des Bois-Francs in Victoriaville.
---
Version française...
---