Jeanne Lamon: The Seasons

by Joseph So / March 2, 2003

---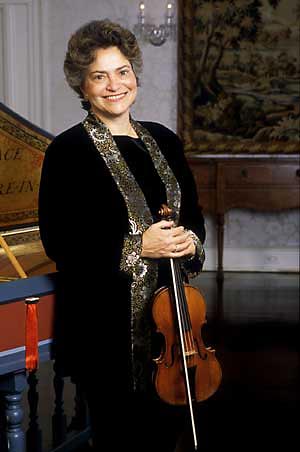 As Music Director of Toronto's internationally renowned Tafelmusik Baroque Orchestra, Jeanne Lamon has been directing from her familiar first violin chair since 1981. Two seasons ago, Lamon made her conducting debut--from the podium and without her instrument--in a highly acclaimed concert that featured soprano Isabel Bayrakdarian and the Royal Conservatory of Music Orchestra. This performance had the distinction of being a world premiere--the expansion and realization by Canadian composer Derek Holman of Susanna's alternate aria from The Marriage of Figaro, based on Mozart's musical fragments that survived. A seasoned performer, Lamon has guest-directed many orchestras throughout Canada, such as Symphony Nova Scotia and orchestras in Windsor, Kitchener-Waterloo, Calgary, Vancouver, and Victoria, always bringing to the stage her own brand of virtuoso music making. Recently, Lamon spoke to LSM on "the Tafelmusik Event of the Season"--the Toronto premiere of Haydn's The Seasons, and about directing in general.
Why Haydn's "The Seasons" for Tafelmusik?
It's a masterpiece that unfortunately does not get performed as much as I'd like. I guess Mozart has sort of taken over in this repertoire. The Seasons is a big choral piece--unusual in that it is secular, with lots of humour and fun. Haydn is very fond of nature, which he describes beautifully in his music. This piece has never been done in Toronto, at least to my knowledge.
Why did we choose this work? Tafelmusik has been the orchestra-in- residence at the Klang und Raum Festival in Germany for the last ten years. Haydn's The Seasons has been the centerpiece of the festival for the last five years and the musicians grew to adore this work. Several members of the orchestra wanted us to do it at home. Here we were, playing this great stuff in Europe and our home audience doesn't know it. Much like a child wanting to show mother and father their accomplishments in school, we wanted to bring it to Toronto. One of Tafelmusik's jobs is to bring rarely performed music to our audience--there is so much fantastic Baroque music that never gets played! If it is 'old' music, like Vivaldi's The Four Seasons, we try to do it in a different way. We hope we have earned the trust of our audience so that if we do a work, our listeners can be assured that it is great music.
How do you prepare "The Seasons" musically?
One doesn't prepare it any differently than any other piece. It is important to understand the pictorial imagery in the music. The music and the text are so beautifully melded together in this work. It really shows Haydn at his best. Mozart on the other hand never depicts details of nature--like a bird or a brook. Mozart is very emotional, but also very abstract. Haydn on the other hand gives us green grass and bright sun in The Seasons.
You had a very successful conducting debut with the Royal Conservatory of Music. Would you like to conduct more?
I am glad I had the opportunity to conduct that concert, to work with Isabel Bayrakdarian. It has helped me in my work as first violin. Would I conduct more? I'll always prefer to lead from the first violin chair. It takes away the barrier--the sense of an authority figure, the conductor waving a stick. You take any orchestra in Canada, and there is usually a parade of conductors. Doing it from the first violin chair on the other hand, I am one of the orchestra, one of the players. I am doing the same work as the musicians. Sometimes if it is necessary to conduct, I will, but I feel that I have more to offer when I play and lead from the violin. I can do it well, and I get the best results from it.
What are your thoughts on women conductors in general?
It makes no difference whether it is a man or a woman. But it's interesting that it has taken so long for the emergence of women conductors. So much of conducting is about persona, about the hero figure in our culture. Women don't play that role in our culture. So many male conductors--not all, but many--fall into the trap of the power game, the ego trip. Yes, there is still resistance against women conducting, but it is melting. Right now we have women leading orchestras in Buffalo, Atlanta, and Denver. But one thing still waiting to happen is to have a woman assigned to a major post. Until that happens, there is still a 'glass ceiling' for women conductors. I see it not so much as breaking the barrier as melting the barrier. Today, the vast majority of conducting students, the 20- and 30-year-olds, are girls. What does that say for the future, 20-30 years from now? When I was a girl, there were few women doctors, but now there are as many women doctors as men.
If you were to do it over again, would you study conducting? If you were to stop playing, would you conduct?
You mean if I were 20 or 30 years old now (smile)? I wish I had taken courses on conducting when I was starting out. But I love playing the violin--I would miss that! I love my job directing from the chair. I am one of the group--it's very important to me. If I could no longer play, would I conduct more? That's an interesting question! I don't know; I can't look into the future. But I hope I'll never stop playing the violin. The moments that feed me as an artist are the private moments, the moments of practicing in my own studio. People say we draw inspiration from the audience; yes, but you need first to find this inspiration inside--that's my artistic soul.
Jeanne Lamon will be in her first violin chair for Haydn's The Seasons, conducted by Bruno Weil, March 7 & 8, 8:00 p.m.,
Massey Hall, Toronto. (416) 964-6337.
---
Tafelmusik soon to turn 25
In 2003-04 Tafelmusik celebrates twenty-five years of outstanding artistry in period performance. Tafelmusik's Silver Anniversary Season includes famed guest soloists and directors and the creation of new works. Tafelmusik will build new audiences for the future through The Four Seasons: A Cycle of the Sun documentary film project with world musicians, performances in satellite venues including the George Weston Recital Hall and the Royal Conservatory of Music, and international touring. The ensemble will continue in its commitment to training future period performance musicians at the Tafelmusik Baroque Summer Institute, and through educational programmes for young people.
---
Version française...