Notes

January 31, 2003

---
RÉTROSPECTIVE 2002 / RETROSPECTIVE 2002
De 2002, on retiendra peut-être ces quelques événements déclencheurs.
Here are some of the top classical music stories of 2002.
Dutoit Resigns / MSO Begins Search
In a bizarre turn of events, Charles Dutoit abruptly resigned from the Montreal Symphony in April after the musicians' union went public with the threat of a lawsuit over accusations of harassment. The resignation came just weeks following the launch of a star-studded 25th season with the maestro. Mstislav Rostropovich, Yo-Yo Ma, and Vladimir Ashkenazy cancelled in sympathy, and a new brochure had to be printed. All the commotion arose due to a typo in the musicians' contract regarding percentages of the review committee as reported in La Scena Musicale's May 2002 issue.
Epilogue: After playing very well to conclude last season and throughout the summer, the MSO gave mediocre performances in September and October, but rebounded for excellent concerts under old hands Frühbeck de Burgos and Decker. On Jan. 5, Dutoit finally spoke out. "I actually wanted to leave Montreal three years ago when the new musicians' contract was negotiated," he told the Minneapolis Star Tribune, citing too many restrictions on recordings and tours. Though he was not bitter, he stated that he would never conduct in Montreal again except with a visiting orchestra. In October, the MSO played Carnegie Hall for the first time without Dutoit to largely disappointing reviews, and recently the orchestra was dropped by the venue for 2003-04 (as reported by Philip Anson on SCENA.ORG on Jan. 13). Ironically, their dates were taken by Dutoit, who will be conducting the Juilliard student orchestra. On Jan. 15, the Montreal Gazette reported that the MSO search committee had submitted a short list to the hiring committee; Kent Nagano and Eliahu Inbal are rumoured as front runners. Follow the story at SCENA.ORG . Wah Keung Chan
Fiscal crisis at orchestras
Financial crisis amongst North American orchestras dominated news in 2002. Several closed down. September 11th and the economy were cited. In Canada, orchestras in Toronto, Vancouver, Winnipeg and Calgary had to restructure, the latter still needs government support to resume their season. Wrote Norman Lebrecht, associate editor of the London Evening Standard, "When orchestras like Chicago and Pittsburgh go $6m into the red, they drop the manager but stick to a formula that was devised in the fat years. The failure of renewal is most pronounced at the podium. Sir Simon Rattle, 48, is universally described as 'young' and a leader of a 'new' generation." A source for worry: opera companies, who have been more successful in attracting younger audience, are beginning to report unexpected deficits.
Ben Heppner's Vocal Journey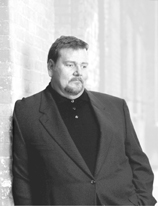 2002 began badly for Ben Heppner, who had to deal with a very public vocal crisis in January when his voice gave out during a recital at Roy Thomson Hall in front of his hometown audience. It was back to the drawing board for the tenor, who worked hard on his technique and travelled weekly to Montreal throughout the winter and spring to work with his voice teachers, Bill and Dixie Neill. Recently, he told the Boston Globe that unsolicited advice from an amateur singer doctor led him to identify a medication (an "ace inhibitor" used to control high blood pressure caused thick mucous on the vocal cords) responsible for his vocal problems.
Heppner made a tentative return to the stage with several recitals in May, showing that his voice was on the mend. By the June performance of Franz Schmidt's The Book with Seven Seals, he had regained much of his confidence, his voice being in much better shape, firmer in tone in the middle, and with a more reliable top. Last fall, he sang in orchestral concerts in London, Warsaw, Lyon, and Toulouse, to favourable reviews. Fans of the Canadian tenor eagerly anticipate his operatic comeback as Enee in Berlioz' Les Troyens at the Metropolitan Opera in February. Joseph So
DVD-Video reaches critical mass
Priced as low as $150, the DVD-Video player became the most sought-after electronic item during the 2002 holiday period, signalling the public's acceptance of the format. Many operatic and classical music videos are already available for between $25-40, and more are sure to follow. Watch for our expanded DVD Review section in future issues.
Crisis in the Recording Industry
In 2002, the CD sales slump continued (below 11% in the first six months of 2002 on top of 3% decline the year before), and the major labels reduced their recording projects. Music piracy over the Internet and CD copying were often blamed. On the brighter side, classical sales largely unaffected by piracy actually increased and the London Symphony released live recordings on their own label to acclaim.
Rétrospectives jazz
La publication américaine Jazz Times a publié un dossier au regard plus large sur la situation du jazz en 2002. La partie la plus intéressante de cette section spéciale concerne l'industrie de la musique, vue par nombre de ses intervenants qui, eux, soulignent quelques faits particulièrement importants. Parmi les points soulevés, relevons l'importante décision des majors de larguer le jazz au large et ses singulières conséquences. Bien que ce malaise ne soit pas neuf, il appert que ces transnationales de la culture ont décidé de miser plus encore sur la réédition de catalogues anciens, et ce, au détriment de certains de leurs poulains, voire de quelques intouchables. Chez Warner, pour ne citer que ce cas extrême, l'étiquette Atlantic a été sabordée complètement, mettant ainsi sur le pavé deux de ses bonnes valeurs, le crac du saxophone James Carter et le pianiste Cyrus Chestnut. Plus décisif encore, le non-renouvellement du contrat de nul autre que Wynton Marsalis par la division jazz de Sony a fait hausser quelques sourcils à son annonce. Compte tenu de ses ventes insatisfaisantes pour la compagnie et de ses exigences monétaires, selon la rumeur, le divorce était inévitable, après une association de plus de 20 ans. Ce fut également le cas de son frère saxophoniste Branford, qui a fondé sa propre étiquette de disque depuis (Marsalis Music). Visitez www.scena.org pour cette chronique entière.Marc Chénard
NOUVELLES/NEWS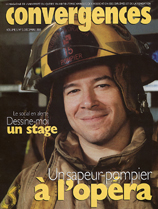 Luc Robert : de pompier à ténor
Le ténor Luc Robert se pince ces jours-ci pour se convaincre qu'il ne rêve pas. En seulement deux ans et demie, l'ex-pompier est passé dans les ligues majeures, délaissant les concerts amateurs pour l'atelier lyrique du Canadian Opera Company. En couverture de Convergences, revue des diplômés de l'Université du Québec en Abitibi-Témiscamingue, Luc Robert, lui-même diplômé en enseignement, parle de sa remarquable ascension à la journaliste Renée Nolet. Téléchargez l'article (format PDF)

New Music Director at TSO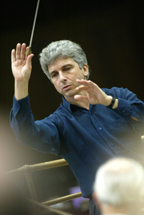 The Toronto Symphony Orchestra announced on Jan. 16 the appointment of Maestro Peter Oundjian as Music Director, effective for the 2004-05 season. He will act as Music Director Designate for the 2003-04 season. The musicians stated that they were looking forward to making music with "a consummate musician and a natural leader." After almost 50 years, the orchestra has another Canadian as its Music Director (Oundjian was born in Toronto). He previously was Artistic Director of the Caramoor International Music Festival in New York, Music Director of the Nieuw Sinfonietta Amsterdam and Principal Guest Conductor of the Colorado Symphony. Oundjian was the first violinist of the Tokyo String Quartet before an injury forced him to turn to conducting.



Agreement Signed at Vancouver Symphony
The Vancouver Musicians' Association signed a new collective agreement in November that will cover a 22-month period (to fit the Vancouver Symphony Society's fiscal year). The settlement calls for a freeze of the minimum annual wage for the two seasons. In the shortened 2002-2003 contract, each musician agreed to give up four weeks of pay for the balance of the current season.
In the long list of Grammy nominees announced in January, the St Lawrence String Quartet received two nominations for its Yiddishbbuk (best chamber music and best classical contemporary composition). Stay posted for names of winners in our next issue.
Opera For All
The Opera Company of Brooklyn (OCB) offers a new and free after-school mentorship program for African-American and Latino high school students from disadvantaged East Harlem families. Designed to improve public education in the arts, the program engages students in grades 9-12 with weekly private voice lessons and workshops, and prepares young women in their junior and senior years for the demands of employment by providing internships in office administration and arts management.
CONCOURS
À quelques mois de la tenue de sa 2e édition, du 26 mai au 6 juin 2003, le Concours International de Montréal des Jeunesses Musicales dévoile les noms des sept personnalités musicales qui composeront son jury international 2003. Il s'agit des violonistes Andrew Dawes, Malcom Lowe, Michael Frischenschlager, Dong-Suk Kang, Silvia Marcovici et Tibor Varga et du chef d'orchestre Franz-Paul Decker. Monsieur André Bourbeau, président du Concours, agira encore une fois à titre de président du jury.
Le Festival de musique du Royaume accepte jusqu'au 22 février les inscriptions pour sa 12e édition qui se tiendra du 24 avril au 10 mai 2003. (418) 545-8722 ou gabriellegaudreault@videotron.ca
Le Concours international de musique de Tokyo organise en 2003 le 13e Concours de direction d'orchestre. Le dossier d'inscription doit être remis entre le 31 janvier et le 1er mai 2003. Les épreuves auront lieu en novembre 2003. http://www.min-on.or.jp/competition
---
Version française...