Section: Jazz
A Canadian in New York

by Paul Serralheiro / December 1, 2002

---
The Big Apple, as everyone knows, can be the springboard to a successful career in jazz. For pianist-composer and Ottawa native D.D. Jackson, New York has been good, allowing him to cultivate a career that, while still young, is already marked by achievements, distinctions, and lots of recording and concert dates, including his upcoming Montreal appearance on December 14.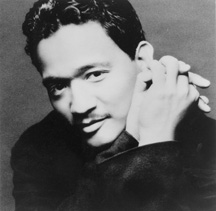 Jackson's break in New York came in storybook fashion, as he recently related to La Scena over the phone from his home in Brooklyn. A crucial episode came when he sat in with saxophonist David Murray at the Village Vanguard. Murray was "happy enough with my playing," the pianist explained, "that he subsequently hired me to sub for John Hicks at the Montreal Jazz Festival in 1994. Justin Time was in the audience and it basically led to my first recording deal."
Jackson then hired Murray for his first recordings with Justin Time and went on to collaborate with Billy Bang, Hamiet Bluiett, Hugh Ragin and others, creating an interesting fold of musicians for the Montreal label. "It's been an unexpectedly reciprocal relationship because now, of course, David has really dominated the label, as have a lot of the players that I first recorded with on my CDs."
The pivotal episode with David Murray, whom Jackson refers to as "a tremendous supporter and mentor," came about as the result of introductions made by another mentor: pianist, composer and educator Don Pullen.

"People told me that I sounded like him when I was first evolving as a student of jazz. When I first got to New York and was doing my Master's degree, I started checking out his music. Then, coincidentally, he was giving a master class while I was visiting a now ex-girlfriend on the West Coast of the US and I played for him. As a result he asked me to study with him back in New York."
Turning to Composition
As well as helping Jackson to develop as a jazz pianist and providing him with "real world" contacts, Pullen nourished his composition ambitions. "When I was telling him about this tremendous mental block that I had had up until that moment, he said, 'Just sit down and try out ideas, don't judge yourself, don't worry if it sounds like something that has already been made, just don't worry about it.' That's really all it took to let me start to compose and loosen my inhibitions ... He had a very powerful effect on my conceptual approach and in particular on my confidence."
Since then, Jackson has written music for several albums, the most recent of which--Sigame--will be featured at the Montreal concert, along with "New York Suite," a work that was premiered in New York on Canada Day 2000. Jackson's trio will be going into the studio the day following the Montreal concert to record the suite for a Justin Time release.
There is also an opera in the works, in collaboration with Governor-General Award laureate George-Elliot Clarke. Centering on an interracial love story loosely based on Jackson's parents, the opera will combine the classical and jazz strains that are part of Jackson's style, as well as elements of Indian and Chinese music.
Getting Noticed in Downbeat
Signposts of success for Jackson include being named Jazz Report 'Composer of the Year, 2000'; Downbeat Critic's Poll '# 1 Talent Deserving Wider Recognition for Piano'; as well as a Juno award for the solo effort titled ...so far. This was one of two recordings released on RCA Victor during a short-lived affiliation with the major label--an experience he described in an article published earlier this year in Downbeat which led to a bimonthly column. "The reality is that the industry has changed so much," he summarizes. "It's consolidated absurdly. There is really very little place now on these larger, big conglomerates for anything that doesn't sell in the millions ... The focus has shifted toward the commercial."
Note: The D.D. Jackson trio (Jackson, piano; Ugonna Okegwo, bass; Dafnis Prieto, drums, percussion) will perform at the Centre Pierre Péladeau in Montreal on December 14. You can also read his column "Living Jazz" in Downbeat and visit his website at www.ddjackson.com.
The Cyberpath: Musicians' Sites
Websites have become a requirement for any kind of business, and music is no exception. Musicians who want to promote their work must set up good websites and continually update them--because fans want wellsprings of information and merchandising links and journalists want easy-to-access sources of press materials.
Surfing the net for facts, sound samples, and/or insights, this fan and journalist expects a basic minimum from sites about musicians. The first requirement is that they be easy to find. The simplest web address, of course, begins with the musician's name and ends with .com, .net, or .org. There are a surprising number of excellent sites that can be accessed this way, from those of established major-label artists to creators of improvised music that takes one off the beaten track. Examples at either end of this range include www.chickcorea.com and www.joemcphee.com.
The second requirement is that sites provide interesting information (as text and/or visual and audio files), focusing on the musician's work as an artistic endeavour and not simply as a product to click on and drop in a virtual shopping cart. Surprisingly, searches for some musicians led only to ubiquitous e-business sites--which will not be promoted here--and anything more than the hard sell was indeed hard to find. As well, some web pages, while informative, have a distractingly heavy corporate presence in the form of hot links and corporate logos.
The design of the homepages also contributes to the ease and interest of the site as a whole. The sites maintained by D.D. Jackson (www.ddjackson.com) and Myra Melford (www.myramelford.com) are two examples of well-designed cyber stops. Here are a few more:
http://gilevans.free.fr/
A truly amazing site, well put together, with a wealth of information, including details of the composer/arranger's recording sessions.
http://www-music.duke.edu/jazz_archive/
A site maintained by Duke University in Durham, North Carolina. Via its search functions, many informative pages about the greats of American jazz can be accessed.
http://www.ejn.it/
This European site has information on and links to musicians from all over the globe, including Canadians such as Montreal-based drummer and composer Eduardo Pipman.
http://www.joediorio.com, now http://home.san.rr.com/tobias/
This site run by the accomplished guitarist is a model of promotion of the artist as well as of his chosen instrument and art form in an informative and inspiring fashion.
Next month: Jazz communities.
---
Version française...